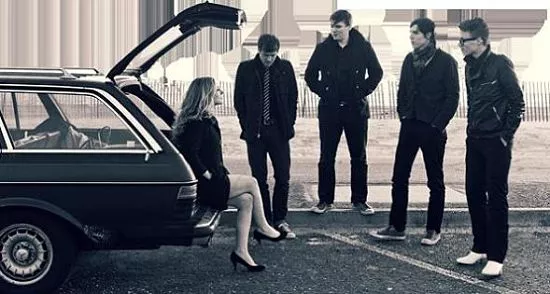 Gold Motel - Friday @ the Firebird
Attention cheap and poor folks in St. Louis: Four of the ten shows listed here this week won't cost you a dime! Tenacious D at Vintage vinyl (better show up early to ensure entry though -- big band, small venue), David Beeman & Kit Hamon of Old Lights playing a more intimate set at Plush, then back to Vintage Vinyl for RFT Best Solo Hip Hop winner Nite Owl, and finally experimental artists Darin Gray and Bill Horist at the always-free Schlafly Tap Room.
What's that you say? You actually DO have two nickels to rub together? Well la-ti-da, Oysters Rockefeller, looks like you're gonna catch even more good shows this week, including the re-scheduled Future / Pusha T show this Saturday at Ambassador. The rest of our picks follow.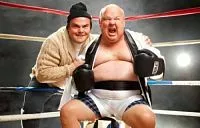 Tenacious D Mon., 5:00 p.m. July 23 @ Vintage Vinyl - Free By Daniel Hill Jack Black and Kyle Gass, also known as the self-proclaimed "Greatest Band in the World," Tenacious D, will be doing a special in-store performance at Vintage Vinyl on Monday, July 23. The appearance will precede their now sold-out show at the Pageant, giving fans who didn't get tickets in time a second chance to witness the spectacle that is the D. Tenacious D is currently touring in support of its latest album, Rize of the Fenix, released in May of this year. Jack Black and Kyle Gass will be sticking around Vintage Vinyl after the performance to meet with fans and sign copies of the new album. The show starts at 5:00 p.m., but we recommend showing up early to ensure entry. For more information, contact Vintage Vinyl at 314-721-4096.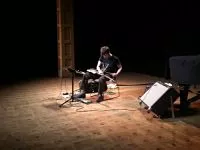 David Beeman & Kit Hamon of Old Lights Tues., 8:00 p.m. July 24 @ Plush - Free By Kiernan Maletsky From this 2011 interview: Old Lights' new 10", Like Strangers, is a brutal love story told over six tracks that move with hypnotizing grace. Its the sort of record that you just keep listening to. Its guitars, keys and vocals tee off on one sweet spot after another, peeling off seamlessly or drowning in reverb. David Beeman, never particularly shy as a lyricist or otherwise, has plenty of arrestingly direct lines on this one ("We are not evil/We are just people"). But it's not a one-man show any more: Like Strangers is the product of a band, with Beth Bombara, Kit Hamon and John Joern all intrinsically involved in the process at more-or-less every step along the way.
Volcanoes Wed., 8:00 p.m. July 25 w/ For & With, Horse Thief, Pirate Signal @ Cicero's - $8-$10 By Christian Schaeffer From this 2011 review: If Alec Empire and the B-52's had a child, and that child required ADHD medication, you'd be left with noise-rock duo Volcanoes. Jon Ryan and Eric Peters can't tell if they're in a noise collective, a metal band or a jock-jam dance crew, and that musical schizophrenia pays dividends on the pair's debut Heavy Hands. Across eleven tracks and nearly 40 minutes, the band tries on mutated cheerleader chants ("Steel Plates Slicing Through My Every Thought"), paranoid psych-rock with reedy organ drones (the badass "My Face is Blood") and industrial bass pulses set against ho-hum lyrics ("Oil Rainbow"). Not everything sticks to the wall, but the disc gives a restless tour through two dudes' fixations on a few differing but intersecting genres.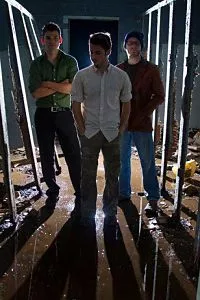 Great Grandfathers CD Release Show Thurs., 9:00 p.m. July 26 w/ Mikey Wehling & The Reverbs @ Off Broadway - $10-$13 By Christian Schaeffer Brothers Lucas Severin Prize and Trevor Deiderich Prize got their charmingly antiquated middle names from their great-grandfathers, and that little biographical snippet provides the name for their musical collaboration. Saint Anthony's Fire is the band's first release, and it sounds like the fruitful labor of plenty of both bedroom songwriting sessions and meticulous studio tinkering. The Prizes worked with Gentleman Auction House's Eric Enger and Ryan Adams, two musicians who know how to assemble clattering pop songs in a basement studio. (And those missing Enger's voice during his long absence from the stage can spot it on the driving "Easy Living") Like GAH, the Great Grandfathers shares a love of modern R&B filtered through a lo-fi indie-rock sensibility, and tracks like "In Love or Prison" ride on drum-machine beats and synthy patterns. Elsewhere, the band sticks to more rock-friendly instrumentation, but that adherence to upfront rhythms and sticky hooks never wavers across the album's ten tracks.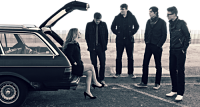 Gold Motel Fri., 8:00 p.m. July 27 w/ We Should Leave This Tree @ The Firebird - $10 By Roy Kasten Power pop is the domain of awkward white males, but Gold Motel traverses the turf like it has the keys to the sugary kingdom. Led by singer and songwriter Greta Morgan (of the Hush Sound), the Chicago-based band has the drum sound of the Knack, the guitar tone of the Raspberries and the hooks of both put together, with Bangles-ish harmonies added in for playful measure. "I don't have forever, but I live like I do," sings Morgan on "Perfect in My Mind," the most irresistible, built-for-summer-radio song to ever feature toy piano on the bridge. Gold Motel doesn't make the most challenging music -- if you like your indie pop tempered by lo-fi fuzz, look elsewhere -- but the band doesn't need to. In its capable hands, smart, tart, dance-worthy singles sound like the soundtrack of forever.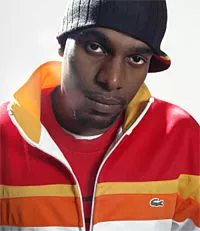 Nite Owl Fri., 8:00 p.m. July 27 @ Vintage Vinyl - Free By Calvin Cox With more than a dozen albums (that's original albums, not including mixtapes) and countless shows under his belt to date, Nite Owl has been recognized as one of the hardest grinding emcees in the 'Lou for several years running. Local Celebrity snagged the top-selling spot at Vintage Vinyl upon its release last year, and his upcoming release, Callabo Queens, is full of promise as well; it's slated to boast twenty all-new tracks, each featuring verses from one of nine female rappers. Regardless of his consistency, one shouldn't take Nite Owl's work ethic for granted. The 37-year-old veteran has plans on a few more projects & such as a "Greatest Hits" album recorded live at Blueberry Hill & but he says that by the time he hits 40, he'll be calling it a rap.
Future & Pusha T Sat., 8:00 p.m. July 28 @ Ambassador - $20-$65 By Josh Levi As one half of the rap duo Clipse, Terrence "Pusha T" Thornton has scorched the earth with his relentless lyrical assault. Known for his succinct delivery, T's glamorization of drug-dealer culture and romanticized tales of violence is as addictive as the cocaine he talks about pushing on the streets of his Virginia home. Since signing to Kanye West's G.O.O.D. Music in 2010, T has been no stranger to the mic, collaborating with West The-Dream, Tyler The Creator and even beefing with Lil' Wayne. In a genre where artists rap for relevance, Pusha T's twenty years in the game continue to cement him as a lasting force. What Happened To That Boy: After putting Clipse on hold in 2009, Pusha T has released two official mix tapes in the Fear of God series, leading up to the release of his upcoming debut solo album.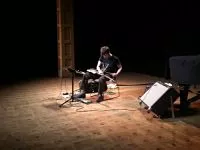 Darin Gray / Bill Horist Duo Sat., 9:00 p.m. July 28 w/ Ghost Ice, Radiant Husk Duo, Larva @ Schlafly Tap Room - Free By Joseph Hess Bill Horist lives bound to the guitar neck, and urges its strings to cry through composite drones. He bleeds a stoic sound and works out a product that elevates melody through sharp noise. This wild jazz filters inorganic squalls with natural and familiar sound. These elements bring phrases that recur in Horist's set, creating an inexhaustible love with every piece. Collaborator Darin Gray is an expert in plucking the low tones and living in sound space as if it were his own home. Gray's deeply personal sound gives the impression that every spectator is a voyeur, peering into the private conversation of improvised auteurs. His Guitar Is Prepared, Are You?: Horist is an artist you'd pay no simple chump change to see through a New Music Circle event. Schlafly Tap Room provides the room, free of charge and free of stage.
Naked Raygun Sat., 7:30 p.m. July 28 w/ The Humanoids, Ultraman, Better Days, Hot Atomics @ The Firebird - $15 By Daniel Hill Rarely are the openers for a show as completely appropriate as this one. There's the classic St. Louis punk of Ultraman, which was active and likely played with Naked Raygun during its original '80s heyday. There's the infectious Descendants-style punk of the Humanoids and the hyper-active feel-good skate-punk of Better Days -- the members of both bands cut their teeth playing hardcore punk, just as NR did. And hell, Hot Atomics named itself after a Naked Raygun song. It is only appropriate that these bands -- some of St. Louis' finest -- should open for Chicago's legendary Naked Raygun, one of the earliest purveyors of post-punk, whose melodic sound has influenced countless others. Thanks, Riot Fest: Naked Raygun's reformation came about in 2006 at Chicago's Riot Fest. The people behind the fest have since put out a series of new NR singles as well as a DVD. A new LP is said to be in the band's future as well.
Fang Island Sun., 8:30 p.m. July 29 @ Off Broadway - $13/$16 By Ryan Wasoba Fang Island's unapologetic 2010 posi-rock debut was famously described as "everyone high-fiving everyone." Alas, man cannot live on high-fives alone; palms chafe, and the gesture eventually loses its magic. With its sophomore record Major, the Brooklyn group has expanded its palette to include handshakes and hugs. Whereas a Fang Island classic like "Daisy" was a constant stream of bottle rocket explosions, the slow-mo build of Major standout "Asunder" causes its climax to break the sky open like a laser beam straight out of an Independence Day UFO. The signature skin slaps are still present, but now Fang Island makes you work for them. Alternate Uses For the Album Major: Sonic answer for that "meaning of life" question, curriculum for college "Music Appreciation" classes, hold music at suicide prevention hotlines.