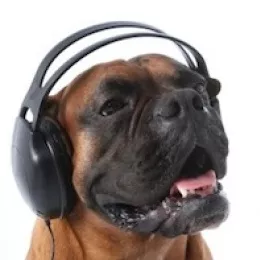 Last week we counted down the six best songs about cats. In the name of fairness - and as a continuation of the Nitpick Six Animal Series, here are the six best songs about dogs. Let us know your favorite dog tracks in the comments below.
6. Deerhoof - "Kidz Are So Small" On "Kidz Are So Small," Deerhoof explores the canine/owner relationship as a vehicle for its never-ending weirdness. "If I were a man and you a dog, I'd throw a stick for you," sings Satomi Matsuzaki. Later she flips the script: "If I were dog and you a man, I'd throw a fit for you." When Iggy Pop imagined the dog swap on "I Wanna Be Your Dog," he focused on submission; Ben Folds used his dog as a metaphor for loyalty on "Dog." Deerhoof plays off a more complicated idea, that strange pride an owner feels when his/her dog is freaking out to protect his/her human. And that barking sound at 0:53 is plain adorable.
5. George Clinton - "Atomic Dog" Yeah, "Atomic Dog" is only partly about an actual dog, one presumably composed of singular atoms that have not yet formed into molecules. The rest of the song is an analogy for Clinton's tail-pursuing ways. He wonders "Why must I chase the cat?" although he does not sound as remorseful as the self-inquisition implies. Despite not exactly focusing on the title canine, "Atomic Dog" makes the cut because it has been subsequently sampled in a ridiculous number of dog-centric hip-hop songs. You may recall the "Bow-wow-wow-yippee-yo-yippee-ay" hook from Snoop's "Who Am I? (What's My Name?)" or the bassline from "Pumps And A Bump," the track by Hammer after he dropped the "MC" from his moniker and tried too hard to lose his family-friendly image. Pitbull sampled the track for 2009's "Girls," proving that as long as hip-hop artists are enamored with dogs, the legacy of "Atomic Dog" will continue.
4. Modest Mouse - "Wild Pack Of Family Dogs" Not all dogs are domesticated. The characters in "Wild Pack Of Family Dogs" keep kidnapping Isaac Brock from Modest Mouse's family members. Even his own dog joins the party. By the brief song's close, Brock's narrator is so discouraged by his life, he's "waiting for the pack to take me away." He assumes the pack ate his sister (and probably his dog) but the facts are ambiguous. Maybe his desire to join them is not a death obsession, it's a Where The Wild Things Are fantasy about making a new family with the creatures in the woods. Hard to guess, because Brock's character "didn't say much of anything at all." 3. Elvis Presley - "Hound Dog" Another metaphor, yes. Many songs compare a person to a dog, but "Hound Dog" takes it further because the dog sucks. "You ain't nothing but a hound dog, crying all the time." Have you ever heard a Basset howling? It's cute for a maximum of ten seconds. It "ain't never caught a rabbit," and "ain't no friend of mine." Damn right, you useless, Brian-Posehn-looking piece of shit dog.
2. The Extra Lens - "Dogs Of Clinic 17" The Extra Lens is a current project of the Mountain Goats' John Darnielle which recalls the spirit of the stripped-down songs he used to record onto a Sony Walkman before 2001's Tallahassee. It also comes off as Darnielle's chance to loosen up a bit, as he does when speaking from a dog eye view on "Dogs Of Clinic 17." The protagonist lives in a shelter, where he is fed and given a "white pill to chase the chills away." He appreciates his habitat and the "guy in the white coat" who takes care of him and is hoping to adopt him. At the close of the track, he sings "There's a light in the window / There's a light in all of us trying to get free / There's a light in all of you who hear my song / There's a virus eating its way through me." Like Darnielle's best songs (and the two best cat songs), "Dogs Of Clinic 17" is uplifting and tragic at the same time. Magically, the former outweighs the latter.
1. The Suicide Machines - "Sometimes I Don't Mind" When The Suicide Machines' frontman Jason Navarro sings "You won't lay down, you'll hardly sit / I give you a bath when you smell like shit," you may think "Wow, what a strange love song." That lyric, buried in the third verse, is the big indicator that the muse in "Sometimes I Don't Mind" is a mutt. Most of the tune is universal enough to put the track on par with the sweetest pop punk songs: "I watch you sleep sometimes and it feels like the first time." "There's something in the way you walk / Something there that lights a spark inside of me." These lines could serenade any ol' gal, but this is a different kind of adoration. "I talk to you sometimes even though you never talk back." "There's something strange I can't get mad / Even when you're being bad." The average person might understand the concept of unconditional love better through dogs than humans. "Sometimes I Don't Mind" is an endearing reminder of why we call our canines man's best friend.