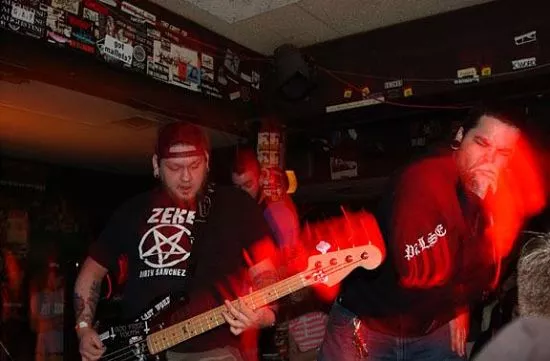 The Requiem @ Lemp Arts Center - Bassist Kevin Tomorrow and vocalist Chris Kenyon
The Requiem was a fast hardcore punk band with melodic leanings that operated in the hardcore scene of St. Louis from early 2003 until mid 2005. The band's sound was in the same vein as Panic, American Nightmare and/or Bane, wherein fast four-chord riffs give way to mid-tempo breakdowns underneath a passion-filled, screamed vocal delivery.
The earliest incarnation of the band featured Tony LeSeure on vocals -- his previous band had been the hilariously-named and fucking awesome 2 Keys House staple powerviolence group Keanu Reeves Reeveau. A mid-stream lineup change brought in vocalist Chris Kenyon who, coupled with the addition of second guitarist Phil Branch, seemed to bring added focus the already-beloved local band. In it's two years of existence The Requiem released two EPs, the first, In Loving Memory Of..., with Tony and the latter, We Are Not Equals, with Chris, both of which were later released on a discography CD along with demo tracks and unreleased songs on St. Louis' Dark Front Records. The band played it's official last show on June 17, 2005 at the Lemp Arts Center. Following Chris's tragic passing, which involved complications from a seizure just months later in late 2005, The Requiem reunited with Tony for a one-time benefit / memorial show at the Czech Center.
Below: an interview with guitarist John Gierse, a streaming track, photos, video footage from the band's last show, and the complete downloadable 22-song discography.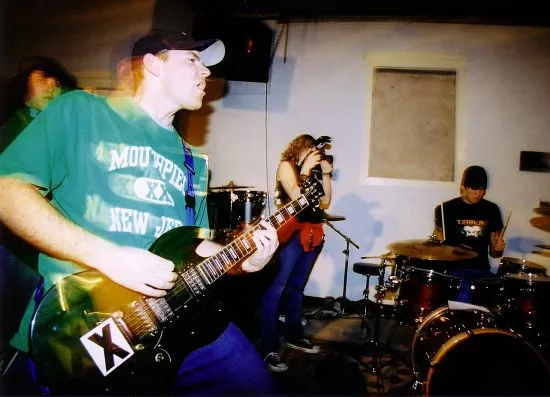 Guitarist John Gierse and drummer Mitch Morris
The DIY punk, hardcore and metal scenes have always existed underground and off-the-radar in St. Louis, operating out of basement venues and VFW halls throughout town and rarely-if-ever striving for mainstream attention. While necessary to conduct business properly, an unfortunate side-effect of the approach is that within a few years of disbanding great musical acts are often seemingly erased from the public consciousness. This could have to do with the fact that there is no "retirement plan" for aging punks -- indeed, the genre is perpetually populated by kids in the 18- to 24-year-old demographic -- or perhaps more to do with the intentionally underground middle-finger-to-the-public-at-large attitude with which the music carries itself. In any case, I've always found this posthumous descent into obscurity to be a shame, and my aim with this weekly blog is to shed some (discreet) light on the actions of the current local scene as well as to document some of the notable bands from our city's past.
See Also: Better Days Saw the Cro-Mags Stabbing Coming and Has a Seven-Inch on the Way
St. Louis' First 'Real' Breaks: Interview, Photos, Video And The Complete Discography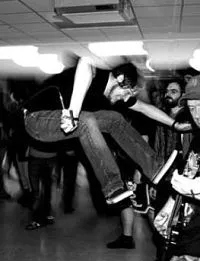 Original Vocalist Tony LeSeure
That would have been 2003, right?
Yes. That was right after we traveled across the country to play Che Fest in San Diego. I think he played one last show and then Chris (who originally had the idea for the band) took over on vocals and Phil came in on second guitar.
The rest of the interview and the complete downloadable discography is on the next page. So, if i got my notes right (by which I mean I'm reading the Dark Front discography liner notes), Tony sang on the "In Loving Memory Of" EP, yes?
Yes, that and the first demo. Chris sang on everything else.
Being that the band was conceptualized by Chris in the first place, how was it different when he took over singing?
For one, his vocals were a lot harsher, and the lyrics I think took a more "poetic" route. A lot had to do with Phil as well; he contributed a lot to the writing process. The change was pretty immediate too: The music went from being fairly basic to a more darker, melodic sound, I guess, and the song structures got a bit more complex.
Was Jimmy Eberle ever in this band?
(Laughing) I think he was probably twelve.
Yeah but still. Why did The Requiem call it quits?
Let's see... I think everyone was feeling like it had run its course. Kevin decided to quit, and it just fell apart after that. A few months later we talked about getting back together; this time Mike came on board and played bass. Unfortunately this lasted two shows before it fell apart again. Sadly, Chris passed away about a month later.
What was a personal highlight for you from being in this band?
By far, going to out to San Diego. We piled into two cars and took off not knowing what we were getting ourselves into, and ended up having the time of our lives. Getting to share the stage with the likes of Over My Dead Body, Champion, The Promise, Bane...the list went on. And then there was the drunken mess the whole way there and back.
Any last words?
This was by far my favorite band I've been in, so I definitely want to say thank you to everyone that supported us in any way, anyone that still remembers, and anyone that may be hearing us for the first time after this. It would be fun to do another show, but as it stands I don't see that happening. But if given the chance, I'm fairly certain we would still be willing to shred easy chairs with lawnmowers. Just maybe not in a kitchen this time.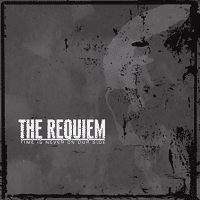 The Requiem - Time is Never on Our Side
Tracklisting: We Are Not Equals EP 1. The Three Graces 2. Hearts & Dust 3. Misery Meets A Soulmate 4. What We Do Is Secret 5. Six Feet Deep And Falling 6. If The Spirits Are Willing In Loving Memory Of... EP 7. Out Of My Cold Dead Hands 8. Forms Of Heaven 9. Green Eyes And A Pretty Smile 10. The Dying Days Of Summer 11. Of Empty Promises And Goodbyes Demos / Unreleased 12. Sorry It Had To End Like This 13. Friendly Fire 14. The Ghostly Sweet Taste Of Freedom 15. Waking Up On The Wrong Side Of Salvation 16. The Fine Art Of Cinematics 17. Trading Knives For Guns 18. Six Feet Deep And Falling 19. The Three Graces 20. Misery Meets A Soulmate 21. What We Do Is Secret 22. If The Spirits Are Willing
Footage from The Requiem's Final Show