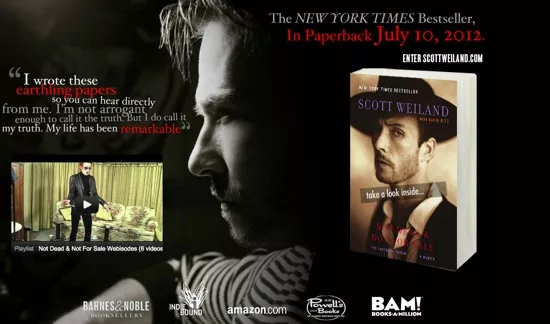 What greets you at www.scottweiland.com. That final word rotates out -- there's also "demoralized" "redemptive" and "twisted."
Take away the string of No. 1 hits and the millions of dollars that followed, and Scott Weiland's story could have been authored by any number of lapsed Catholics who've struggled with addiction or complicated family and love relationships, to say nothing of those deadly sins.
Mostly, though, the shock in the Stone Temple Pilots' frontman/erstwhile exoskeleton's memoir, Not Dead & Not For Sale (a better title would have been Punch-Drunk & Without Bail, surely?), released last week, comes from how innocent much of it sounds: When Core ("Sex Type Thing," "Plush," "Creep") was at its height in 1992, for example, Weiland was only in his early twenties, pining for a girl, Jannina, who was all of seventeen. He'd marry her two years later.
Early pages read in part like a teenager's diary: "I'm in love with love -- or is it the idea of being in love? ....But why, I wonder, does love always equal a broken heart?"
Oh boy.
Things pick up a bit in the meat of the book, authored with the help of David Ritz (whose CV includes collaborations with Don Rickles [two], Laila Ali and cowriting the song "Sexual Healing"). An athletic altar server with an unabashed appreciation for Captain & Tennille, John Lennon and Sergei Prokofiev, Scott Weiland grew up splitting his time between school months in Ohio with his stepdad, Dave Weiland, and summers with his biological dad, Kent Kline, in California. "Having two dads and no dad was confusing," he says. That push-pull carries throughout adulthood with recurring themes of love versus lust, critical success versus personal satisfaction, being on the wagon and hurling himself off of it over and over again.
Yet along with his normal-enough childhood and adolescence came the deep scars carved out by deaths of family members, friends, a teenage girlfriend's abortion and being raped by a football player from his high school.
But these unquestionably tragic revelations are surprisingly few. We know all too well about the drugs, the rehab, the relapses. In any rock memoir, it's nice for the reader to get a deeper insight into the artist's mind when he wrote an iconic verse. But here, when explained, the lyrics are generally met with an anticlimactic "Oh," rather than an enlightened "Ooooooh."
As the lyrics go, so goes Weiland life: "'Trippin' on a Hole in a Paper Heart' reflects my hunger for redemption," he writes, before quoting the lyrics, "It's the last you'll ever choose. I am I am, I said I'm not myself, but I'm not dead and not for sale. Hold me closer, closer, let me go, let me be, just let me be me." Instead, most revealing are the little asides, like his list of Do's and Don't's: "Do like horses on trails. Don't like motorcycles on the L.A. Fwy. Do like dressing well, as if you haven't put any effort into it. Don't like men that dress like cads."
Or under the subhead "A Song I Need To Write": "It concerns a stripper I dated after I had broken up with Jannina and was on the outs with Mary [Forsberg, his second ex-wife]. [The stripper] fell on her knees to pleasure me. A half hour later she was throwing plates at my head. I have the title -- 'Flame Thrower' -- but the melody remains locked up somewhere in my imagination." Now that's interesting.
Make-ups and break-ups -- with lovers and bandmates alike -- dominate the narrative, as do candid stories about the high highs and low lows that come with his addictions to heroin and coke: "Chills, heat, sweat, shakes. I was puking and shitting my brains out" is a refrain in Not Dead & Not For Sale as familiar as those from Core (so named, see, because the band "wanted to get to the essential elements of what were were all about -- the core of our music").
A quick and easy read, many of the book's sections are just a couple of pages long, the text further broken up by lyrics and snapshots. Whether it's worth the $15 price tag is debatable: If you already own Thank You, STP's excellent greatest-hits album, you can pretty much deduce the back-stories because there they are, right in the lyrics themselves. To that end, whether a listener finds pleasure in simple songs or if she'd rather puzzle through the intricacies, music's power comes from what the audience brings to it. Here, there just isn't that much to puzzle through.
Though maybe that's a good thing. Because so many of Weiland's lyrics are about battles between vices, or, in the case of "Sour Girl," this girl or that one (it's about his now ex-wife Mary, not Jannina), I'll switch up the girls just one more time. That way "Sour Girl" can remain my favorite Stone Temple Pilots song, leaving open the possibility that, inexplicably, it's written about me in college, when I heard it on the radio -- and loved it -- almost every single day.