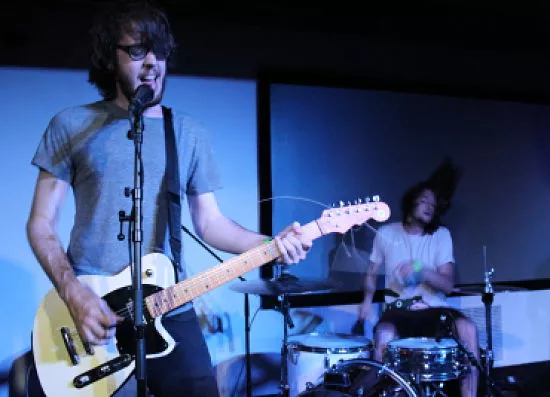 Cloud Nothings at the Luminary
Cloud Nothings | 1, 2, 3 | Volcanoes July 16, 2012 Luminary Center for the Arts
Local Band Volcanoes described the evening's sound before it ever happened. "We get together in my basement to practice and piss my parents off. Seriously, this is what pisses my parents off," says Eric Peters. Cloud Nothings, 1,2,3 and Volcanoes brought youthfully exalted angst to the Luminary Center for the Arts last night.
Cloud Nothings' first appearance in St. Louis was loud to say the least. But loud in the way you'd expect and crave from a lo-fi, garage band. Although some descriptions attribute a pop element to its sound, there was none present at the Luminary last night. Cloud Nothings stayed true to its grunge, garage punk elements. Yet my fear associated with live, distorted vocals definitely came true. Dylan Baldi's voice was nearly inaudible the entire show. The heavy drumming and screech guitars overpowered the lyrics, making one question whether the drums actually needed microphones.
However, the vocals were only a small disappointing blip in the overall performance. Drummer Jayson Gerycz's ability to move at the rate required was astounding. By the beginning of the third song "Separation," the crow was gyrating in ways reminiscent of entranced '90s head banging. "Holy shit!" yelled a fan following the song's conclusion.
"I haven't been able to hear out of my left ear for a week and it just popped during that song," says Baldi following the crowd's yell.
Cloud Nothings' most impressive performance piece took place between "Cut You" and "Wasted Days." The band erupted into a fifteen minute rock out characterized by disconnected bar chords and manipulated sounds. Baldi knelt on the floor near the monitor messing with his pedal. Eventually, he stopped strumming and solely twisted the knobs, creating nothing but static. Guitarist Joe Boyer joined in the madness. All the while, bassist TJ Duke turned his back to the crowd standing motionless, with the exception of the up and down movements of his head, a foot from his speaker. They brought the improvisational session into the rhythm of "Wasted Days" flawlessly, sparking an attempted mosh pit in the crowd. Again, "holy shit" echoes from the crowd.
There was barely a break to breathe between songs, if you could even figure out where each began and ceased. Cloud Nothings finished off the set with the most recent hit "No Future/No Past" from Attack on Memory (2012). Not nearly as abrasive as previous songs played, "No Future/No Past" allowed a chance to finally hear Baldi's voice. The slower pace (slower for Cloud Nothings) and bass line were an appropriate choice for preparing the crowd to reenter society.
Baldi immediately headed toward the merchandise table awaiting the crowd's dispersal. However, they remained chanting at the stage for an encore. "Don't they know I'm back here?" he says. Returning to the front, he asked them, "What are you guys still doing here?" and proceeded to tell the story of meeting Wilco. His story only prompted shouts for more and he agreed play a few older songs to wrap up the night.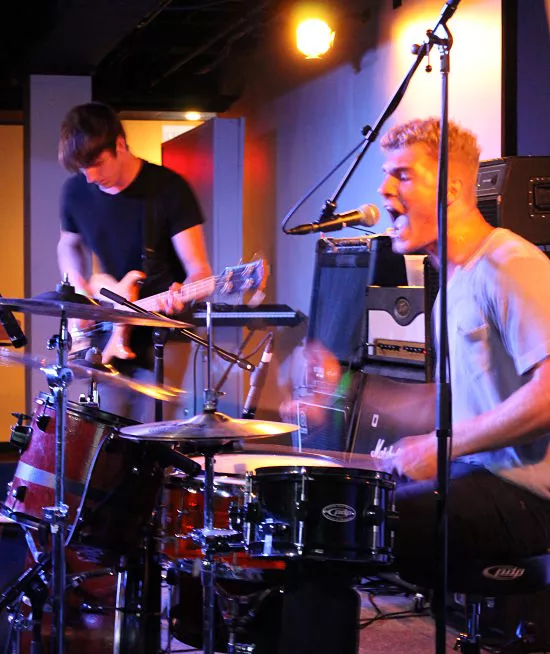 Volcanoes began the night with high energy. "With Black Gloves" caused band members John Ryan and Eric Peters to erupt into head banging prompting the college-age and younger crowd to follow suit. Mid-set, Ryan and Peters swapped instruments, further demonstrating their musical aptitude. "Exploding Hands" explored the darker side of the synthesizer and forced those in the crowd not yet moving to at least bob their heads.
Volcanoes noise rock was more that enough to keep the crowd interested, yet Ryan and Peters have a gift for making the crowd laugh between songs. They made jokes about their next Bruce Springsteen-like song before launching into another noise rock thrash that couldn't have been farther away from the classic rock star's style. "A Knife in the Dark" called for a third member and Impressively, Volcanoes was able to reach out to friend and Bear Hive member Chris Philips to join them on the drums. "I can't hear anything right now," yelled Peter as the band neared its finale. Volcanoes brought the energy early and quickly, doing exactly what any opening band should do: prepare the crowd for the headliner.
The same can not be said for 1,2,3. While the band deserves kudos for its multi-movement song "Just Like Heaven is Gone," it didn't seem to fit the bill last night. 1,2,3 possesses a cleaner indie rock sound than the other two bands. The blood rush created by Volcanoes was quickly halted by this rock that lacked the distorted rhythm needed to keep energy high. In "20,000 Blades," the band switched to an acoustic lead guitar that only brought the energy lower. Its final song "Meet Me in the Sky with a Lawn Chair" attempted to steer down the correct alley. Its fast, symbol heavy drums and short, sweet, to the point length brought the crowd back up a level before Cloud Nothings entered the stage.
The Luminary was a fitting venue for the show, though it seemed almost too clean and well-kept for this sweat drenched concert. Its small size created an intimate atmosphere where the bands were literally within arms' reach. If the show had taken place in a damp, moldy warehouse basement, you'd swear you were in the '90s grunge scene again. If your ears still worked and your neck wasn't in pain from head banging as you left this show, you definitely weren't there.
Critic's Notebook
Personal bias: A case of the Mondays left me with a serious need to purge some intense emotion.
Random Detail: During set breaks (and more often then you'd think during), at least one person in every clique preoccupied themselves with a smart phone. Tweeting the details, perhaps? Or examples of our technology obsessed generation?
Overheard: "Hey I like your top." "I got this shirt at, like, Goodwiil today for, like, 50 cents. I, like, love Goodwill so much."
Number of square, thick rimmed glasses present: 24
Setlists
Cloud Nothings setlist, 7/16/12
Stay Useless Fall In Separation Cut You Wasted Days No Sentiment Our Plans No Future/No Past Encore: Can't Stay Awake Not Important Leave You Forever
Volcanoes setlist
We Spend Our Youths' Unconcscious With Black Gloves With the Creatures Heathers Exploding Hands Let's Get Comfortable A Knife in the Dark ...And Then We Destroyed Each Other Kingdom
1, 2, 3 setlist
Work Going Away Party Scared, but Not That Scared Lonesome Boring Summer Confetti Wave Pool Just Like Heaven is Gone 20,000 Blades Meet Me in the Sky with Lawn Chairs