Fiona Apple | Blake Mills July 14, 2012 The Peabody Opera House
Fiona Apple is not afraid of silence -- but at least a few of her St. Louis fans might be. At Apple's concert Saturday at the Peabody Opera House (1400 Market Street; 314-499-7600) there were more than a few moments when hootin' and hollerin' from a few rowdy audience members seemed to threaten not only the experience of enjoying the singer's gripping live performance, but also maybe the singer herself. To Apple's credit, her performance wasn't at all deterred, despite the obnoxious lady sitting in the mezzanine who punctuated every other song by yelling, "Rock it out, Fiona!"
If it seems unfair to criticize vociferous fans at a concert, I submit that Fiona Apple isn't that kind of musician. There is already a skittishness to her stage presence, a feeling that too much of anything will throw off the precarious balance that her talents demand. Upon entering the Peabody, multiple ushers urgently informed me to remember that, "There's no flash photography allowed at tonight's show. If the artist sees one flash go off she'll exit the stage." Effuse praise all you like, St. Louis, but please don't send her walking off stage.
But then the Fiona Apple who haunted spotlights at last night's show was more restrained, less skittish, more firmly in control if only slightly uncomfortable. There was writhing on the floor, there was manic dancing with abandon, but wild gesticulation played second fiddle to the current of furious emotion firing through each song, every falsetto, every playful or anguished note. In the thick of a ballad her visceral passion and honesty swelled, threatening to burst, but its final chords found her calmed, even renewed.
It's been a long time since Fiona Apple was in St. Louis, and prior to the June 19, 2012, release of her fourth album The Idler Wheel Is Wiser Than the Driver of the Screw and Whipping Cords Will Serve You More Than Ropes Will Ever Do, she hadn't released a record since 2005's Extraordinary Machine. On that album's titular track she states plainly, "I'm good at being uncomfortable, so I can't stop changing all the time," a feeling that takes on new meaning in her evolved stage presence and approach. Whether she's more comfortable or better at hiding discomfort isn't clear, but it makes for a startling, stunning and cathartic show where the defining characteristic is damn good music.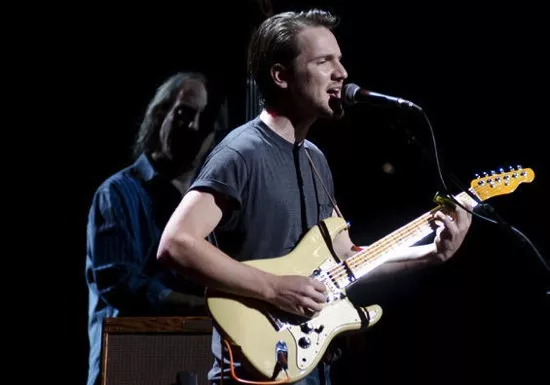 Show opener Blake Mills -- alongside drummer Amy Wood and upright bassist Sebastian Steinberg -- plays not only tour support for Apple's jaunt across the country, but also the trio, along with Zac Rae on keyboard, comprise her concert band. Mills is a dazzling musician in his own right, commanding an electric guitar with the skill of a craftsman. Halfway through his 35-minute set he more-or-less apologized for opening the show, commenting, "Somebody's gotta do it." The theater wasn't at capacity for the duration of Mills' bluesy, twang-tinged set, which was really a shame: His flawless fretwork and folksy sound unfolded dusty lullabies more subdued than Apple's but just as raw and true. He performed several songs from his 2010 album Break Mirrors, including the album's single, "Hey Lover," and wrapped up the soothing set with two covers; the first "Sleepwalk" from the movie La Bamba and the second "I'll Never Do You Wrong" by Joe Tex.
A neat 30 minutes after Mills exited the stage -- and the crowd at the Peabody filled out -- he and Steinberg, Wood and Rae returned, with Fiona Apple slinking to center stage as the lights abruptly shut off and just as abruptly reignited, as Apple opened with "Fast As You Can" from When the Pawn... (1999). The surging, frenzied-tempo cut launched a set heavier in fan favorites than The Idler Wheel... offerings, a gift to all who hadn't seen her since 1997, perhaps. Throughout the show the arresting, almost disorienting lighting followed the ebb and flow of each song, giving that much more form to Apple's expressive physicality.
Though part and parcel of her mythology, the wild, erratic movement and dancing was dialed down, nevertheless she offered an incarnation of it in anxious kicks and flailing limbs. "On the Bound," another gem from When the Pawn..., followed "Fast As You Can," with Apple moving from the center stage mic to the baby grand at stage left. "On the Bound," with all its longing and tension, found Apple hunched over the piano, her face razor-close to the instrument, grinding her fingers into the keys. As the song wretches to its maddening end she pauses briefly, still at the piano, and the first few notes of "Shadowboxer" from her debut, Tidal (1996), flood out. The strength and piercing honesty of her songs stir ghosts on stage, fettered, then floating, then freed. And it's on to the next one.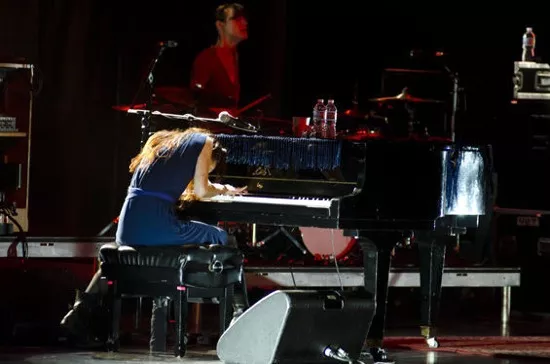 Then she's back at center stage for the churning "Paper Bag" (When the Pawn...) arguably her most famous song not titled "Criminal," and it's lauded in kind by the audience -- but then, they're lauding every song, movement, whisper. "Paper Bag" straddles extreme falsettos and crushing, deep, mournful cries (growls?), all of which Apple belts with heartbreaking soul, accompanied by jerky, stumbling dance. Four songs into the set she finally tenders some The Idler Wheel... with "Anything We Want," a mesmerizing break that waxes a sunnier brand of romance. The trip forward is brief; soon it's back to When the Pawn... with gloomy, conversational "Get Gone." Delving even deeper, Apple cuts through the next song, "Sleep to Dream" (Tidal), like a machete through tall grass. Fully inhabiting and taking the shape of each song she spouts is distraction enough from the small nervous habits she also fully inhabits on stage -- Playing with her long, messy hair, unfurling it like a curtain around her slight frame, tightly fastening it in ponytails; exchanging her dark rimmed glasses between every other song; dancing on her toes like a possessed ballerina.
"Extraordinary Machine" from the album of the same name (2005) rouses the crowd with its calculated buoyancy, with Apple channeling Judy Garland on high notes, Billie Holiday on the low. The band -- Mills, Steinberg, Wood, Rae -- are exceptional, too, clear, crisp and enhance the turbulent tide of Apple's vocals. Glimpses of The Idler Wheel... return with "Werewolf" (found-sound included) alternating with "Tymps (The Sick in the Head Song)" from Extraordinary Machine, then back with "Daredevil" followed by the closing track from When the Pawn..., "I Know."
The last new cut is "Every Single Night," the first single from The Idler Wheel..., a riff of experimental vocals with a stirring hook. The final three songs of an already fan-focused set come in quick succession and to much sensation: "Not About Love," (Extraordinary Machine) with Apple back on piano, a triumphant, stormy charge; "Carrion," (Tidal) a darker, more solemn mood that edges into "Criminal," (Tidal) the song that put her on the map in 1996 and a song that could feel boilerplate if it were anyone else's. For the first time Apple removes the mic from its stand, curling the chord with her fingers, sauntering about in the spotlight, clocking a forceful, almost antagonistic rendition of the redemption song.
All evening she has been short on small talk and crowd banter -- that didn't keep the crowd from bantering with her, though -- and as "Criminal" reached its feverish, retching end, she asks the crowd to, "Pretend it's two minutes in the future," and explained that she and her band don't leave the stage for their encore. Her parting gift for the evening was a cover of Conway Twitty's "My One and Only You," a sweet ballad that Apple begins softly, then roars to a close. A soul-filled extended guitar solo by Blake Mills leaves the crowd rapt in attention -- if only it'd been a full house for his set -- and Fiona Apple's undeniable preternatural pipes pluck the song to a close. Cut to the singer throwing in a bit of writhing on the floor, maybe just for old time's sake, and she exits, leaving a stunned and empathetic audience in her wake.
Setlist: Fast As You Can On the Bound Shadowboxer Paper Bag Anything We Want Get Gone Sleep to Dream Extraordinary Machine Werewolf Tymps (The Sick in the Head Song) Daredevil I Know Every Single Night Not About Love Carrion Criminal Encore: My One and Only You (Conway Twitty cover)