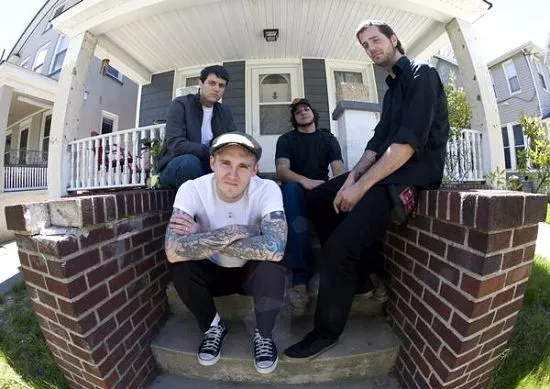 The Gaslight Anthem - Friday @ the Firebird
This weekend would have been the hundredth birthday of Woody Guthrie, if he'd only lived that long. To celebrate, both Plush and Off Broadway are hosting tributes -- Plush's is on Friday night and Off Broadway's is on Saturday. It was good thinking on the part of these two venues to put their shows on different nights, rather than to attempt to split the crowd -- kudos. In any case, Saturday is the official date. Scrawl a threat on an acoustic guitar in the man's honor.
Fiona Apple is this weekend as well; catch her show Saturday night at the Peabody. Also on Saturday is Pink Floyd tribute act El Monstero, at Verizon Wireless Amphitheater. The outdoor venue affords the group another opportunity to fly in a helicopter before "Another Brick in the Wall" if they should so choose, so watch out for that. The rest of our picks follow.
Friday:
Bockman @ Off Broadway w/ Spectator 9:00 p.m. | $8-$11 Bockman is back, working on a new indie-pop album after a four-year break. Spectator is releasing their brand-new six song EP at this show as well; make sure to pick up a copy. (DH)
The Gaslight Anthem @ The Firebird 8:00 p.m. | $20 Hopped up on Springsteen (we're required by law to make that reference, people) and rolling into town with a sellout already assured, the Gaslight Anthem promise a night of sweat, beer and endless possibility. (KM)
New Years Rulin's: A Tribute to Woody Guthrie @ Plush 9:00 p.m. | $5 Photographer Corey Woodruff took Woody Guthrie's charming and wise New Year's Rulin's and turned them into a portrait series. Further contextualization of the great American voice will come from some major St. Louis voices, including Cassie Morgan and Ryan Spearman. (KM)
Saturday:
Fiona Apple @ Peabody Opera House 7:30 p.m. | $45-$90 She is a raw nerve and deadly to irony. You've heard the superlatives following her into St. Louis, right? (KM)
El Monstero @ Verizon Wireless Amphitheater 7:00 p.m. | $17-$68 The biggest stage show in town arrives for the first time at the biggest dedicated concert space in the area -- we have no idea how they'll top last year's inaugural outdoor run. (KM)
Tedeschi Trucks Band - Saturday @ the Touhill
Band Scramble 2012 @ El Lenador 7:00 p.m. | $5 Thirty-five musicians put their names in a hat back in June and were selected to form seven impromptu new bands to perform newly-written songs at this show. It's a fun spin on the idea of an open-mic night at the always-eclectic El Lenador. (DH)
Just One Big Soul: Woody Guthrie 100th Birthday Party @ Off Broadway w/ Ben Bedford, Brothers Lazaroff, Kevin Buckley, Campfire Club, Colonel Ford, Cree Rider, Family Duo, Greg Silsby and Dustin Greer, Letter to Memphis, Langen Neubacher & the Defeated County, Stickley & Canan, the Union Electric, the Warbuckles 8:00 p.m. | $10-$13 One of two tributes to Woody Guthrie this weekend, this show if stacked with local talent to pay respect to a music legend on what would have been his actual 100th birthday. (DH)
Tedeschi Trucks Band @ Blanche M Touhill Performing Arts Center 8:00 p.m. | $45 The husband and wife duo that comprise the heart (and namesake) of Tedeschi Trucks Band are joined by nine other talented musicians, creating a sprawling blues sound that has already earned the group a Grammy award for Best Blues Album. (DH)
Sunday:
Even Chance Pit Bull Benefit @ Lemmon's w/ Ruka Puff, Everything Went Black, Hazard to ya Booty, more 5:30 p.m. | $5 An eclectic line-up joins forces for the common cause of eradicating the ignorance that surrounds the pit bull breed of dogs. Adoptable pit bulls will be on hand; be a pal and give one a good home. (DH)
Mayor Daley @ Pig Slop With Bug Chaser, Demonlover, Kisser 9:00 p.m. Don't miss this one. I'm serious. Ask some people. (KM)