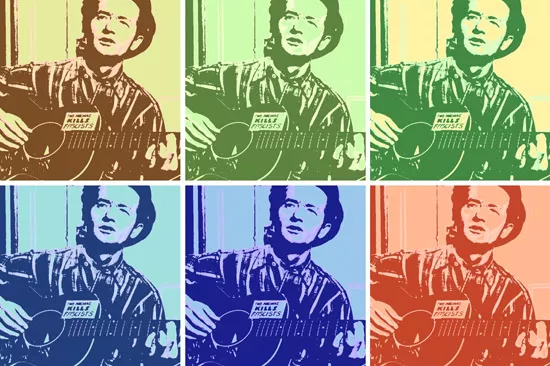 No American songwriter has produced a more malleable, sing-able and shareable body of work than Woodrow Wilson Guthrie. Decades after his death, his archives continue to yield sweet, unfinished fruit for the likes of Jay Farrar, Billy Bragg and the Klezmatics (for starters) and his songs continue to be reinterpreted in contexts he of the boundless imagination could never have imagined.
Right now, somewhere in the world, someone is singing a Woody Guthrie song - and feeling glad to be alive to do it.
On the eve of the centennial of his birth, I've put together a list of 14 covers of Woody's songs, focusing on lesser-known or surprising interpretations. Everyone knows (or should know) Seeger, Springsteen, Dylan, Arlo, Ramblin' Jack, Wilco and Bragg's covers. But Slaid Cleaves? Flatt and Scruggs? Karen Dalton? Hear and see in the rundown below - and happy birthday, Woody.
1. Slaid Cleaves - "This Morning I Was Born Again" Woody was steeped in hillbilly country music, and that means he knew gospel music -- and how powerful a secular subversion of it can be. As does contemporary troubadour Slaid Cleaves.
2. Ry Cooder - "Vigilante Man" Cooder has recorded a number of Guthrie songs, but here, with head wrapped like an East LA hustler, he cuts into one of the darkest songs in the English language.
3. Karen Dalton - "Pastures of Plenty" The Greenwich Village contemporary of young Dylan finds something totally uncanny in one of Guthrie's most spiritual - because it's soaked in the land - songs.
4. Bob Dylan - "Last Thoughts on Woody Guthrie" Not a cover, but a channeling, and Dylan's first composition to hint at total genius, written at the age of 22. 5. Bob Dylan and the Band - "Dear Mrs. Roosevelt" Dylan emerged from seclusion in 1968 to perform at Carnegie Hall for a Guthrie tribute, and of course the Band, not even yet known as the Band, was in tow. Together they rocked the dust off "I Ain't Got No Home" and "Grand Coulee Dam," but the late Levon Helm's tender drumming and the woozy harmonies of this performance set it apart.
6. Jay Farrar, Will Johnson, Anders Parker and Yim Yames - "Careless Reckless Love" Jay Farrar grew up hearing the songs of Woody Guthrie; he's been playing them for a long time. You can feel what Guthrie means to him, and his cohorts, in this version of "Careless Reckless Love," a lyric revived by Farrar as part of the New Multitudes Guthrie Archive project.
7. Flatt and Scruggs - "Hard Travelin'" If you don't believe Lester when he sings these lines, you better believe Earl's fleet, melodic banjo.
8. Sharon Jones - "This Land Is Your Land" Sharon Jones and the Dap-Kings recorded the greatest version of the greatest song about America. This take is a stunning inversion. Thanks to Robin Wheeler for hipping me to it.
9. The Klezmatics - "Gonna Get Through This World" Elastic and hopeful. 10. Jimmy LaFave - "Oklahoma Hills" Jimmy LaFave is the greatest living Texoma singer, a red-dirt Van Morrison who owns every song he sings.
11. Country Joe McDonald - "Tom Joad" McDonald cut an entire album of Guthrie covers, and like this retelling of the retelling of The Grapes of Wrath, the whole thing cooks like a Hooverville fire.
12. Old Crow Medicine Show - "Union Maid" Just how hard can old-time string band music rock? This hard.
13. Johnny Rodriguez - "Deportee (Plane Wreck at Los Gatos)" While searching for David Rodriguez (no relation) and Lucinda Williams' harrowing version of this song, I stumbled across this knowing glide by the one-time major country hit-maker. Embedding disabled so watch it on YouTube.
14. U2 - "Jesus Christ" Don't forget: U2 was a rock & roll band.