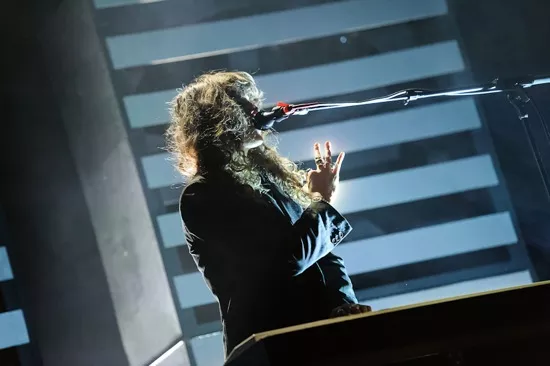 Beach House July 11, 2012 The Pageant
Let's start with some Bonnie Tyler: "Once upon a time there was light in my life; now there's only love in the dark." And like a perfect stranger in the night, through smoke and warm silhouettes, Beach House crept into the hearts of St. Louis concertgoers last night at the Pageant. Simultaneously offering light in turn with darkness, the Baltimore band packed the house with a set mostly comprising songs from its latest Sub Pop release, Bloom.
The band took the stage promptly at 9:15 p.m., and the eager crowd erupted in cheers as Victoria Legrand, Alex Scally, and their current live drummer propelled into the gallant stride of "Wild," the second track off of Bloom. Known for creating simple yet effective stage shows, Beach House was able to bring its dreamworld of nostalgia and innocence to the audience. Basking beneath artificial stars, the band performed silhouetted against a backdrop of slatted boxes encasing fans and lights, creating an appropriate visual equivalent to its ethereal pop tunes.
This is Beach House's fourth St. Louis show, and it has found its footing in the medium-sized venue. Last time, it was at the Chaifetz Arena, and two times prior it was the Billiken Club. The band's songs remain too intimate for arena venues yet are too booming for the latter. As its sound has evolved from lackadaisical Casiotone-driven chamber ballads to triumphant dream pop, it makes sense that songs like "Gila" (one of the tracks played off of fan favorite Devotion) now take a backseat to the jubilant force of "10 Mile Stereo" and "Myth."
"Thank you for being with us this evening. There are a lot of people. Thank you for coming out tonight," Legrand said dryly, acknowledging the crowd only after the fifth song. Beach House isn't necessarily a band you "rock out" to, but they certainly aren't a band you awkwardly gape at either. Although the packed room seemed be out in force for the headliners, no signs from most of the audience could distinguish painful boredom from true excitement. Were they unaffected by the indie cred of a band who just released a fantastic fourth album? Were these people even enjoying the show?
"Is everybody okay? We're doing great up here!" Scally exclaimed.
Beach House is perfect. Its cascading walls of keys, heart-searing guitar and crashing percussion make for a holy trinity in the dream pop kingdom. After previous shows featuring songs mainly from 2010's Teen Dream and Devotion, it is a welcome treat to see the direction the band has taken. Sounds stronger and lyrical themes more apparent, Beach House continue to evolve, surprise and deliver.
Notes and setlist are on the next page.
Setlist
Wild Gila Norway Other People Lazuli Used To Be Heart of Chambers Equal Mind Silver Soul The Hours New Year Zebra Wishes Take Care Myth Encore 10 Mile Stereo Irene
Critic's Notebook:
Personal Bias: It being my third time seeing Beach House, it is safe to say it was one of my favorite performances of theirs. At this point in their career they are too big for venues like the Billiken Club, yet their sound is still too intimate for arenas like Chaifetz. Although the Pageant remains a good compromise, one can't help but long for a venue like Mississippi Nights.
Random Detail: Through smoke and artificial stars Beach House brought the house down, complete with a raging smoke alarm going off between songs during its triumphant encore.