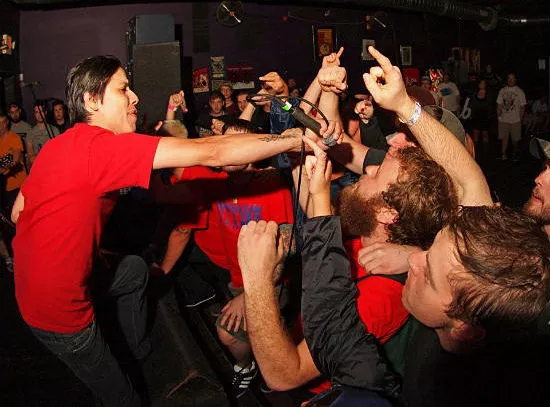 Photo provided by Better Days
Better Days has existed since the beginning of 2010, comprised of hardcore scene veterans and former members of local favorites To No End, the Requiem and Saturday Night's Alright for Fighting (as well as many more). Playing catchy, melodic anthems drenched in positivity and good times, Better Days hit the ground running with its self-released demo entitled Songs About Drinking (complete with Big Black parody art) and has been playing basements and stages alike throughout town ever since. The sound is reminiscent of Gorilla Biscuits crossed with Saves the Day, or maybe a slightly less spastic Kid Dynamite, and it has already earned the band loyal fans all over St. Louis.
Recently Better Days hooked up with Maplewood-based local label I Hate Punk Rock Records for the upcoming release of its debut seven-inch EP, Good Luck Tonight, taking advantage of IHPR's in-house recording and screenprinting facilities. We sat down with bassist Kevin Tomorrow and drummer Travis Sheaffer and talked about the record, broken collarbones, and Harley from the Cro-Mags recent stab-frenzy assault charges. The interview and a preview track from the record can be found below.
The DIY punk, hardcore and metal scenes have always existed underground and off-the-radar in St. Louis, operating out of basement venues and VFW halls throughout town and rarely-if-ever striving for mainstream attention. While necessary to conduct business properly, an unfortunate side-effect of the approach is that within a few years of disbanding great musical acts are often seemingly erased from the public consciousness. This could have to do with the fact that there is no "retirement plan" for aging punks -- indeed, the genre is perpetually populated by kids in the 18- to 24-year-old demographic -- or perhaps more to do with the intentionally underground middle-finger-to-the-public-at-large attitude with which the music carries itself. In any case, I've always found this posthumous descent into obscurity to be a shame, and my aim with this weekly blog is to shed some (discreet) light on the actions of the current local scene as well as to document some of the notable bands from our city's past.
See also: St. Louis' First 'Real' Breaks: Interview, Photos, Video And The Complete Discography
(Interview edited for content and clarity.)
Daniel Hill: OK, so tell me about the new record.
Travis Scheaffer: It was recorded over three days with Gabe Usery at Encapsulated Studios.
Kevin Tomorrow: We went with Gabe because he recorded our demo and has watched Better Days evolve over the year between recording the demo and recording the seven inch.
TS: Four fast and aggressive melodic hardcore jams, with posi lyrics. Pencilbomb is doing our cover art. Mike Jones and I Hate Punk Rock Records will be putting it out.
TS: Pencilbomb has done cover art for the new Humanoids, Haddonfields, and Hot Atomics in the past.
When and how did you guys get hooked up with I Hate Punk Rock?
TS: Mike Jones is our homey and he's been there for us since the beginning. He's helped us by stuffing our old demos and stickers in his mail orders. He also wore a Better Days t-shirt for like five or six consecutive days while touring down to The Fest with Bent Left last year.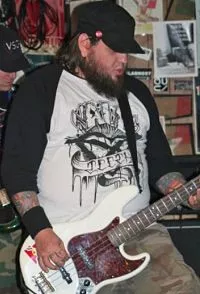 KT: From day one IHPR and all the bands on the label have been extremely supportive of us. It is I Hate Punk Rock's 25th release. We will be screenprinting the covers and the inserts are gonna be done on an old school letter press. It's pretty cool and DIY that the record is gonna be recorded, jackets printed, inserts printed and put together all under the same roof at Encapsulated Studios. We're keeping as much of this release local as possible.
Nice. Let's back up for a sec. How did Better Days, as a band, come about?
KT: I got this one.
TS: (Laughing) Kevin is a dictator!
KT: Me and Johnny have been playing in bands together since 1999 or 2000. Sometime around 06/07 we started talking about putting together a faster, melodic, poppy hardcore punk band. So Johnny demoed out two songs. We started trying to put the band together and life just didn't let it happen. Fast-forward to the summer of 2010, I am playing in a band with Travis and I dig out those demo songs and talk to Johnny about giving it another try. Travis starts playing drums for us right away.
TS: You forgot to mention [lead singer Chris] Vela. I really don't know how he got in the band.
KT: Oh yeah....We had decided we wanted to have two guitar players. We ended up getting Drawz from A Death and a Promise playing for us. We were having trouble finding a singer and, I forgot who mentioned him, but we dug out some old To No End demos and had him come out. It was a perfect fit from the start.
Speaking of, he's been wandering around town in a sling for the last few weeks. Tell me about that broken collarbone of his.
TS: He was on his bike and a car about clipped him and he flew over the handlebars. Broke his collarbone and doesn't have insurance to fix it... Also put him out of work, but he is a trooper and has no problem doing his thing at shows. I think he self medicates a lot (laughs).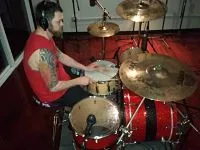 KT: We all do! (More laughs).
Is Jimmy Eberle in your band?
TS: (Laughing) Actually Kevin and I are starting another band with Jimmy.
KT: (More laughs) Not this one, but our other band. And Jimmy was one of the first guitar players we worked with. Practiced a couple times with him.
Off the subject for a moment: so Harley from the Cro-Mags went stab-crazy over the weekend. Your thoughts?
TS: Doesn't surprise me, that dude is super fucked up. Plus didn't he write most of the Cro-Mags lyrics and music?
KT: He said he was going to do that awhile back. It's fucking funny.
Did he?
KT: Pretty sure he made some sort of threat against the whole band cause they are not the "real" Cro-Mags.
So, can world peace be done?
TS: Nope.
KT: Know Jesus, know peace.... no Jesus, no peace... (laughs).
Street Justice!
(Everyone laughing)
But really though, any last words?
KT: I have been going to shows for a long ass time and right now has to be one of the most exciting times locally. There are so many amazing bands out there, crossing many different styles. We are lucky to be a part of what is going on right now. And get off your ass and go see local bands play -- you're fucking up if you are blowing off the local scene.
TS: Support DIY music, support local hardcore and punk, support small labels, and lastly thank you to anyone that has checked us out and I hope people stick with us and watch us progress. We are trying to keep it sincere and fun.
KT: We got a show Tuesday night @ Fubar w/ Mountain Man, A Dying Regime, Can We Win and Perfect People. show at 8:00pm, $10 all ages.