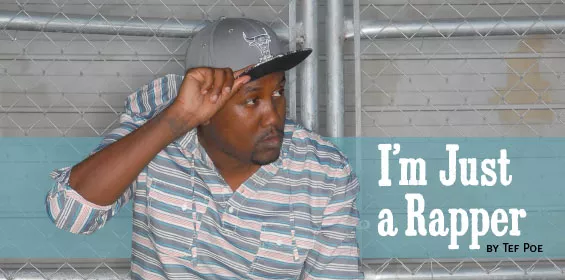 Editor: Tef Poe is an artist from St. Louis City. Through powerful imagery and complicated honesty, he has earned a reputation as one of the best rappers telling the story of St. Louis, which is about much more than one place. Poe has been featured in music publications such as XXL and Urb Magazine. His next project War Machine 2 was released this Tuesday, June 5th and will be followed up by a full-length with DJ Burn One entitled Cheer For The Villain. Follow him on twitter @tefpoe. Get War Machine 2 here.
Every week in I'm Just A Rapper Tef discusses modern life, hip-hop, and the deep connection between them.
The time on the digital clock is 3:36 a.m. and I'm currently writing the blog while I listen to the forever timeless classic Illmatic.
I pull up my iTunes and take a quick glance at the bottom of the screen and notice that this album is only a total of 40 minutes long. I honestly haven't given it a fair listen in many years. I grew up listening to hip-hop, but I'm from St. Louis, and I'm not nearly 40 years old, so this album is definitely one of those I had to go back and study years after it was already released.
This is a process that seemed to be mandatory for me when I first decided to strengthen my relationship with the hip-hop culture. I went back and bought store copies of any album The Source magazine referred to as a classic. For a period of time the magazine was the hip-hop media standardized voice, so if they labeled an album as a classic then hip-hop heads like myself blindly agreed. Over the course of time, they've been accused of showing bias towards East Coast rap albums, but I never really allowed myself to dive into those arguments too deeply. I felt like The Source was amazing and I was just grateful to have something in place that would help introduce me to my cultures preferred icons and the timeless music many of them created. I have listened to Illmatic so much I probably can get away with never listening to it again ever in life. Listening to this album has become a ritual. When I was younger, I had no idea playing this immaculate body of music from my favorite living rapper (Nas) on a continual basis would later take the fun out of it for me. I love Illmatic, but I ruined it for myself by listening to it too damn much. I can quote this project nearly from front to back, skits included.
I discovered this album at a time I didn't know much about the mechanics of emceeing and lyricism, and I can happily say much of my approach to the art form was borrowed from this collection of songs. This is arguably the most classic of all hip-hop classics. So here we are: this installment of the column is going to be a dedication to classic hip-hop albums.
I decided to turn Illmatic off after browsing through a few songs. I sit here dwelling thinking about the memories in my life that are attached to this music. Truthfully speaking I'm one of those Nas fans that tends to think his sophomore album It Was Written is better than Illmatic. My logic is simple: By his second album, he had more commercial influence and his production budget was enormous, since he was now officially one of the biggest names in rap music by this time. So on his sophomore album, we were blessed with a Nas and Dr. Dre collaboration. Nas and Lauryn Hill connected and made one of the most classic rap records of all times, "If I Rule The World." The joint were Nas rapped as if he were a gun -- "I Gave You Power" -- is absolutely amazing and can combat any rap record released in 2012. This album was amazing.
Anyway after dwelling on a few of these thoughts I move on to Common's Resurrection. I love the production on this album because it reminds me of the early '90s hip-hop I was semi-too young to fully understand a while ago. So once again, this is a project I went back and studied many years after it was released. Most of the production is flawless, even though it's stuff I don't think I would necessarily choose to rap on. The beats have so much life you need a certain amount of skill level as a lyricist to even approach these tracks. Resurrection was my first time being introduced to the soundscapes of the legendary No I.D. and his soulful musical range. No I.D. paved the way for a guy named Kanye West, and the rest is history as No and Ye' have since combined powers behind the scenes and changed the world. A few of the songs have double meanings and concepts you won't catch on the first listen.
This album is also the body of work that sparked the classic battle between Ice Cube and Common. This feud was spawned due to the super classic Common single "I Used To Love Her." Cube and Common are two of my favorite rappers ever, so needless to say I was confused and hurt when I found out about their battle [laughs]. The Resurrection LP is truly slept on and may possibly be Common's best lyrical effort. I feel like it's the Midwestern version of Illmatic. Super lyricism combined with super production for the win. I remember sitting in my mother's basement listening to this album thinking to myself, "I have never heard anything this in my life!" I felt this same exact thing for almost every other Common album released for at least few years. A classic hip-hop album finds some kind of way to make the listener relate to the universe of the artist on some sort of heightened level of comprehension. Both of the albums mentioned made me wish I lived in Chicago or New York. I wanted to visit the streets they mentioned, eat at the restaurants they rhymed about, visit the same parks. These albums influenced the way I talked, walked and dressed. As an artist, I am constantly in pursuit of such moments for my very own fans. It's my job to shape the universe I have described in my music for them. I grew up in some troublesome times in the city, and the music I make reflects that on some level. I watch a bunch of science fiction documentaries, superhero flicks, political science films; I'm also a huge fan of world history. So it's my job to put this all in the music and make it make sense to the listener. If I do this right then the fans will connect on a level that transforms the lives of all parties involved.
Finding the right producers is key to this task. On a personal level I've been blessed to work with what I consider some of the dopest producers the world has yet to hear about. As a rapper, if I do my job properly, this will also change. The lyrics are the vehicle and the producers are the gasoline, so myself and the producers I work with are constantly reshaping the sound we have created together. In the past I thought my efforts to make an underground classic were fulfilled, but a part of me was wrong because the sound we were creating had the ability to be duplicated by others. War Machine 2 is the closest I come thus far to answering the call my fans have longed for from me on a certain level of creativity. Sometimes it's not necessarily the music itself that we view as timeless but more so the emotion and the message attached to the album -- the particular train of thought the artist developed during the creation process. Jay-Z's Blueprint album is flawless from front to back, but it also didn't hurt that he chose to go at Nas and Mobb Deep via "The Takeover." Nas responded to Jigger with "Ether" on his project Stillmatic, and the ingredients of two classic hip-hop albums are born. Sometimes it's just the overall climate of pop culture coinciding with the actual world most of us really live in. Long story short a battle between Jay and Nas was long overdue and these albums served as the perfect soundtracks.
I'm listening to an artist from Texas by the name of Rob Gullate -- his project is called The Abortion Project. He's from Houston Texas but he doesn't really make the kind of music we've grown accustomed to hearing from Texas emcees. He has a strong delivery and vivid imagery, drowning in realism. His perspective is often harsh but it comes off as sincere and real. Rob's music is currently introducing me to a form of Texas hip-hop I never knew existed. I use the word universe a lot when describing musicians. Rob's music has created its own universe in my mind, and I'm enjoying the adventures his life has introduced me to. As a rapper, I myself desire to do the same exact thing with my very own music. I want people to listen to the music and get completely devoured by the universe my music has created for them to enjoy. In Tef Poe's musical world humans can fly, politicians are corrupt, Stars Wars is not a fictional movie, Malcolm X talked to me when I was six years old and Tupac and God eat lunch together everyday and discuss the worlds problems. Lupe Fiasco's Food and Liquor changed my life for the better. I listened to it so much I probably can't fully allow myself to enjoy it like I should. For a period of time in my life, I was lost in the universe Lupe created with this body of music. I would listen to it and search for slang terms I didn't understand. I used the knowledge collected from studying these albums in real life situations. I was depressed and going through some crazy moments in my personal life, and this music taught me a thing or two about the world. This is the beauty of a great hip-hop album. This is the type of music that educates you, energizes your mind, and speaks on violence, sex and drugs, all at once. Anything can happen at any given moment and it feels so much like a movie you don't want to stop listening.
The actual ingredients of a classic hip-hop album are debatable but the formula is consistent. Be yourself and push the rock as far as you possibly push it. I'm sitting here nodding off as I type this but I don't want to stop listening to music. It sounds so good to me and my ears are begging for more. I can name a thousand classic albums that have changed my life. I'm sitting here flashing back to memories of running to the record store and running back home to the basement and going straight to the CD player in search of some privacy. I needed to be alone with the music. Master P released an album entitled Ghetto Dope that had the same effect on me. The first time I heard Slum Village the same feeling struck me. Brotha Lynch Hung, Twista, Big L, Fiend, the same science applies. I spent summers and winters listening to these guys. I dove as deep into the music as I could and didn't want to come out. I remember when Eminem released his second album. I sat at my computer in silence when I finished listening to the Marshall Mathers LP, and I knew I had just heard a body of music that was destined to change the world. These memories are important to me and will forever mean something to me.
I wanted to be in a position to allow the music to speak directly to me. These are the aftershocks of music on this level of creativity. It changes what we thought we previously knew about the genre. We find ourselves defending these songs in arguments at barbershops. We judge our friends and family according to their opinions concerning certain albums. If you don't like Makaveli's 7 day Theory I more than likely won't get along with you. If you don't think Outkast's Stankonia is a classic then there is really no point in us knowing each other. We're two different kinds of people and our world views are too different for me to personally ignore. In the process of writing this column, I was reminded that, as Tef Poe, everything I do begins with the music. I don't have off days or moments that allow me to beg for mercy from the general public.
While I'm sitting here on the computer typing someone somewhere in the world is preparing what may be the next big classic hip-hop album. The cycle never stops and this in general is how hip-hop works. The number one rule is keep anything dope, fresh, and respectable alive for as long possible. So with this said I have no shame in listening to rap albums that come from nearly two decades ago. I embrace the memories these bodies of music gifted me. Some good, some bad, and ugly yet they are my memories and the music played a large role in the process. It all starts with the music hence that's the very reason we are even here today.
*Picks of the week Yelawolf "Heart of Dixie" Rockwell Knuckles "Helmet" (single) Rob Gullate "ATP" M-Eazy "Light Cheese"