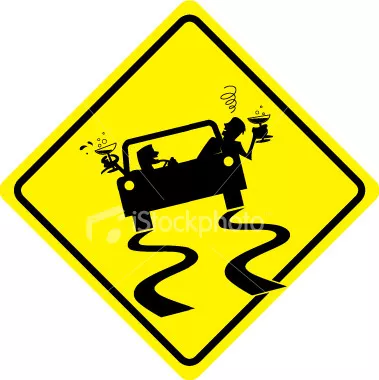 The trifecta may be sex, drugs, and rock & roll, but at some point you have to get from point A to point B. Against its better judgement, rock & roll has gotten behind the wheel while intoxicated several times. We are not endorsing such an activity, but the risk factor of driving while intoxicated has inspired some pretty stellar tracks. Here are the six best references to drunk driving in song. Feel free to comment on your favorites, but only if your blood alcohol content is lower than 0.08.
6. Death Cab For Cutie - "Champagne From A Paper Cup" "I think I'm drunk enough to drive you home now" In an essay Death Cab For Cutie frontman Ben Gibbard wrote for Paste Magazine in 2008. he discussed his lyrical progression: "I decided a handful of years ago that I just want to write songs that you can understand as soon as you put the record on. There's no need to veil what's happening in the song the way I used to." This explains the directness of the band's last few albums, and also why he no longer produces tracks like 1998's "Champagne From A Paper Cup," which plays its vagueness like a hook. Opening line "I think I'm drunk enough to drive you home now" sets up the cloudy imagery that makes the tune comes off like a particularly unsettling Alice In Wonderland tea party dream sequence. Gibbard has written technically better songs over the last five-ish years, but none are this interactive and open-ended.
5. Montell Jordan - "This Is How We Do It" "So I reach for my forty and I turn it up / Designated driver take the keys to my truck" In fifth grade, everything I knew about hip-hop I learned from Montell Jordan's "This Is How We Do It." This includes the following terms: hood, gang-bangers, drive-by, old-school, O.G., mack, wanna-be player, and the difference between a lower-case g and big G (The latter has the money, hundred dollar bills, y'all). His plug for designated drivers is the one nugget of responsibility amidst all the forties and tipped-up cups. Maybe "This Is How We Do It" is a PSA in disguise.
4. Billy Joel - "You May Be Right" "You told me not to drive / But I made it home alive / So you said that only proves that I'm insane" One could argue that the above lyrics refer to the "rode my motorcycle in the rain" phrase beforehand. But there's a potential DUI here, implied by the "Sunday came and trashed it out again" line in the previous verse. My guess is that Billy Joel, the piano man himself, has been told to chill on the booze more often than he's been warned about motorcycle safety. 3. Atmosphere - "Hair" "Lyndale Avenue on the way to her rest / Her drunk ass turns to look at me and she says...." SPOILER ALERT: If you have never heard Atmosphere's "Hair," or never paid attention to it from beginning to end, take the three and a half minutes to listen. I'll wait. Okay, done? Good. You didn't see that one coming, did you? Atmosphere MC Slug starts by mocking musicians who pick up girls, lets his defenses down, and goes home with a girl who drunkenly gets the pair run over by a pickup truck. Offhand, I can't think of another song that uses a buzzkill as a climax.
2. Minus The Bear - "Monkey!!! Knife!!! Fight!!!" "Windows down, the wine in our hands / The city lights just blur" Minus The Bear's goofy song title phase (roughly 2001-2006) was also its vice phase. Of the fourteen tracks on the Seattle band's debut full length Highly Refined Pirates, eight make references to either drinking, smoking, or taking pills. Five of the remaining six tracks are instrumental. The tune "Monkey!!! Knife!!! Fight!!!" not only references drinking and driving, it romanticizes the act. "We'll drive around the lake just a little too fast," Jake Snyder sings in a way that, blended with the track's hazy synth pads and dangerous curves tempo, makes him sound like an enabler. I'm positive that this song's hook has inspired its share of joyrides - and field sobriety tests.
1. Gin Blossoms - "Hey Jealousy" "You see I'm in no shape for driving / Anyway I've got no place to go" Gin Blossoms' best song is also its most tumultuous due to the fact that its author Doug Hopkins was kicked out of the band due to his alcoholism and committed suicide before the album cycle of debut New Miserable Experience was complete. Even without the Hopkins angle, "Hey Jealousy" deals with tricky subjects like dependency, alcohol, regret, and police chases, but it avoids their weight without appearing irresponsible. This song is the friend you always give the benefit of the doubt to, the song you let sleep on your couch for too long without paying rent. Its protagonist is a self-effacing wreck that you just want to hug, and the track plays the endless-night summer jam angle without making you feel pathetic for wanting to go to bed before midnight. Such a context would ruin a lesser song. "Hey Jealousy" is outright transcendent.