Co-author and Missouri native Daniel Durchholz
Ever wondered if Pink Floyd purposefully synced Dark Side of the Moon with the Wizard of Oz? Or if Johnny Cash actually had the Folsom Prison blues? Gary Graff and Daniel Durchholz tackle these questions and more in their newest book Rock 'n' Roll Myths: The True Stories Behind the Most Infamous Legends.
The book examines stories that have intrigued music junkies for decades and keeps the gossip circulating. "One of the things that people like about rock stars is that they are this mysterious person that you want to know more about and that you are drawn into in some fashion," says co-author Daniel Durchholz -- a Missouri native who considers himself a KSHE 95 kid. He grew up going to concerts at the old Keil Opera House, old Ambassador Theater and the American Theater (now the Orpheum). He started writing for the Riverfront Times in the late 1980s (see his archived work here).
Durchholz's presence at the 1991 Guns N' Roses riot at Riverport (now Verizon Wireless Amphitheater) jump started his music journalism career. He has written for the Rolling Stone, Request Magazine, No Depression and countless online publications. He was also editor of Replay magazine.
Rock 'n' Roll Myths expounds the theories that cultivate within this musical fascination. Yes, it answers the questions surrounding Lady Gaga's sex with certainty. And provides the true source of the murderous scream in the 1975 hit "Love Rollercoaster" by the Ohio Players (listen in the background around the 2:30 minute mark).
For other myths, a straight true or false answer just wasn't that easy. Who can actually say if Robert Johnson sold his soul to the devil? "We tried not to only talk about the myths that have developed but also how they were propagated," says Durchholz. Not all myths were started by music franatics or radio personalities. Some myths actually came from the mouths of the artists themselves. "The artist made [the myth] in the idea that it would make them more interesting or sell more records," says Durchholz.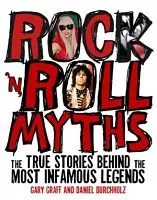 Research for Rock 'n' Roll Myths lasted only a few months for Graff and Durchholz. They combined information from books and magazine articles with first source interviews. Some interviews include Johnny Cash, Alice Cooper, Kiss' Gene Simmons and Paul Stanley, Paul McCartney, Sting, and Pink Floyd's David Gilmour and Nick Mason.
Sometimes speaking to the artist didn't completely dispel the myth. In the interview with Mickey Dolenz, Dolenz admitted he started the rumor about Charles Manson's audition for the Monkees. But following the recent death of Davey Jones, word spread that Jones started the rumor. "That's how ephemeral the nature is of this material that we are dealing with, because the myths just continue to propagate themselves," says Durchholz.
Durchholz and Graff meet in college and have been collaborating since. Their first project together was Musichound, a music consumer guide spanning all genres. They also co-authored Neil Young: Long May You Run: An Illustrated History.
Durchholz currently lives in Wildwood, Missouri. He is a father of three and manages to still stay on top of current music. He does a weekly new release and upcoming shows segement on KTRS 550, weeknights on the John Carney show.