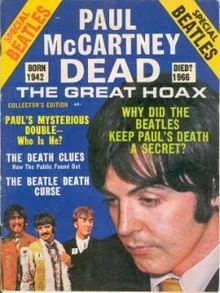 So far as I can tell, this is what differentiates a fun conspiracy theory from an annoying one: A fun conspiracy theory puts far too serious a spin on an unserious issue, while an annoying one maps too unserious a worldview over a serious one. Aliens building the pyramids? Fun, unless you're an Egyptologist. The full range of Loose Change conspiracy theories? Annoying, unless you're an Egyptologist. (I figure Egyptologists have better things to be annoyed about, like pyramids.)
For my money the king of all fun conspiracy theories, though, is that Paul McCartney has been dead for going on 50 years now. So I was excited to see that the internet's meme machine had churned up a site, designed by the creator of Timecube, that suggests thought-provokingly that every Beatle was a fake, at least at one time or another.
One important suggestion, before I blockquote some even choicer pieces of the Paul Is Dead (PID) Internet: Don't think about arguing. Don't think about how this theory presupposes that Faul, the beak-nosed, untalented, fake Paul McCartney who gave up his entire life to live as Paul for the rest of his days, was the primary creative influence on everything from Sgt. Pepper's to Abbey Road, or that John, George, and Ringo proceeded to live with a guy who looked strikingly like their dead friend for four years.
Just forget about all of it, about the imagined moment where you finally convince someone that Paul is alive and responsible for Pipes of Peace, and enjoy the lengths to which members of the PID community will go to turn a press photo into evidence.
The following evidence comes courtesy Plastic Macca and its attached forum, Paul Is Dead - Miss Him. We report, you decide.
1. Faul suckered a generation of hippies into using LSD, which Paul would never do, thereby controlling the population. Paul paid for this with his life.
From one of the few academic papers on the internet to cite Lyndon LaRouche, "Agents for change: Beatles, LSD, & social-engineering":
There is a question about how one might "market" a mind-control drug to the masses to where they would take such a thing willingly. In this case, a super-famous, popular rockstar would, no doubt, fill the bill. The unsuspecting fans might want to try it because it's "cool."

Paul McCartney seems to have been unsuitable for this task. He seems to have been rather reserved in his drug use. For ex., he limited himself to one prelude usually and outright refused to try heroin... Perhaps he resisted being a change agent for inducting the NWO drug culture, and that's what got him eliminated. We will never know for sure, but Paul was not involved in promoting LSD use, since he was replaced by September 1966.
2. The Sgt. Pepper cover is a hint (from somebody) about who was involved in this mind control
I venture to suggest that all of the individuals present on the cover of Sgt. Pepper may have been participants in the Tavistock MK-Ultra mind control mass manipulation operated through puppet politician actors, film stars, etc. and it is no coincidence that Aleister Crowley is present. The cultural control of populations by means of fabricated and coached celebrities is an operation which predates the twentieth century.
3. Barack Obama could be involved in the disinfo campaign.
As mentioned in Faul in Line, PID threads on different forums have been targeted by disinfo agents. This is what President Barack Obama's appointee to head the Office of Information and Regulatory Affairs called "cognitive infiltration" of groups that advocate "conspiracy theories." [see article]. As those engaged in psychological operations know, "new media tools such as online social networking have opened up new opportunities for the IO [Information Operations] community..." [source] The attacks against me and others were styled after COINTELPRO operating procedures and have the goal of silencing PID Truthers. They want to get the threads closed so as to kill any discussion of Paul McCartney's replacement.
4. In the Coming Up video: Faul disrespectfully and pointedly impersonates Paul
Yuck!!! faul really turns my stomach; I truly cannot watch him. He is a freak and a creep and an imposter! Someone on another discussion board thought that the long haired guy in black in the back on the left might be the real Paulie....then, there was some confusion that maybe it was the guy in the white suit next to the long haired guy that maybe was the real Paulie. The long haired guy in black is playing left handed guitar, but allegedly, the one in white next to him moves like our Paulie...I don't know, but the long haired guy in black does seem maybe to look like the real Paulie might look and he behaves very strangely and moves very strangely. It is most likely faul playing that character as well, but with more make-up on. His face, the one in black with long hair, looks so shiny. Oh well, wishful thinking that it would be our Paulie still alive at that time,
5. In conclusion, Paul was shot by the Illuminati (and here's all the backmasking you could ever hope for to prove it.
From "Paul, they had him murdered":
What happened to the real Paul McCartney? After researching PID extensively and considering the attacks on the other Beatles, it is my opinion that he was murdered. To be more specific, I believe he was shot execution-style by agents for the Illuminati. I believe this happened in mid to late August 1966. [See Was Paul McCartney replaced in August 1966?] I think the "car accident" scenario is just disinformation meant to lead people away from the Truth.
Despite this preponderance of evidence, I'm not quite convinced. This just goes to show the lengths people will go in trying to convince themselves they don't love Back to the Egg.