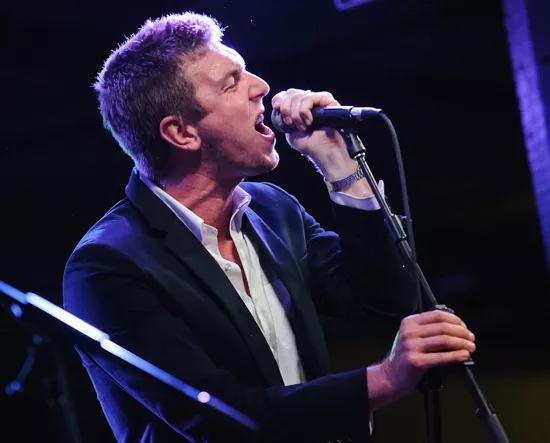 The Walkmen June 28, 2012 Plush
The Walkmen's latest album, Heaven, is adorned with family photos -- on every panel of the album artwork except the front you can find some combination of the neatly dressed members of a perpetually neatly dressed band standing with one or more of their progeny.
It's tempting to find the symbolism there. The Walkmen has survived more than a decade of the rock and roll roller coaster, big successes followed by bigger failures. But in the last three years, the band has found something of an even keel -- three consistently excellent albums and slowly expanding crowds. All five men are married and, last night anyway, keeping booze off the stage. So the photos with the kids might be seen as a conscious projection of maturity, and the record they cover a specifically grown-up affair.
But that's not how front man Hamilton Leithauser tells it. He says they were just looking for a way out of a standard press photo and that any resemblance to an over-arching theme is coincidental. All bands hate to be categorized, but few hate it quite as much as the Walkmen. Leithuaser and his mates have rejected pretty much every classification that's wandered in their direction. Call them sports fans, call them a rock and roll band, and stop trying to call them anything else.
Though that's all a little coy -- of course Heaven is the product of men with children, men who know better than to believe their salvation will come from songs. But man, the songs can take you pretty close.
This was a no-bullshit show, straight into the tunes. We begin with a bunch of the new stuff, which manages the studio depth and warmth just as well in the cavernous Plush. Leithauser has a solid repertoire of front-man moves; he's mastered the subtle art of where to put your head relative to the microphone for maximum dramatic impact.
The remainder of the band --- Paul Maroon, Walter Martin, Peter Bauer and Matt Barrick -- stay mostly out of the way, though Barrick is a kinetic drummer. This is Leithauser's show. I don't know if that's the way it was back in the Bows + Arrows days, when this was a bunch of dudes looking for answers, looking for satisfaction, playing leering, frantic barroom rock.
But now they're entertainers -- still writing personal music, of course, but it's strong ideas told simply and beautifully. It's not hard to imagine them taking cues from someone like Harry Nilsson -- an artist they paid homage to with the somewhat ill-fated Pussycats. Certainly in the new stuff you can her Nilsson's commitment to sonic pleasures. Leithauser isn't shouting anymore. His voice is limber and strong and he can hold a high note like he's alone on stage with a big bright spotlight.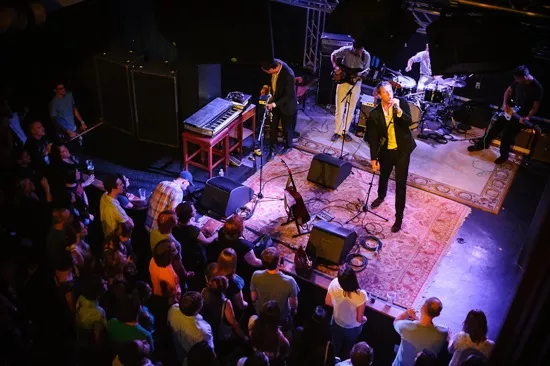 The acoustic interlude didn't go so well -- it's going to take a much more sedating band than the Walkmen to find silence in Plush's distant corners. But for all the chatter, this was without a doubt an engaged crowd, one whose roars of approval matched the flat ceiling of ringing noise produced by the band at its infrequent loudest.
Where the two met was on what remains the biggest hit in the Walkmen's catalogue -- "The Rat," which came three songs into the encore and built the room into a frenzy, inasmuch as that's possible when the dance move of choice is bobbing enthusiastically or, in extreme isolated cases, jumping up and down.
The whole thing was a beautiful display: A band enjoying some consistency and respect and rewarding the hundreds (five hundred? I still can't gauge the crowd at that place) with a nuanced and expertly paced set. If they want nothing more specific than rock & roll, that's just fine by me.
Setlist: Line By Line Heaven Love is Luck Heartbreaker Juveniles Blue As Your Blood All Hands and the Cook Woe is Me Angela Surf City We Can't Be Beat The Love You Love On the Water In the New Year Encore Donde Esta La Playa Four Provinces The Rat Canadian Girl
Critic's Notebook
Personal Bias: Quite a bit, all of it in favor.
Random Detail: I didn't check the time once during this set, and I didn't see anyone else doing it either. And I saw only one wannabe cell phone videographer. Good work, everyone.