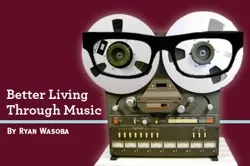 Art and life co-habitate, informing, imitating, and enriching each other constantly. Each week in Better Living Through Music, RFT Music writer Ryan Wasoba explores this symbiotic relationship.
Tom Gabel is dead. In March, the lead singer of Against Me! came out publicly as a transgender female. The artist formerly known as Tom Gabel is now Laura Jane Grace, and she is the first transgender person some fans of the band have ever encountered. This specific situation is not without precedent: Synthesizer extraordinaire Wendy Carlos underwent reassignment surgery using funds from the Switched On Bach album she released in 1968 as Walter Carlos.
There are other transgender musicians, but as far as I can tell, Grace is the first since Carlos to transition after establishing a career as a male. Keeping in mind the tendency for musicians to be societal outsiders and Against Me!'s particular position on the cultural fringes as a punk band, I am surprised there has not been another modern example. I do understand why somebody struggling with gender identity would be hesitant to make such a drastic change in the public eye.
I cannot pretend to be an expert on transgender issues. I have three trans friends, and knowing their struggle has been invaluable to my understanding, just as people tend to hold an abstract view of homosexuality before they truly get to know a gay person. I know that changing genders, rebelling against your physical body, is anything but easy. It involves a level of commitment that would scare off even the most DIY, road-warrior touring bands.
I hope that folks understand that Laura Jane Grace is a rebirth and not a rebranding. Historically, males in rock who flirt with a female persona do so for attention, comedy or irony. The New York Dolls dressed in drag in the infant days of punk, but that was an empty gesture for shock value. It was as meaningless as the swastikas on Sid Vicious's shirts.
Since those days, punk rock has matured from an artform based on shock. Social justice is increasingly part of the punk agenda, and Laura Jane Grace's transition could not have come at a better time. I do not mean this is a publicity stunt, I just can't imagine a comparable figure in rock having such courage twenty years ago. Okay, maybe Guy Picciotto from Fugazi, but he is apparently okay with being a guy. Grace's action is a reflection of our times. Sexuality has become a political issue. While that may be frightening, particularly because it gives ignorance an excuse to surface, it signals an increase in overall tolerance in our country. Without the growing communities that allow once unilaterally shunned ideas like gay marriage to become national hot button issues, Laura Jane Grace might have been a closeted, miserable Tom Gabel forever.
Luckily, Against Me! fans have respected Grace's transition. They defend her on message boards and use the "she" pronouns. They generally seemed to be more supportive of this aspect of Against Me! than the band decision to sign to a major label.
I doubt any of the group's fans will transition themselves solely based on Grace's decision. Transgender is not contagious, but she might be an inspiration to some kids on the fence about their identity, in need of a boost. What Laura Jane Grace will do, and is already doing, is put the hypothetical openness of the modern punk rock mind to the test.
We haven't been given much opportunity to support musicians who belong in the "T" category of the LGBTQ community. I would like to thank Laura Jane Grace for giving us a chance to rise above.