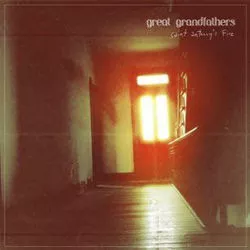 Ed. The Great Grandfathers' debut will be officially released on June 26. Christian Schaeffer reviewed the album in this week's print edition.
Brothers Lucas Severin Prize and Trevor Deiderich Prize got their charmingly antiquated middle names from their great-grandfathers, and that little biographical snippet provides the name for their musical collaboration. Saint Anthony's Fire is the band's first release, and it sounds like the fruitful labor of plenty of both bedroom songwriting sessions and meticulous studio tinkering. The Prizes worked with Gentleman Auction House's Eric Enger and Ryan Adams, two musicians who know how to assemble clattering pop songs in a basement studio. (And those missing Enger's voice during his long absence from the stage can spot it on the driving "Easy Living") Like GAH, the Great Grandfathers shares a love of modern R&B filtered through a lo-fi indie-rock sensibility, and tracks like "In Love or Prison" ride on drum-machine beats and synthy patterns. Elsewhere, the band sticks to more rock-friendly instrumentation, but that adherence to upfront rhythms and sticky hooks never wavers across the album's ten tracks.
The varied instrumentation is a fitting backdrop for the Prizes' lyrical and vocal performances, which ranges from character studies ("Penny Rose") to more emotionally loaded pleadings ("Yours Is the Channel of Bliss"). There's a little of Elvis Costello's and Andrew Bird's smart wordplay and clever rhyming sprinkled throughout, and Lucas' sweet tenor voice has a shaggy-dog quality that recalls Grandaddy's Jason Lytle and the Long Winters' John Roderick. The jazzy shuffle of "Fans of You," which begins with cocktail-hour fanfare, gives the Prize brothers room to harmonize in an unhurried space, and the simple setting is an excellent breather in a record that threatens overstimulation. Plus, a little harpsichord breakdown never killed anyone.