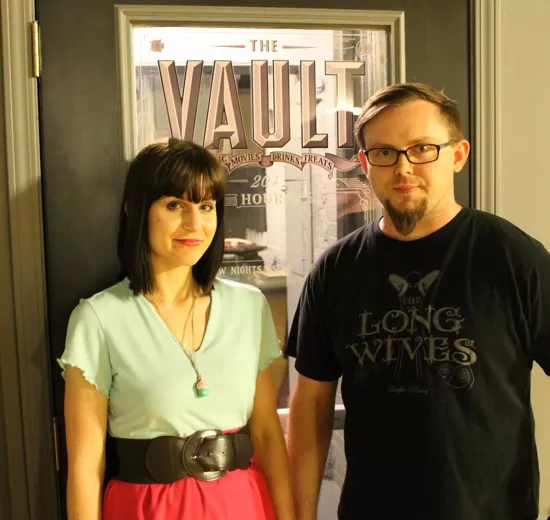 Cassie Kohler
Kerry and Tim Smith outside their music venue the Vault located in Farmington, Missouri
Bob Reuter's Alley Ghost, the Hooten Hollars and Rum Drum Ramblers rocked a full house Friday at the Vault. The crowd was an amalgamation of twenty-somethings to retirees to families. Children ran under legs. Everyone mixed between dancing up a sweat and savoring the performances with a theater like reverence from the seats. All the while, they sipped on Schlafly products and scarfed gourmet, locally raised hot dogs served with Billy Goat chips. Painted brick walls, open duct work and metal staircases enveloped the event with old factory charm. "We haven't been this packed in a long time," says local and house photographer, Steve Hull. Although the Vault's style seems right out of Saint Louis city, this 80 person venue, owned and operated by Tim and Kerry Smith, is actually nestled in the middle of Farmington, Missouri. Or it was. Friday's show was the Vault's last.
Farmington, located 70 miles south of Saint Louis, has a growing population of approximately 16,000 residents. Although the town itself is a total of nine square miles, the Vault drew a crowd from a 40 mile radius, including Tim and Kerry's home of Fredricktown, Missouri. While playing in horror-punk band, Crypt 33, Tim made frequent trips to Saint Louis. His involvement in the local scene lead him to book bands for such venues as the old Creepy Crawl and the Galaxy. Through music, Tim found his interest in printmaking and currently owns Unique Inks. "Screen printing and music just seemed to go hand in hand," says Tim. The print shop, located in their home town, specializes in band posters, t-shirts and album artwork.
The Smiths wanted to bring something to the area it'd never had before: live, original music. "We had been doing free shows in front of our print shop and thought, why not bring it closer to the people," says Tim. They refurbished an old garment factory into a community arts center. The building now contains an art gallery, Mexican restaurant, catering company and tattoo shop. In March of 2011, Tim and Kerry kicked off the Vault with Saint Louis band Pokey LaFarge and the South City Three. Since then, they have been booking nationally touring bands two or three times a week. Some highlights from the Vault's concert lineup include Clownvis, the Fishtank Ensemble, Split Lip Rayfield and the Black Belles, not to mention Saint Louis' own Rat's and People Motion Picture Orchestra's performance of Nosferatu. The Vault wasn't all music; occasionally it held movie nights featuring cult classics like Pretty in Pink and sideshow performers the Invisible Man Corporation.
Lying under the high energy of Friday night was an apparent melancholy associated with the end of something unique. Within this small town's alternative hang out, the Smiths created much more than a business venture; they fostered a subversive music scene and an all age community of artists. Many regulars never experienced anything like the Vault before its inception. Fifteen year-old Hannah Downs found a sense of family and acceptance within the Vault, "It was the place for someone who wasn't a typical small town person to go. Everyone was accepted, there was no judgment here." Artist and door man John DeBold, found his own personal creative voice at the Vault, "I realized, one, there's a sub culture of music that is not mainstream and is just as talented and just as great as anything else that is mainstream. And also, that Tim is able to get these guys here and they want to play here." DeBold currently displays his artwork-he uses mud on burlap sack-in the hallway art gallery outside of the venue.
As the night progressed, the crowd continued to thin, leaving behind the regulars of the Vault community and the musicians that drew them in. Many of the Vault's performers came on recommendation from previous musicians. They were told it was a great stop on their way from Saint Louis to the next destination and a place to gain exposure to fans outside their base. "It's a different crowd in these small towns; a group of people that would be lost on traveling bands and will be now [that the Vault is closing]. It's a whole group of people that is going to be harder to get in touch with," says Chris Baricevic of Bob Reuter's Alley Ghost and Big Muddy Records. Following each set, the enraptured crowd flocked to the merchandise table buying up anything thing they could get their hands on. Unfortunately, the Vault's fanatic followers and unique atmosphere was not enough to sustain the venue. "I sense an unfortunate resistance to new currents and at the same time there is an appetite for new currents, so it's massively contradictory and perplexing as hell. We're all rubbing our eyes and scratching our heads trying to figure it out," says Frances Madeson. Madeson is a published author and Missouri native who recently returned after 35 years living in New York City's Lower East Side. She followed and promoted the Vault on her blog Written Word Spoke Word. The bottom line for the Vault was the lack of support from the surrounding community. Those that grew to understand and appreciate the venue's motives were too small in number and it seemed the rest of the population just didn't get it.
During the last show, a group of nineteen to twenty-three year-olds sat across the street listening from the outside. "It wasn't really my crowd I guess, a little too artsy-fartsy," says Russel Holdman, who also said he'd rather sit in a lawn chair on the side of the road than pay money to listen to music. "This is a hick town. Everyone around here listens to new country music and mainstream music, not the underground," says Vault neighbor Christian Montgomery. Another reason for the Vault's financial struggles was lack of advertising. "We didn't have the funds to advertise to the masses the way a lot of people do. We are an independent business. Plus we ran into some city codes getting the building going that tapped into ad funds," says Tim. The small population of Farmington was pulled multiple directions for their entertainment."There was just too much competition down here," says Tim. "I found myself competing with football games for a crowd."
Despite the Vault's inability to sustain itself, it accomplished its goal of integrating new ideas into the community. "A lot of creativity was fostered here, connections made and community built. That's all there and not going away but instead going forward. Over all, it's a tremendous loss," says Madeson. The Vault was an original concept and a diamond in the rough. According to Tim, "Farmington lost an outlet of expression. Inspiration to start a band. Because, really, there's nothing else to do around here." Kerry fears the message that the Vault's closing sent to the youth. "We've sent a message to anybody that looked toward the Vault for inspiration or hope: don't give into dreams, just conform," she says.
The Smiths topped off the night with an emotionally moving toast from their employees. They plan to continue with Unique Ink and remain hopeful. "Everyone has been so supportive and encouraging, to the point where you don't really see it as a failure. The fact that it meant something to them, that was the point," says Kerry. Eventually, they'd like to move closer to Saint Louis and embark on new ventures in similar directions. The Vault is only a first step for Tim and Kerry Smith in a long journey of artistic adventures. They have laid the ground work, inspired and opened new doors in fresh minds. The Smiths' understanding of current trends, creative energy and willingness to put in the hard work that produces these ventures will pop up again. This is definitely not the last we will see of Tim and Kerry Smith.