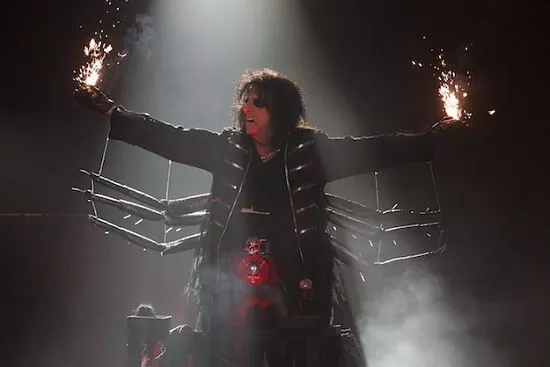 Alice Cooper - Saturday @ The Pageant
I'm going to level with you, folks: It get difficult coming up with these introductory paragraphs week after week for these show posts, but luckily I just got a "word of the day" calendar to help keep it creative. See if you can guess what today's word is. Now, without further cunctation, here's this weekend's picks.
Indie rockers Pinback return to St. Louis after nearly a decade; their show is tonight at the Firebird. Local metal darlings Lion's Daughter release their new CD alongside a stacked lineup; that show is on Saturday. Speaking of stacked shows, S.L.U.M. Fest returns to Atomic Cowboy this Saturday, bringing an unholy amount of hip hop talent with it. The rest of our picks follow.
Friday:
Barleyjuice @ The Gramophone 7:00 p.m. | $8 Local t-shirt moguls Stl Style are having a birthday and have brought out celtic-rockers Barleyjuice to help them celebrate. Throw on your "Saint Fuckin' Louis" shirts and come party. (DH)
Pinback @ The Firebird 8:00 p.m. | $15 Gorgeous (have you heard "Loro" lately?) and complex constructions from the excellent West Coast band. Close your eyes and pretend it's Fall. (KM)
Whitey Morgan & the 78's @ Off Broadway 8:30 p.m. | $10 to $13 Shit-kicking honky-tonk rocker Whitey Morgan heads to Lemp Ave. from the mean streets of Flint, Michigan. (KM)
Saturday:
Miranda Lambert @ Verizon Wireless Amphitheater St. Louis with Chris Young, Jerrod Niemann 7:00 p.m. | $19-$104 In the last seven years, country music songstress Miranda Lambert has been nominated for over 70 music awards, ranging from the Teen Choice variety all the way to a Grammy win. So, yeah, she can sing. (DH)
Alice Cooper @ The Pageant 8:00 p.m. | $32.50 to $37.50 The most theatrical man in rock & roll comes to the Pageant -- not Verizon or any comparably huge arena -- so maybe you'll be able to actually see the stage and finally figure out how he does that one trick where he cuts his own head off. (DH)
Pinback - Friday @ the Firebird
Los Campesinos! @ Plush 8:00 p.m. | $13 to $15 Welsh noisemaker Los Campesinos! is four albums in and showing no signs of slowing the frenetic pace of life espoused in its music. (KM)
The Lion's Daughter CD Release @ The Firebird w/ Everything Went Black, Jack Buck, Black Fast 8:00 p.m. | $5 RFT Award Best Metal Band nominee the Lion's Daughter release their new CD at this show, with support from Best Hardcore nominee Everything Went Black and Best Metal winner Jack Buck. Black Fast probably should have been nominated too, and have in years past....point being, this lineup is stacked to the rafters with local talent. (DH)
Without M.F. Order @ Fubar w/ Against the Grain, Al Bundie's Army, Six Gun Salvation 7:00 p.m. | $8 to $10 Without MF Order's live show is unparalleled, being that most live music events don't include a frontman with a penchant for backyard wrestling style stunts. Come to the show and drive staples into him with a staple gun; he don't mind. (DH)
S.L.U.M. Fest @ Atomic Cowboy w/ Nato Caliph, Family Affair, Skiddalz, Midwest Avengers, many more 2:00 p.m. | $10 to $13 Perhaps the city's biggest showcase of local hip-hop talent, SLUM Fest enters its third year with a full head of steam: This year will see the return of DJ and MC contests and a seemingly impossibly stacked lineup. (KM)
Sunday:
Free Energy @ Plush 8:00 p.m. | $10 to $12 Dance rock five-piece Free Energy is signed to DFA Records, home of YACHT, Hercules & Love Affair and formerly LCD Soundsystem. Like-minded local it! opens. (KM)