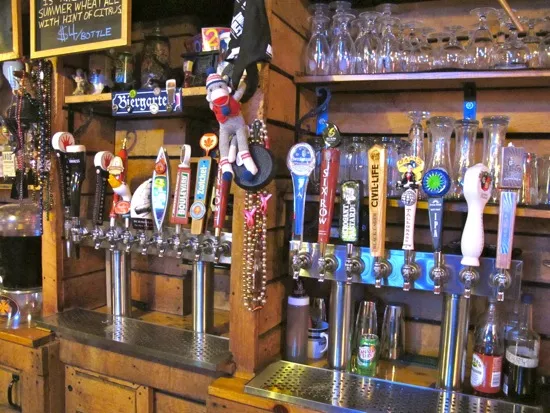 Selecting Riverfront Times' Best of St. Louis 2011 was no picnic. Choosing the winner meant several worthy candidates would go unmentioned -- until now. In this RFT Music series, we're beeboping and scattin' our way through notable runners up in a number of categories. This week: The bars with the best beer selection in St. Louis.
See also: The Seven Best Places for Karaoke in St. Louis The Ten Best Gay Bars in St. Louis The Ten Best 3 a.m. bars in St. Louis. The Ten Best Neighborhood Bars in St. Louis The Ten Best Sports Bars in St. Louis The Ten Best Juke Boxes in St. Louis The Nine Best Blues Clubs in St. Louis
33 Wine Shop & Tasting Bar Though it's a wine bar by name, 33 Wine Shop & Tasting Bar has always done right by beer. Indeed, original owner Jake Hafner opened a craft brewery, the Civil Life Brewing Company, in Tower Grove South. Dylan Mosley is the head brewer at the Civil Life, and for many years the beer list at 33 -- as the place is known to regulars -- was his responsibility. The list Mosley built features numerous examples of the American craft-beer boom of recent years while showcasing classic beers from Germany, Belgium and the United Kingdom, countries that have inspired a new generation of American brewers. The current regime at 33 has maintained Mosley's high standards. Of special note is the oft-rotating draft selection, which, like the list of bottled beers, highlights great beers both American and imported, the rare and not-so.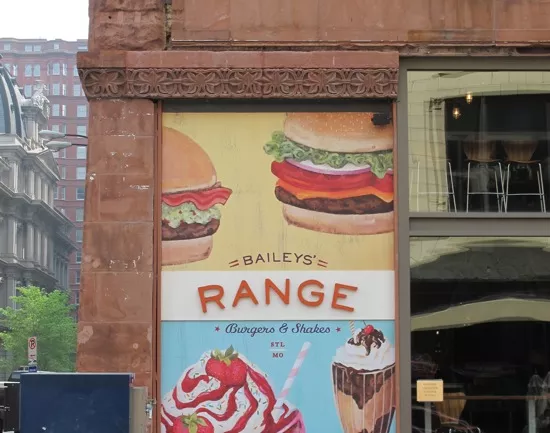 Baileys' Range Any bar worth a malted grain in this town has altered its beer selection to make room for some of our wonderful local brewers. Baileys' Range, the new burger-and-shake spot located in the old City Grocers space, has done this -- and has taken it a step further. Baileys' Range has virtually every local brew available on tap. This selection is perfect for downtown visitors who are short on time but eager to taste area beers: You could do a Schlafly, 4 Hands, Perennial, Civil Life, 2nd Shift, Urban Chestnut and Charleville beer tour in one drunken sitting. Look for its outdoor patio, which will include canned craft beer for the Cardinal game spillover.
Heavy Anchor So many beer bars these days are simply that: beer bars. The Heavy Anchor, located in south city's Bevo neighborhood, sets itself apart from run-of-the-mill beer-nerd hangouts by offering more than just top-shelf, hard-to-find suds. Sure, you can still enjoy your limited-released Bell's Hop Slam, but here you can drink it while taking in a punk-rock show or a zombie-themed movie night (with free popcorn!). Another distinction is that its 60-plus beer selection offers cheap-as-hell options too. So if you spend all your money on pricey Belgians and you need to booze on a budget, buy a tall can of PBR. Heavy Anchor has added a few draught handles to the mix; recent options included the delicious 4 Hands Pyrus Saison and Stone's Ruination IPA.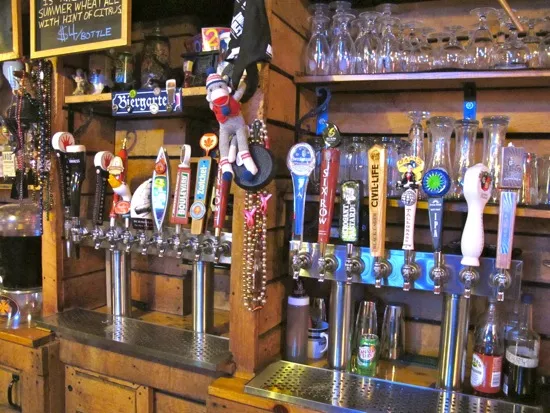 Iron Barley Truth be told, Iron Barley offers fewer beers than most of the bars that made it onto this list. The back bar isn't lined with hundreds of bottles of craft beers you'll never try. Instead, bar manager Darren Weihe puts extra thought into each precious selection. Relying on draught beer more than bottles, Iron Barley offers the best of the locals (4 Hands, Civil Life, Urban Chestnut, Six Row), regionals (Boulevard, Tallgrass, Goose Island) and nationals (Stone, O'Dell, Left Hand, New Belgium, Bell's) alike. And for those who prefer their beer unfiltered and unpasteurized, there is always a choice cask beer on tap. (iTap) International Tap House With locations in Soulard and Chesterfield, it is International Tap House's relentless dedication to good beer that truly sets it apart. Neither location serves food or mixed drinks, nor do they permit smoking inside (except on the patio -- the Soulard one is huge). But both have a passionate, well-trained staff who will maximize your beer-drinking experience. Here, beer is either on draft or kept in coolers, and the selection is immense, with more than 40 drafts and hundreds of bottles. The stock rotates quickly, and kegs are marked down if they've hung around too long so something new can claim the handle -- iTap has been known to bring in rare and esoteric selections. The two International Tap House locations have established themselves not just as the two of the best beer bars in St. Louis but as world-class beer destinations.
Three Kings Public House It was a sad day when the final drink was served at Riddle's Penultimate Café & Wine Bar, home for decades to hungry and thirsty denizens of the Delmar Loop. Thankfully, the owners behind the newest incarnation of the space -- Three Kings Public House -- have done a stellar job creating an inviting, convivial drinking establishment. The physical space is polished yet raw, with exposed brick walls surrounding the main barroom. The bar includes a laudable selection of twenty craft and locally brewed beers on tap, and another twenty or so bottle options, including local powerhouse Perennial Hommel Bier.
The Bridge This attractive downtown spot from restaurateur Dave Bailey (Baileys' Chocolate Bar, Rooster, Baileys' Range) boasts a list of draft and bottled brews so lengthy that it might take you a pint or two before you even reach for the food menu. American craft brewers such as New Belgium, Bell's and St. Louis' own 2nd Shift and Civil Life dominate the draft selection of nearly 60 taps that range from crisp pale ales to hoppy IPAs to rich, smoky porters. The bottle list expands to include beers from Belgium, the UK, Japan and more, as well as a wider range of American craft brews. Of course, you can enjoy a pint or three on their own, but they make great accompaniments to the Bridge's casual menu of snacks and small plates, particularly the spiced popcorn and nuts.
Cicero's With all the great local breweries popping up over the last few years, some may find it easy to forget about Cicero's. The tried-and-true Delmar Boulevard restaurant has been going strong since 1977, and its beer selection rivals any competitor around town. With more than 200 different bottle selections and some 50 beers on tap, Cicero's is a beer nerd's heaven. And all the bottles are in clear coolers, which can make choosing and ordering a beer much more interactive than simply sifting through a ten-page drink menu. Cicero's love for beer doesn't stop at simply providing a comprehensive menu of beers; it's also dedicated to teaching people about the beer it serves by offering Beer School, a weekly program that conducts classes that consist of tasting, discussing and learning about beers. Finally, an education program that requires drinking beer as part of its curriculum.