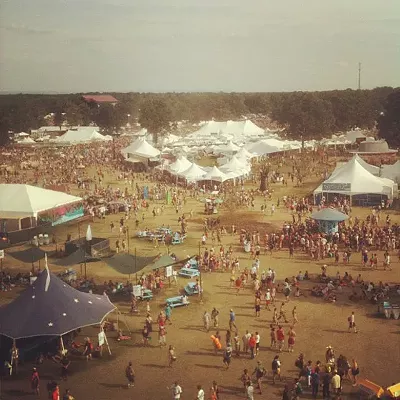 Kholood Eid
The view from on top the ferris wheel at Bonnaroo 2012.
Bonnaroo is an entirely different world, one where the air always smells of weed and the people you encounter share any kind of resources they have, the way we were taught as children but adults seldom practice.
People were kind. Musicians were gracious. Deep-fried oreos were a reality.
Friday, June 8th, 2012:
1:45 a.m. Setting up camp for the first time ever. Being two Palestinian gals, our closest thing to camping was when our water and electricity would sporadically cut out while living in the West Bank in the '90s (a more "peaceful" time).
2:14 a.m. Foundation is up after a few friendly neighbors shared tips (and a hammer).
10:41 a.m. Survived, thanks to such wonderful new friends as Brad and Paige.
Actually, Brad just told us this insane story about a guy crossing our site (Camp Luke Skywalker). His pass was revoked because he'd intended to sell a bunch of Bonnaroo koozies that were confiscated once they were found in his car during his admission the festival. After being turned away, he managed to raise enough money to buy back his pass by selling the remaining koozies at a nearby Wal-Mart.
12:48 p.m. Quite a few soccer fans in the Digital Music Lounge tent watching the Portugal vs. Greece game. The Digital Music Lounge tent, with a small stage, a few fooze ball machines, a bar, flat screen TVs and a "Free Music Kiosk" has been occasionally erupting in cheers and gasps from the crowd for the past half hour. Guess there really is something for everyone at Bonnaroo.
1:10 p.m. Perfect muthaflippin' weather. Sunny with a beautiful light breeze. Great for a trip down the "Big Ass Water Slide."
2:52 p.m. These stage names were kind of cute in the beginning ("This Tent," "That Tent," "The Other Tent," "Which Stage" and "What Stage"), but when we got to "Which Stage" instead of "What" because it has a giant question mark on it, that's pretty goddamn annoying. Rushing to get to Sharon Jones & The Dap-Kings.
3:08 p.m. Sharon Jones, keepin' it real and rockin' that little pink dress (despite her complaining about the lining).
3:29 p.m. "I just buried my mother in March...but I have the strength now..." Ms. Jones shared with the massive crowd that showed up to see her and the Dap-Kings. She is human after all. Jones is talking about the stresses of her life lately, the toll this profession takes on someone her age and still being jet lagged from Europe last week and her mother passing away. She says she's humble and grateful to find so much strength lately. And we are just as grateful that she's sharing her pain with us. This woman is a warrior.
3:50 p.m. "One hundred days, one hundred nights, to know a man's heart..." So that's how long it takes? Noted.
3:57 p.m. Not sure if it's the heat that's now settling in or Ms. Jone's sheer brilliance, but those last few notes she sicked on us made something inside me rattle like mad. Holy shit.
5:00 p.m. Avett Brothers opened with "Will You Return," a personal favorite that brings memories of exciting and lovely things on the horizon.
5:52 p.m. "Murder in the City" just ended. We're still crying.
6:33 p.m. More Canadians respond than folks from Tennessee when Feist tries to get a gauge of who's in the audience. "We have invaded!" she yells victoriously. Her exchanges with the crowd are among the more interesting (and funny) of the weekend. She scolded the crowd for not properly singing along when she left clear openings for them to. "Do not shake your head with such disdain, young man. You with your Radiohead t-shirt..." she said to a crowd member. She then assigned different notes to be sung, which everyone this time obliged.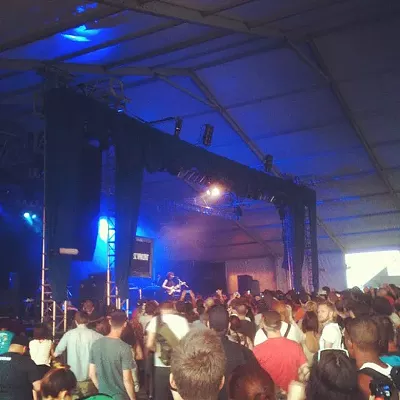 Kholood Eid
St. Vincent at Bonnaroo 2012.
7:53 p.m. The flashing strobes for St. Vincent would be a bit challenging but fun nonetheless to photograph. The lighting and set overall looks fantastic. And she's a wonder live.
9:52 p.m. Terrified of being trampled to death before Radiohead comes on.
Sometime around 1 a.m. "Make some noise like you just stubbed your big fuckin' toe. Like you're pregnant givin' birth to twins!" demanded Talib Kwali when Black Star eventually arrived on stage (late, which unfortunately meant the crowd pleaded in vain for more at the end of the set).
Saturday, June 9th, 2012:
3:30 p.m. A very Flogging Molly version of Dylan's "The Times They Are A-Changin.'" Yes.
4:27 p.m. Flogging Molly had definitely the most energetic and enjoyable crowd I've been a part of thus far. So much dancing. And moshing. Fantastic performance, and the band showed love to Palestine. I've always had a soft spot for the Irish.
8:23 p.m. Kirk Douglas' guitar solo was the most wicked thing I've ever seen in person. The entire midwest just felt that.
9 p.m. What if the Roots made its fans clap along for an entire song of theirs? Would that be considered a form of punishment or the ultimate challenge? My arms are about to fall off. Also, Tuba Gooding Jr. spent half the set running and jumping around with a tuba. A goddamn tuba.
9:45 p.m. The crowd was urged to sit tight between the Roots and the Red Hot Chili Peppers for a "surprise." The surprise turned out to be a dog that could tango with its master. It started off funny and impressive but just got a little creepy after that (especially since the tango is a pretty intimate form of dance).
Sometime after midnight? RHCP was stellar. The band played a good chunk recent songs with a few oldies trickled in. Californiacation is one of my favorite albums and was represented very well. Also, Flea came off so genuine in his thanking the crowd, and preaching the good word of Bonnaroo that I couldn't help but be moved.
Sunday, June 10th, 2012:
1:20 p.m. Lost my iPhone last night after the RHCP show, which caused us to miss Superjam. (?uestlove & guests) and Skrillex (although we were also too exhausted and probably would've just spontaneously combusted within the first few minutes of that performance).
3:43 p.m. The Beach Boys and sweet potato fries are a great way to distract oneself from life's troubles. The crowd here is very relaxed on what has been the coolest day so far after morning showers.
4:25 p.m. Porta-Potties are the worst place on earth.
4:33 p.m. Really wish the sound for Ben Folds Five was louder in the back. The Joy Formidable's bass from This Tent is reverberating all the way out here. Will have to inch a bit closer...
4:44 p.m. Ben Folds kindly requests we all flip him off while he stands on his piano to take a photo. No objections are heard in the crowd. "My band and I haven't played together in seven days. Before that, it'd been twelve years together." It didn't take too long for them to get back in sync with one another.
6:40 p.m. My best friend only came to Bonnaroo under the condition that we make our way as close as possible to the stage for fun.
Sometime after 7 p.m. Nate Ruess' smile is as broad as eternity.
8:03 p.m. An hour and fifteen minutes of sing-a-longs, fist-bumps and crowd surfers were what made fun.'s set so cool to see, even if you (like me) have yet to board that train of good times. I've never seen so many crowd surfers in one show. Well over a dozen floated their way towards the stage.