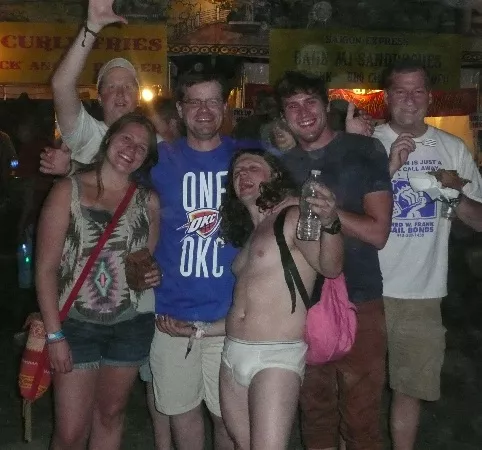 The team: six 40-year-old men, leaving behind six fairly respectable jobs, five wives and 14.9 children for four days.

The tools: a 32-foot RV, VIP tickets, comfortable shoes and enough beer to take down a small fraternity.


The task: to do and see as much as physically and logistically possible at the Bonnaroo Festival in Manchester, Tennessee.


We arrived at 4:00 p.m. Thursday, excited about what Bonnaroo had to offer, but nary a clue of how to navigate the sprawling campus and the seemingly endless entertainment options. Everyone had carefully planned out his own agenda like a college semester, with the obvious difference that nothing on this schedule was to be skipped. As hard as it was to navigate through this baffling experience, it is even more difficult to organize my thoughts, so let's go with the totally non-cliched A to Z list:

A. Alabama Shakes highlighted Day 1 with a strong set that featured the powerful vocals of Brittany Howard. Howard's formidable talent and the endorsement of Jack White portend a great future for this Athens, Alabama band.


B. Black Lips ended a raucous punk rock set with Jared Swilley throwing a full can of beer in the air and knocking it into the crowd with his guitar, baseball-style, while bandmate Cole Alexander poured Jameson's whiskey into the mouths of front row patrons.

C. Childish Gambino: Donald Glover of Community may have been the most surprising show of the weekend. With clever lyrics, undeniable charisma and energy to burn, Glover rocked a crowd of at least twenty thousand, which he noted was vastly larger than the small tent where he performed in 2011. It's been a good year for Glover.


Taylor Goldsmith of Dawes
D. Dawes closed out an excellent Friday night set in The Other Tent with "A Little Bit of Everything" and "Time Spent in Los Angeles". An outstanding folk rock band with high-minded lyrics, lead singer Taylor Goldsmith is the vocal doppelgänger of Jackson Browne.

E. Environmentalism was a prominent theme throughout Bonnaroo, as litter was relatively minimal and every trash bin pleaded attendees to recycle. All of which is great, but probably doesn't do much to offset the carbon footprint of thousands of RV's getting about seven miles to the gallon.

F. Fans of Radiohead seemed generally disappointed with a set that featured many songs from the mediocre King of Limbs, several new songs and other odd, slower selections. That said, it's hard to complain about a set that includes "Karma Police", "Weird Fishes/Arpeggi", "Everything In Its Right Place" and closes with the sublime "Paranoid Android".

G. Gary Clark Jr. (not to be confused with Dale Earnhardt Jr. Jr.) put on a fantastic Sunday afternoon performance of blues/rock guitar in a light rain shower.

H. Heat was only a factor on Friday, as unseasonably cooler weather helped keep the crowds energized. Also keeping the crowd energized: meth.

I. Ironic t-shirts were in such high supply that anyone with a regular shirt was actually being ironic.

J. Jason Mraz. Not invited.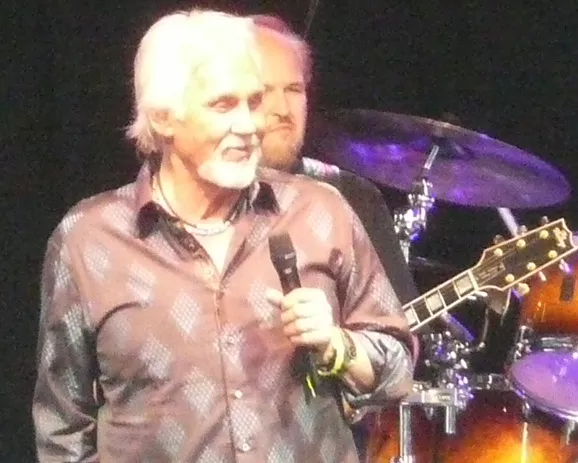 An island in the stream: Kenny Rogers
K. Kenny Rogers. It was amazing. He looked just like some of the men from menwholooklikekennyrogers.com! After wondering aloud what he was doing at Bonnaroo, he showed he was in the right place with a strong rendition of "She Believes in Me", which he declared to be his favorite song in his repertoire.

L. Loin cloths are probably not fully back in vogue, but one brave partygoer sported one with less material than a Dane Cook stand-up show.

M. Merrill Garbus of Tune-Yards dazzled an enthusiastic crowd by recreating her multi-layered sound on the spot. Before most songs, Garbus would record a brief vocal or percussion that she would play on a loop in her songs. It was fascinating to see and amazing to hear.

N. NBA Eastern Conference Game 6 packed the Cinema Tent Thursday night. Judging by the crowd, LeBron James is as unpopular at Bonnaroo as a body devoid of tattoos.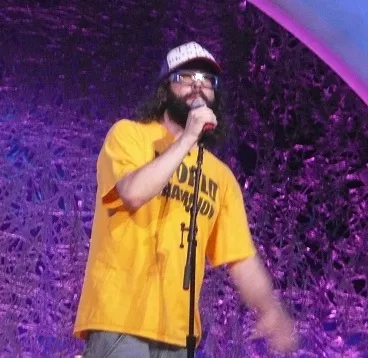 W is for "World Champion" Judah Friedlander
O. Officer Bunny Colvin of The Wire would be proud that his "Hamsterdam" method of ignoring drugs for the purposes of fighting the more important battles is alive and well in Manchester, Tennessee.

P. Painting a bikini top instead of wearing all of that cumbersome material is apparently in vogue. Carry on, ladies.

Q. Questlove and his "All-StarJam Band" rocked This Tent late Saturday night, and featured the surprising return of D'Angelo. I never realized he was missing.

R. Roots fans packed the main stage area Saturday night for a high-energy set, which included a full version of the theme to Late Night With Jimmy Fallon and The Seed 2.0. If there are five cooler people on the planet than ?uestlove, I'd like to know who they are.

S. Skrillex. Brilliantly described by Adam Stone of Rolling Stone as "God losing a fiercely-contested game of Call of Duty." Shooting glow sticks out of his on-stage spaceship (yes, you read that correctly), Skrillex's pulsating beats loosened a few of the fillings in my teeth and created scores of new clients for local audiologists.

T. The Red Hot Chili Peppers. Need I say more? Since RFT Music is paying by the word, I will. The Peppers kept the crowd energized for its two-hour Saturday night set by sprinkling in hits like "Give it Away" and "Under the Bridge" with songs from its more recent catalog.

U. Underwear: the new outerwear.

V. Vibrations were all good while the Beach Boys played the main stage Sunday afternoon. Brian Wilson and company sounded like they had hardly aged as they rifled through hit after hit.

W. World Champion Judah Friedlander announced his presidential candidacy and took questions from the audience. Personally, I think his idea of moving Hawaii into Lake Michigan (because it's too far away) is a winner.

X. Let's just assume that plenty of this was consumed over the weekend.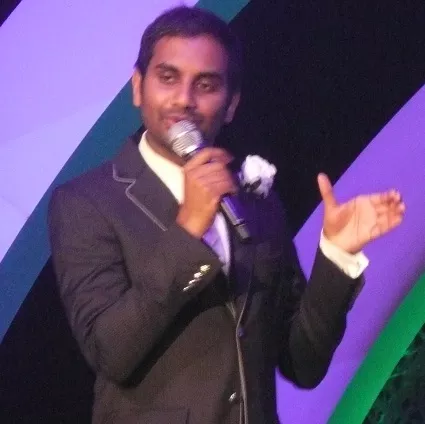 Y. YelaWolf proudly displayed his formidable rap skills that enticed mentor Eminem, as well as a full beard of tattoos.

Z. Aziz Ansari (give me a break, there are two Z's in his name) required a 90-minute wait, but the lovable white-hot comic made it worthwhile, spending the bulk of his set on the folly of marriage, why texting pictures of one's privates isn't very wise and his budding friendship with Seal.


Sunday morning, we determined that the world couldn't properly function without us for another business day and set a departure time of 5:00 pm. Sadly, that would mean missing Bon Iver, fun., and the Shins, but on the positive side, we would also be missing Phish. As we left to rejoin the real world -- one without eighteen hours of musical and comedic performances -- we all agreed that this was a once-in-a-lifetime experience. Until next year, that is.

About the author:
Dave Geeting is a 40-year-old investment banker best known for his calls and emails to the Jim Rome Show under the handle Dave in St. Louis, Non-Hunter. Follow him on Twitter @thegeeter.