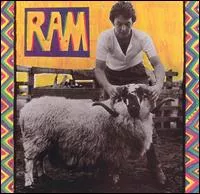 Late last month, the third piece of the Paul McCartney remaster series--a super-deluxe version of 1971's Ram--finally hit stores. The timing, if a little belated, was fitting; by now it seems like Ram is everyone's favorite Paul McCartney record, but that's only because after 40 years we've finally finished reassessing the strange transitional album that made McCartney alone, among the solo Beatles, a critical pariah.
I wasn't around when it was being savaged, so I can neither take credit for enjoying it before it was cool nor hope to understand, first-hand, what made it so unpopular.
But I can guess.
Ram is a weird, gawky hybrid album, coming after the underproduced, seemingly half-finished McCartney and before the precise bombast of Band on the Run, and it partakes equally of both impulses. Songs like "Heart of the Country" seem to want to be improvised and undone, while the album-closing "Back Seat of My Car" is as meticulously produced as any song in his catalogue.
Paul McCartney--at least the Paul McCartney of Ram--doesn't sound like he wants world peace or religious enlightenment or anything else the Beatles, together and separately, seemed to be reaching for at the dawn of the 1970s. (All the Important Things, perhaps, rock journalists thought they were being promised.) He just wants, simultaneously, to live a pastoral life improvising tunes with his wife and to write, second-by-second and chord-change-by-chord-change, complex, loud songs that people will sing along with him in an arena.
That impossible combination--which fell away as he formed Wings and produced a series of loud, singable albums--feels at least as relevant now as it did in 1971. Probably more relevant, honestly; we aren't grasping for credibility as rock and roll fans as desperately as Rolling Stone was when they called it "monumentally irrelevant" and the very end of the devolution of what 1960s rock promised.
I, at least, would just as soon leave my personal life and strivings for the rock stars and my opinions on geopolitics to the technocrats. So this personal album that wants desperately to speak to 40,000 people at once--that contains a song about not doing anything ("Uncle Albert/Admiral Halsey") that morphs into a weird suite that does a lot of different things--transcends its surroundings, rock-and-roll's awkward college-sophomore-radical phase, and says things that matter to a wide audience in 2012's increasingly fragmented musical landscape.
It's personal and defamiliarizing but also universal; through all its contradictions, and its ultimately untenable combination of pastoralism and proto-prog-rock, it rams on and gives its heart to somebody.
It's also beguilingly catchy and tuneful, like everything else Paul McCartney has done. If that caused it to be underappreciated in its own time, and causes it to be underestimated even now--well, so be it. There are worse things to only-be than catchy and tuneful. Now I'll listen to the lovely new remaster and wait for Back to the Egg, which has undergone no such critical reevaluation except in my car stereo, to be rereleased some time in 2022.