Jennifer Silverberg
John G at Mike Talayna's.
Selecting Riverfront Times' Best of St. Louis 2011 was no picnic. Choosing the winner meant several worthy candidates would go unmentioned -- until now. In this RFT Music series, we're beeboping and scattin' our way through notable runners up in a number of categories. This week: The best karaoke bars in St. Louis.
See also: The Ten Best Gay Bars in St. Louis The Ten Best 3 a.m. bars in St. Louis. The Ten Best Neighborhood Bars in St. Louis The Ten Best Sports Bars in St. Louis The Ten Best Juke Boxes in St. Louis The Nine Best Blues Clubs in St. Louis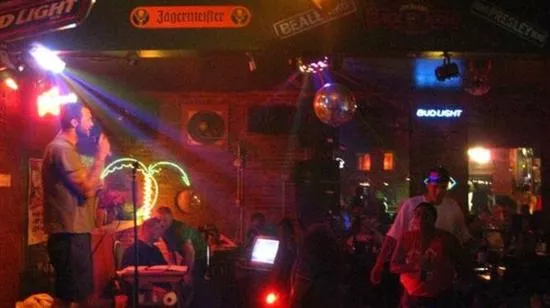 One-Nite Stand From the outside this south-city dive may not look like the typical karaoke joint. Standing alone at the corner of Ohio and Gravois avenues, the bar's hard brick exterior may make you question if you've made the right choice in coming here. But One Nite Stand is the perfect place to get your groove on, whether you're a neighbor, a newbie or just getting your feet wet. Known for its often raucous karaoke sessions, One Nite Stand has quickly become a mainstay for hipsters, Juggalos and hoodrats itching for the mic. No one is safe from the infectious fun. Featuring a massive song selection ranging from the top of the pops to the obscure, you may find yourself giving your best rendition of Bobby Brown's "My Prerogative" or Guns N' Roses' "Welcome to the Jungle." Cheap drinks and good company make the night, allowing your vocal chords to ease up before you shout it out loud.
Carson's Sports Bar Located in the heart of Soulard, Carson's is known mainly as a go-to karaoke stop on weekend nights. The cozy atmosphere and laid-back crowd make it an easy place to grab the mic and cut loose on the small stage. When the off-tune crooning becomes unbearable, make your way to the large patio to sip that Bud Select alfresco. But this delightful dive offers great prices on cold brews all week long making it a great happy-hour spot as well.
DD's Irish Pub and Karaoke You'll want to check your inhibitions and pretensions at the door of DD's Irish Pub & Karaoke (formerly the Double D Lounge), but don't be surprised that this mid-county karaoke haven ain't the dive it used to be. After moving down Brentwood Boulevard into a bigger, brighter space with a scenic view of Whole Foods, it's not a complete smoke bomb anymore, and (fast-moving) entry lines form on weekend nights. DD's still entertains a mixed-age, casual crowd, which means sorority girls and cougars alike tongue the mic and their $1 Jell-O shots.
Johnny Gitto's It's not as if St. Louis is short on Italian restaurants - even outside of the Provel bloc of the Hill, there are too many pasta purveyors to visit in a single calendar year. Johnny Gitto's is one such place, an eatery located on the banks of River Des Peres at the foot of St. Louis Hills. The food is fine, but Johnny G's picks up when the tablecloths and pepper mills are put away. The bar is open till 3 a.m. on weekends, and on these nights the karaoke flows like rail whiskey. It's a perfect marriage of old-school St. Louis class and late-night revelry -- just imagine singing "That's Amore" on the table of Cunnetto's or some other Hill landmark; you'd be shown the door before the second verse. That's why Johnny Gitto's stands alone.
Keeton's Double Play South Kingshighway's premiere watering hole is nestled in a strip mall. Keeton's Double Play, known as one of the best karaoke bars in town, boasts five nights of singing and rabblerousing every week. The karaoke books go deeper than most in town, and if you're lucky, the DJ will let you roam the room with a wireless microphone to work out your best Tom Jones routine. As you let the songs ease your heart after a long day, the fully stocked bar will help you kick into high gear faster than you can say, "Let's go, Blues!" A plethora of flat-screens televise every sport known to man, while dart boards and Big Buck Hunter let you join in on the fun. Featuring a large seating area with picnic-style tables and benches, Keeton's specializes in barroom fare, from wings to burgers to the "best steak sandwich" in town.
Mike Talayna's There are bars that offer karaoke, and then there are karaoke bars -- the kind of place where it's always amateur night, where you too can be the star for three minutes at a time. Mike Talayna's Juke Box Restaurant is that kind of place, where the karaoke flows until 3 a.m. every night and the bar is peopled with would-be crooners and wannabe divas. Talayna's does serve food, but you came to sing and to be serenaded, not chomp on pizza and wings -- music, after all, is the food of love. The club's mirrored walls and red-and-blue neon lighting give the impression of a low-rent strip club, but the décor is a perfect fit: Karaoke is like a mirror, reflecting your true essence back to yourself and to your adoring audience. The song selection runs deep, so pick your favorite barnburner or heartbreaker, take the stage and grip the mic like you mean it.
Rockin' Gators Located on the corner of Gravois and MacKenzie roads, Rockin' Gators has no obvious front door. The south-facing entrance is a simple, solid white door. Its rear entry, accessible from the parking lot, looks more like a service entrance. But if the exterior of the one-story stone building looks less than inviting, the clubhouse atmosphere inside couldn't be more so, whether you're one of the many regulars or a first-timer. Boomtown Karaoke holds court at Rockin' Gators every Wednesday through Saturday night, and the dictionary-thick song books contain pretty much any tune you'd ever want to croon. The karaoke nights attract all the usual suspects, and the Shania Twain wannabes, the Frank Sinatra sentimentalists and the Metallica growlers all get their turn on the wireless mic.