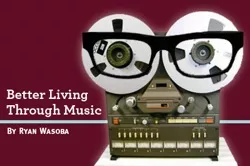 Art and life co-habitate, informing, imitating, and enriching each other constantly. Each week in Better Living Through Music, RFT Music writer Ryan Wasoba explores this symbiotic relationship.
I love the cowbell. I can't imagine a world without it, one with no "We're An American Band" by Grand Funk and no radical intro to "Optimo" by Liquid Liquid. It is a diverse instrument with a rich heritage, an essential element to many other countries' folk musics, and it breaks my heart that so many people's association with the cowbell begins and ends at a belly-shirted Will Ferrell banging away to "Don't Fear The Reaper" at the urging of Christopher Walken.
Let it be known that I totally get it. This skit is hilarious, one of the definitive works of comedy in my lifetime. There's inherent humor in the idea of a device being taken seriously in a musical situation when it was invented to let farmers know where their cattle was hanging out. My wife and I put collars with tiny bells on our cats, and I will probably chuckle every so often if "catbell" ever becomes a legitimate instrument. But when a performer strikes a cowbell at a show - this happened multiple times at last weekend's RFT Music Showcase, at least three instances during Humdrum's set alone - regardless of context, somebody will certainly yell "More cowbell!"
It is such a standard part of our culture that anytime I see the instrument in use, my shoulders tighten in anticipation for the inevitable. Again, I understand; it's hard to not say "Polo" when you've been set up with "Marco." Artist and crowd relationships are always skewed, and audience members are generally eager to interact with the people on the podium, however shallow the conversation. Just think about the appropriateness of "Woo!" as a response to "How are you all feeling tonight?" I guess "More cowbell!" is not much different than "Woo!" when used as a token of appreciation from a floor dweller to a stage occupier.
The issue is not that "More cowbell!" is lame or overused. The issue is the lack of thought behind the heckle, the laziness of the heckler. It's the new "Freebird!" It's the thing people yell at a band when they just want something to yell. It means nothing. Cowbell is not even a prerequisite. I'm certain somebody shouted "More cowbell!" at a singer accompanied by only an acoustic guitar, probably within the St. Louis metropolitan area, probably within the last twenty-four hours.
It can be disheartening how often we speak in empty phrases because of societal standards. My wife and I have a dog, a painfully sweet pit bull named Olivia. When somebody meets her and asks her breed, this person always says something along the lines of "Pit bulls aren't mean, they have a bad rap." I appreciate the sentiment, but it is little more than an automatic response people feel they are expected to offer. In this way, it reminds me of "More cowbell!," although the sympathetic aspect comes off like "I'm not going to say 'More cowbell!' because that's what everybody always says." I dread this interaction, but the anxiety is not enough to keep me from introducing her to humans, and it was not enough to keep me from adopting an awesome dog with an unfair reputation in the first place.
I worry that similar anxiety might keep a songwriter from employing the cowbell when necessary - yes, such moments exist. Too many people write music based around what they don't want as a reaction and songs become whittled down to their most inoffensive core. I am certain that somewhere, a song is missing its cowbell and henceforth missing its climactic high-five, only to quell the concerns of a musician incapable of dealing with an audience's cry of "More cowbell!"
If the cowbell immediately reminds somebody of Horatio Sanz barely containing his laughter while playing bass for Blue Öyster Cult, so be it. A Brazilian teenager raised on sambas certainly has a different opinion of the instrument, and might even have a mental block that makes him want to yell "Back In Black!" every time he hears a distorted electric guitar. We can't change others' perceptions of musical detail, or define what sense memories will be triggered by specific sounds. Maybe someday these stigmas will be erased and we can all listen without our racing minds. In the meantime, don't fear the cowbell.