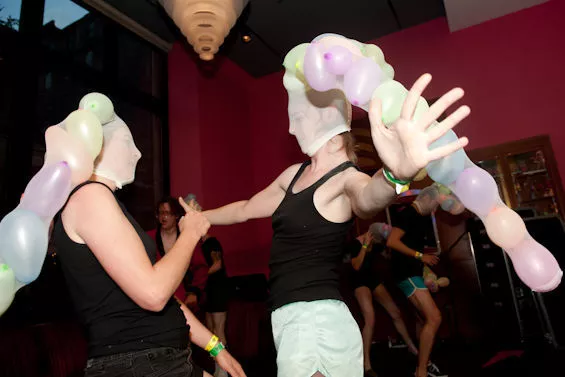 Jon Gitchoff
Googolplexia's dance crew, on loan from MSIF.
Some clubs on Washington Avenue who participated in the RFT Music Showcase are set up properly for live music. Others cleared off some floor space, hooked up a P.A. and became temporary venues for a day. The interaction of the sets with their settings was sometimes perfect and often fascinating. Bands crammed into every available crevice with a three-prong plug, making St. Louis a bit like Austin during South By Southwest -- except less crowded and you didn't have to follow a homeless guy to get WiFi.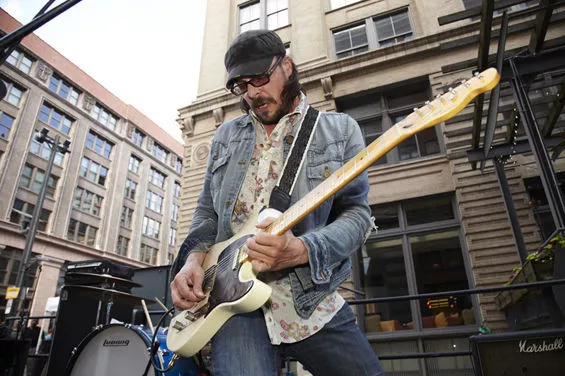 Steve Truesdell
Warm Jets USA
The Over/Under Bar and Grill was an unlikely hotspot, with bands tucked in the corner of the hedge-lined patio. The atmosphere made Bear Hive's loose, summery performance feel like a pool party sans pool and accentuated Union Tree Review's earth tones. The Outdoor Stage at 13th and Washington was a consistent vibe-setter. Early sets by Nite Owl and DJ Sir Thurl gave the afternoon its needed jumpstart, and Warm Jets USA's rager was the official "it's on" moment of the day.
Flamingo Bowl's significance in the day was twofold, with one half serving as venue and the other as the VIP room-slash-haven for performing bands; the amount of high fives and hugs given in the latter space was a testament to the lack of animosity between people who were competing against each other both for votes and attendance. The public space at Flamingo Bowl was an odd setting for guitarist Dave Black, whose trio played jazz standards in front of a TouchTunes digital jukebox that kept flashing AC/DC cover art. When the group quieted down for a bass or drum solo, it was no match for the sound of bowling balls devouring pins. Like most modern jazz artists, Black and his crew hammered on, eyes closed, either apathetic or unaware of its surroundings.
Two hours later Bo & the Locomotive owned Flamingo Bowl, making the room warm the second the band took the makeshift stage. The group was the venue's best match, either owing to Bo's communally enjoyable songs or the fact that its members - particularly drummer Steven Colbert - are the target demographic for Lebowski Fest. Afterward, the large window behind the Flamingo's performance space was a source for stop-and-stares from passersby while Googolplexia's Rob Severson brought the weird. When interpretive dancers with balloons in stockings on their heads like a Salvador Dali abstraction of Marge Simpson's hair circled around Severson, a late-50s woman asked me "What is going on?" with genuine concern. I had seen that same perplexed look on many faces during Bug Chaser at the Outdoor Stage earlier in the day.
Rue 13 hosted superb electronic acts Ra Cailum, Eric Hall and Ou Où. While the bar is set up for DJs, the combination of poor attendance, daylight streaming in from the windows, and uninterested bar patrons watching the Cardinals game stunted the excitement. Not that any of those performers seemed to mind when carefully summoning music from their digital devices, especially Ra Cailum, who seemed to shift into extra-hard party mode with his sample-heavy, beat-driven mix.
Kholood Eid
Sleepy Kitty at Lola
Humdrum pulled off an excellently casual late-afternoon show at Lola, the climax of which was a gong malfunction. While I missed Sleepy Kitty's midnight performance at Lola, the venue seemed a great pairing for the duo, just like I can't imagine a better 1:30 a.m. band than Volcanoes or a more fitting analogy for Pretty Little Empire than a few dozen not-so-upper-class music lovers storming the elegant Copia Wine Garden. And Yowie's set at the Smash Bar was a beautiful mismatch, as the band bashed through its complex rhythms while enormous screens projected a UFC fight.
Some combinations of bands and venues at the RFT Music Showcase were spot on, some were good enough, others were so wrong they were perfect. Throwing local acts into potentially uncomfortable situations in Washington Avenue's swanky establishments made me proud of our city's DIY spirit. We don't always have the infrastructure in place, but we always find a way to make it happen.