Negative Approach - June 6 @ Fubar
Well, Saturday night's Music Showcase was, on our end anyway, a rousing success! The night was hectic, fast-moving and filled with people (possible record numbers this year -- in addition to the stellar bands, the hospitality of Washington Avenue and the ultra-agreeable weather are assuredly to thank). Thanks to all that came out.
The week is stacked with shows, so this post is an extra long one. Twangfest returns with a strong line-up including John Doe (of X), hardcore legends Negative Approach make a rare St. Louis appearance at Fubar, and comedy-writer-wunderkind-turned-rapper Childish Gambino (aka Donald Glover) will be at the Pageant (click here to find out how you can win tickets). Check out our extended list of additional picks below.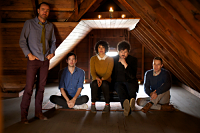 The Shins Mon., 8:00 p.m. June 4 @ The Pageant - $32-$37 Jason Rosenbaum The Shins was indie-rock royalty, ruling the last decade with a often-brilliant combination of soft-spoken and frenetic music. Yet the band seemed to evaporate after the release of 2007's Wincing the Night Away, leaving fans to either listen to Oh Inverted World for a much-needed nostalgic fix or to watch Garden State 60 times a year. Fear not: The Shins returns! And yes, this band is one of the lucky few that warrant an exclamation point. The Portland-by-way-of-Albuquerque outfit is set to release Port of Morrow on March 20, as well as play a show at the Pageant (6161 Delmar Boulevard, 314-726-616) on June 4.
Shaved Women Tue., 9:00 p.m. June 5 @ CBGB - $5 w/ Tenement, Masculine Journey By Josh Levi Taking its name from the classic Crass song, this four-piece has quickly become a staple in the punk community by embodying a D.I.Y. aesthetic and wielding a domineering death rattle unlike any local band around. These harbingers of chaos range stylistically from self-destructive hardcore to grinding walls of feedback. Shedding any sense of pretense, the boys of SW maintain a sharp focus on brainwave annihilation and the process of weeding out. Fans of Pissed Jeans, Sex Vid and Total Abuse will not be disappointed.
Zimbabwe Nkenya Tue., 7:30 p.m. June 5 @ The Sheldon Ballroom - $15 By Ryan Wasoba When Zimbabwe Nkenya suffered a stroke in 2009, one of our city's most fearless musicians was temporarily silenced. In the two years he has spent recovering, physical limitations have shifted his focus from ruthless free improvisations on upright bass to reflective work on the mbira. Nkenya dabbled on the traditional African instrument before: His heart-melting set at KDHX (88.1 FM)'s Midwest Mayhem concert in 2008 proved the mbira to be the perfect vessel for his expression. Many consider the instrument a spiritual portal. Fortunately, Zimbabwe Nkenya has soul to spare. Power Of Three: Zimbabwe Nkenya will be performing with Rich O'Donnell and Glenn "Papa" Wright, two seasoned percussionists with brilliant technique and penchants for wildness.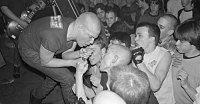 Negative Approach Wed., 7:00 p.m. June 6 @ Fubar - $15 By Daniel Hill Alongside the Necros, Detroit's Negative Approach reigned supreme over all that which is Midwestern hardcore in the early eighties, helping coastal contemporaries such as Black Flag and Bad Brains to pioneer the hard-edged sound that would define the genre's formula. Thirty-second, no-frills songs espousing hatred and nihilistic rage tear through its ten song self-titled EP and subsequent full-length, both of which are now considered hardcore classics. Vocalist John Brannon's gruff delivery and intense onstage persona coupled with the aggressively fast blink-and-you-missed-it music have since gone on to influence countless punk and hardcore bands from all parts of the globe. Ready to Fight?: Even with the release of recently-found archival recordings, NA's catalog is not expansive; fans should expect to hear all of the band's classics performed live at the show.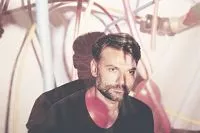 Porcelain Raft Wed., 9:00 p.m. June 6 @ The Firebird - $10 By Jamie Lees Performing under the name Porcelain Raft, native Italian (and current NYC resident) Mauro Remiddi produces nothing but beauty. From his songs to his album art to his videos, all of his output is pretty without being precious. And it doesn't feel packaged or calculated, either ― just thoughtful. Remiddi plays glitchy, almost surreal dream-pop. Sometimes his voice sounds like Richard Ashcroft (of the Verve) and sometimes it sounds like Jake Shears (of Scissor Sisters), but it's always highlighted by swelling, looped-beats that make his songs sound warm and drunken. It's the kind of gorgeous, bittersweet music that was made to be used in a soundtrack in some Wes Anderson movie. Hot Tip: On stage Mr. Remiddi just hemorrhages charm. And he's staggeringly handsome. No complaints here.
Childish Gambino Thurs., 7:00 p.m. June 7 @ The Pageant - $22 / $25 By Daniel Hill To call Donald Glover "multi-talented" would be to understate the case. At 23 he was the youngest writer on NBC's 30 Rock, winning awards for his work on the critically-beloved sitcom. At present he stars alongside Joel McHale and Chevy Chase on Community, and he's taped two stand-up specials for Comedy Central. In addition to his comedic undertakings, Glover raps under the stage name Childish Gambino -- a moniker obtained through the use of an online "Wu-Tang Name Generator." Childish Gambino has released several mixtapes and last year's Glassnote Record's full-length Camp, finding the approval of music critics and fans alike with his self-produced pop-rap beats and clever wordplay and often earning favorable comparisons to Kanye West. Serious Business: Despite the comedic pedigree, Childish Gambino is no joke. Though interspersed with the occasional laugh-out-loud punchline, lyrically Camp touches on some heavy subjects, once again highlighting the diversity of its creator.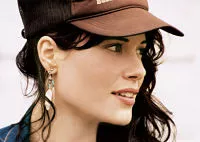 Shannon McNally Thurs., 8:00 p.m. June 7 @ The Old Rock House - $8 to $10 By Roy Kasten Shannon McNally travels the same cosmic country-folk highway as did Gram Parsons and his tutee Emmylou Harris, who McNally recalls more in her raven mane than her husky alto. And though her latest release has a modest title, Light Walker Demos EP, it distills all that's magnetic about her music. With the blues as a sure foundation beneath her, a dome of inescapable dreams above her and the sexiest wit this side of June Carter Cash running through a song like "This Never Happened, I Was Never Here," McNally clearly isn't a demure honky tonk angel. Just when she's nearly seduced you with bittersweet loneliness, her rock & roll heart closes the deal. Different Because: There are a lot of lovely singer-songwriters in the world but few channel the existential blues like McNally.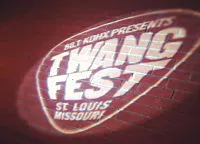 Twangfest Three Days: Thursday, Friday, Saturday Click on the individual days above for show times and each day's line-up @ Blueberry Hill - $15 to $20 Christian Schaeffer The annual American roots music festival Twangfest turns sixteen this year, and its organizers have put together an especially sweet birthday bash. Space doesn't allow for the full list of performers (head to www.twangfest.com for that), but each of the next three nights at Blueberry Hill has something special in store. Thursday features a headlining spot by Kelly Hogan, who's role as Neko Case's melodic foil only hints at the country soul found on her fine new LP I Like to Keep Myself in Pain. Friday features a one-two punch from Langhorne Slim and proud Missouri sons Ha Ha Tonka, and Saturday concludes with elder statesman John Doe, whose X membership proffered bottomless punk cred that he morphed into singer-songwriter career of high esteem. Rock Globally, Twang Locally: St. Louis' Pretty Little Empire will open Thursday's show, and local quartet Rough Shop will kick off Saturday's set.
Flogging Molly Fri., 7:00 p.m. June 8 @ The Pageant - $29.50 By Andrea Noble From this 2010 show preview: Flogging Molly is in its eleventh year of setting feet ablaze by effortlessly blending traditional Irish fare with rabid punk rock. Whether the audience is a throng of teenagers at Warped Tour or an aging crowd at an Irish music festival, the enthusiastic response to the beat of the bodhrán and charm of the accordion is always invigorating. Since the septet formed in Los Angeles eleven years ago, live shows have always been its strength, as these showcase the band's poetic laments with enough piss and vinegar to make any audience sit up and take note. Songs from 2008's Float, seem to be reveal a graying maturity, as Flogging Molly veers closer to more traditional (and optimistic) Irish fare than youthful brashness. However, the rowdy gem "Man With No Country" begs for Guinness-swilled lads of questionable Irish heritage to shout along with singer Dave King, "Once in this life/I better do something right!"
fun. Sat., 8:00 p.m. June 9 @ The Pageant - $17.50 to $20 By Dan Moore Statistically speaking, you or some iTunes user you know has, ton-i-i-i-i-ight, confirmed that he and someone else are both young and proceeded to set the world on fire. fun., America's least search-engine-optimizable band--and, somehow, the first rock band since Nickelback to debut on top of the Hot 100--has the biggest rock hit in three or four years, and an enormous group of fans buying its album one song at a time over the internet.
Hospitality Sat., 9:00 p.m. June 9 @ The Firebird - $10 By Kiernan Maletsky Hospitality does a pretty nifty hypnotic key line, but the Brooklyn trio sticks in your craw a lot more effectively than nearly all of its poppy peers. Credit the nimble song constructions, alternately agitated and satisfying, and the sunny, youthful vocals of Amber Papini. Featuring former White Rabbits bassist Brian Betancourt, Hospitality took a few years between its first wave of hype in 2008 before releasing this year's excellent self-titled full-length on Merge Records. Check the video for "Friends of Friends" for your stamp of Arrested Development-alumnus cred ― Alia Shawkat stars. Best New Music: We know what the checklist looks like here, but if all "indie" music sounded this good, it wouldn't have a bad name.
Funky Butt Brass Band Sun., 4:00 p.m. June 10 @ Broadway Oyster Bar - free By Calvin Cox While firmly rooted in the tradition of the New Orleans brass band, FBBB often adds elements of funk, soul and Southern rock during their playful and spirited sets. The infectious bellowing of the horn section and the sousaphone's booming bass-line provide the band's orthodox brass/jazz foundation, while the rhythm guitar and drum kit allow for more flexibility on their less conventional tracks. The end result is upbeat, feel-good music accessible by all. Recommended If You Like: Treme Brass Band, Rebirth Brass Band