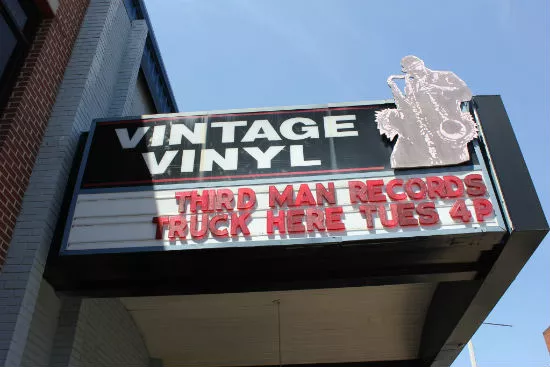 Jack White's Third Man Rolling Record Store (it's pretty much exactly what it sounds like) is coming to Vintage Vinyl today around 4 p.m. The line started last night at 11 p.m. with Busch Stadium employee Diane Botticelli. She was still resting in her sleeping bag late this morning. "I came straight out of work," she says. "Pretty badass."
Third Man's unusual promotional vehicle is making stops at several record stores around the country. "They're going to be selling records out of a truck," says Vintage Vinyl's Store Director Leon Reed. "Like a food truck with records."
The prize of the Rolling Store's stock is twenty highly limited edition copies of White's recent solo debut Blunderbuss pressed on black vinyl with a blue streak. In addition to the records available, anyone who rolls in to Vintage Vinyl this afternoon will be treated to a live performance from the Stepkids and free beer from Schlafly. "It's going to be a little party," says Reed.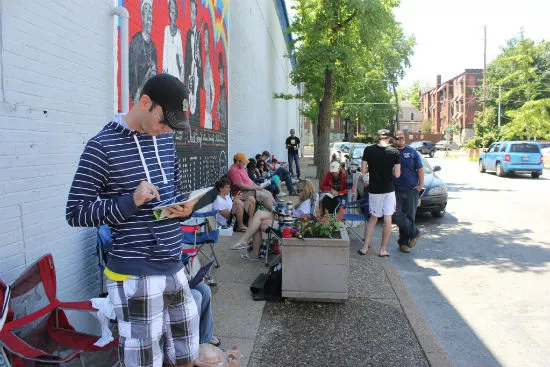 White won't be passing out records himself -- He's currently on tour in New York trying to break the world record for most metaphors in a concert. But the Rolling Store's offerings were enough to attract a line that's currently wrapped around Delmar Boulevard and up Leland Avenue.
Fans found out about Third Man's visit through its web site, "I read about it a few weeks ago," says Botticelli. She's a serious Jack White fan. "Anything he touches turns to gold." Or a guitar.