Photo by Dana Smith
A backyard is as good a place as any to start a movement. That's where, in two separate neighborhoods over roughly nine months, 22 bands outlined the edges of a music collective, filled them in over beer and launched Tower Groove Records. They collected votes and took turns. They staged a carnival at a bar. And this Friday, the collective-slash-label will release its first annual compilation, 21 songs over two LPS that seem to represent 21 different genres. Before the group's weekend of shows to celebrate the release, we talked to all of the bands about the launch, the label and what they hope will be its legacy.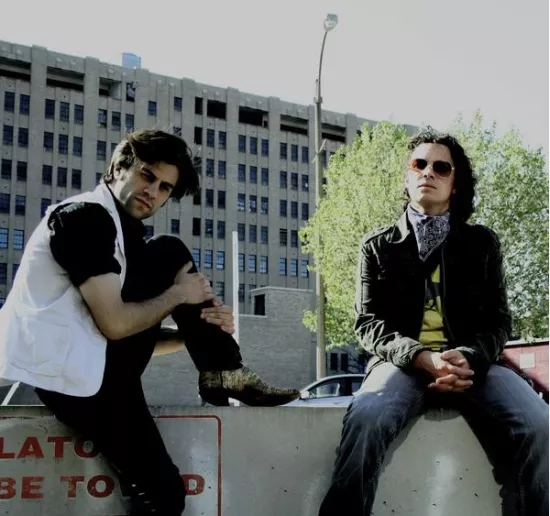 The Feed: "All That I Want" Jordan Heimburger: This album is a nice snapshot of where every band is right now. I knew about a third of the groups, maybe half, before the album, but I got to listen to them all really closely as this went on. If nothing else came out of this, it would be enough just to have met and gotten to know these other bands.
Accelerando: "Fireflies" Mark Stephens: I think we accidentally did a pretty good job, because everyone who signed up was really into it. It started as a handful of people and then two handfuls of people and grew from there. Maybe it was just the tight time. When we wrote the charter, it was pieced together by every person in attendance. We avoided petty little squabbles and different directions, and it functions pretty smoothly given how many people are involved. What would I like to see from Tower Groove in the future? Well, we have a record to sell.
The Hot Liquors: "Not For You" Erik Roy: When you have this many people sitting in one room, there's going to be something original that pops out. We've all seen these ideas throughout our careers, but that's all it amounted to: ideas. I think that this time, it's finally being taken seriously and professionally enough to change the map of St. Louis rock 'n' roll.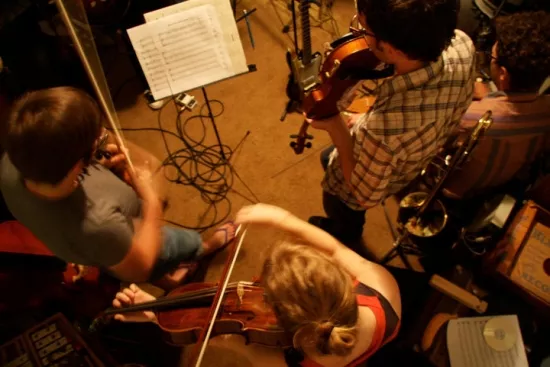 Rats & People Motion Picture Orchestra: featured on several songs Matthew Frederick: There had been a certain amount of maturation in the music scene that required a next step. If we as a town or a city or a scene or whatever the hell we are is going to flourish, we had to progress. There were probably as many as 40 people there at times, and it was, to someone who's used to meetings, some of the most egalitarian, free-form input ever. Everyone had a stake in it and was contributing important, vital, substantive ideas and plans to what we were doing. It really felt - and still feels -- like a true, bottom-up movement.
Courtesy of Catholic Guilt
Catholic Guilt: "Bob From the Dock" Joe Stein: Awareness is the coolest thing I'd like to see comeout of it. Even something as small as going to a show once a month or every two months or something. Joining a band, becoming part of the interesting culture of St. Louis. I don't know if it's just because I'm paying attention more now, but there are all sorts of bands popping out of corners, and there are all of these tiny art spaces that people aren't noticing yet. Just because we're not New York doesn't mean we can't play music and draw pictures and put on weird shows. It might mean there aren't 1,000 people - maybe there are only 20 - but we've got it. There are still things to be done and made in this city.
Maximum Effort: "S.I.R.P.O." Nick Zengerling: We've got so many genres here already, with a noise band followed by a folk band and all of these different minds, but I'd also like to see other bands brought into it, which is the original idea. With Bug Chaser, we're probably the youngest group in the entire collective, so I'd like to see younger as well as more. We want this to be a revolving door for the entire music community.
Warm Jets USA: "Shake" Jason Hutto: Adam (Hesed) came up to me and said, "Do you want to be involved in a co-op?" and I immediately said no. I've seen how they work, and usually it ends up just like nobody wants to clean the toilet. It seems like they just fall apart with no organization as soon as they come together, the same way communes fail. But some part of me still realized, "Well, sometimes they don't." So I went to a meeting and asked questions and tried to figure out where everybody stood, and the next thing I knew, I was all in. It was like, "Shit, there's a lot of talent here."
Magic City: "The Good Times Ride" (featuring Rats & People MPO) Adam Hesed: Before this, I didn't have very high expectations for a compilation because you have different bands, different sounds and different ideas; and the organization is tough. But this flows like a record should - like a unit. I've listened to it about 18 times, and when I heard the whole thing played through, I just loved it. My very first reaction was just nervousness, because I had heard the mixing process and there were bands who had not even heard their own song played back before it came out. But it's been entirely positive.
Beth Bombara: "All Along"
Old Lights: "We Laid Down" Beth Bombara: They were explaining what they wanted to do, that they wanted to start some sort of local record label and the goal was to put out a double LP. (Laughs.) I thought, "Hey, that seems really ambitious, but that's cool, I guess." I'm all for having any of my songs on a record -- on vinyl, no less.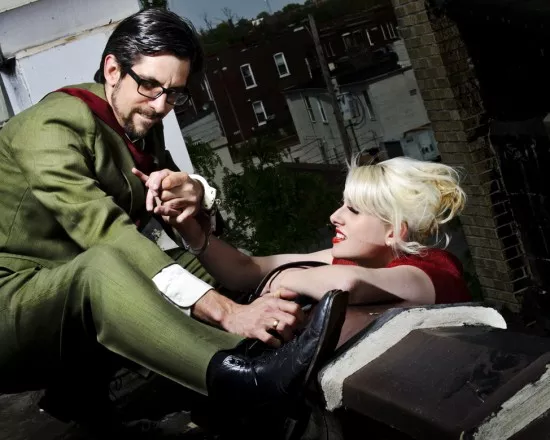 Sleepy Kitty: "Box Elder" (Pavement cover) Evan Sult: Oh my goodness, we listen to it almost every day. There's a credit that says all the songs were recorded at Smoking Baby, but that doesn't to justice to how awesome the experience was to create each song in three hours. You can just feel the energy coming out on the record. That Theodore song goes right into classic songs of St. Louis to me, the Beth Bombara track is her best recorded vocal to date, and that says a lot. And oh man, that Skekses song! The whole thing is incredible. This is a really weird, rare moment in the city's life. You have all these bands who have contributed music for decades, and now it's this self-sustaining music scene turning in on itself and becoming more of a self-conscious thing. Soon the tension will break and some one is going to make it. I feel certain of that.
Theodore: "Dead Heart" JJ Hamon: It is good to work with people who actually like music and are excited about other people's work. Hopefully some of that excitement and even some of the inexperience in dealing with the established ways of the music industry might allow some flexibility and new ideas instead of the annoyingly uncreative "that's just how things are done" that you hear from businessmen ... I'm interested in a sort of collective in which we promote each other's music and pass around info on places to tour, venues to hit, bands to play with, etc. And, on the flip side, I would love for us to become the group that bands coming through town contact when they want to put together a good show or know where to eat, visit, or stay. If we continue to make future compilations as solid as the current one and represent more genres in the process I'll be happy.
Fred Friction: "I'm Goin' Blind" From the first meeting, I was impressed by the number of people who showed up, all these people naturally falling into committees. People were trying to figure out what they could do to get things off the ground. Even though it was in the backyard of Jason's house and looked like just a get-together, it was immediately impressive. I knew it would be versatile - because it had to be.
Doom Town:"Where Eagles Dare Pt.2" (Bunnygrunt cover) Shaun Morrisey: We were just really happy to have been asked to take part. For me personally, it gave me a chance to record with [Jason] Hutto. It's been so long since I recorded anywhere other than Firebrand, which I love. But it was nice to work with Jason and it was a different environment. Really laid back and comfortable.
Tone Rodent: "The Other Side of Town" (featuring Rats & People MPO) Adam Watkins: It becomes part of this urban revitalization, really. It's not about, "My buddy is in a band, so let's put him on a record." I think people will be surprised when they hear it to know exactly what is happening at in St. Louis at this time. Seattle had its grunge, New York's got no-wave or whatever, but you can't pin St. Louis in. There are all different colors of the palette on there. That was the hardest thing, with doing the artwork for the record label -- pulling it all in together. You want something that you put into people's hands and they can feel that it's real.
The Skekses: "Mama Says the River" Ellen Herget: I went to one or two of the big and little meetings in the backyard. There was a notepad, and Matt Frederick was in charge of it, but he'd always show up late, so Adam was in charge first. There were two to five subject headings with people narrating them, and there was just a huge discussion. People didn't raise their hands. They were encouraged to speak up, so it was way town meeting. There was a little nugget of business in the middle and lots of hangout time on other end. The result of all that was super cool because the first time I had heard it was at the listening party at Off Broadway, on the big speakers all echo-y. Aw, man, it's so bitchin'.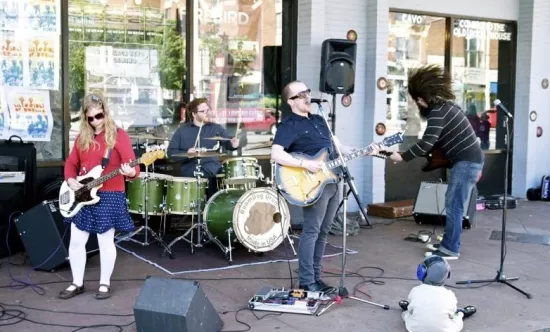 This City of Takers: "Never Leave a Bridge Standing" David Mahew: We were the first band to record for the compilation, and Jason Hutto (at Smoking Baby) really knows his shit. Even with the things he doesn't have, he makes up for with ingenuity. He doesn't try to define the sound of the band as much as get the band's best take. It's about making us questions ourselves about, "Was that a good take?" Listening to the full album, it's clear that he got the best out of everyone.
Bunnygrunt: "Debutantes in Bondage" (Welders cover) Matt Harnish: I don't really know what the vast goals are behind these little projects, and I think that's kind of good. If every project just has the goal of creating excitement and then spurring on the next project, that's how it should work. It's not trying to be this multi-billion dollar project. It's trying to do a little better than even but actually mean something in St. Louis. And the music scene will be better for it.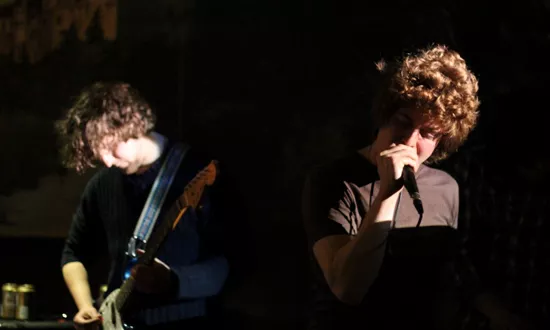 Bug Chaser: "The Quackiness of Donald Duck" Jake Jones: I feel like people make music a competitive thing, and it's not really about that. It should just be creation. The great thing is that this is grouping everyone together instead of just letting people duke it out. Not that we necessarily would, but it's important to reinforce that sense of community. I mean, we had never been in a studio before this, even.
Ransom Note: "Russian Blue" (featuring Rats & People MPO)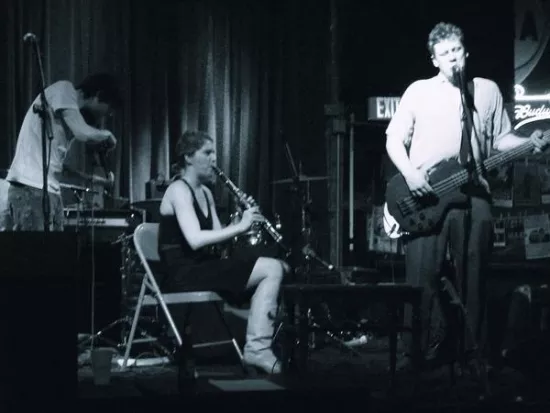 Peck of Dirt with Rats & People
Peck of Dirt: "Making Mud Pie" (featuring Rats & People MPO) Sherman S. Sherman: When they approached me, I didn't know if it would work. Truth be told, we still don't know if it's going to work or if we're going to have boxes of records in somebody's basement. But the way people are talking about it and asking about it, it seems like we're on the way. There's all this excitement, and it just keeps building. I think it's a little too early to know what being a Tower Groove band is, but it means a lot to get to play with your friends. A lot.