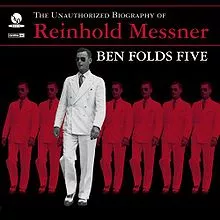 Back when Ben Folds Five released this album, people had to pirate it with NAPSTER.
Here's how things were different the last time Ben Folds Five released an album, without digital music stores, social networking, or anything like Kickstarter: Ubiquity was a possible outcome for rock-and-roll albums.
Not just from huge names, either--in the same way baseball's late-90s power binge put luminaries like Greg Vaughn and Dante Bichette in the company of much better players on the all-time home run leaderboard, the overheated market for CDs at the turn of the twenty-first century ensured that the all-time bestselling album list would make room for Hootie and the Blowfish and No Doubt forevermore. Ubiquity wasn't just possible--it was weirdly common.
Napster, and then iTunes, and now Kickstarter and Pledge Music, the Kickstarter-like site Ben Folds Five chose for reasons of modesty and charity), have done a lot of great things for music and music-fans, but it's worth remembering the permanent dent they've made in arena-sized fanbases and watercooler-based music conversations. One piece of popular music doesn't have the power to force changes in mass culture than it once did, and in return for that we've already gotten a la carte song purchasing and the god-given right to never buy another CD tower again.
But Ben Folds Five's Pledge Music model for their new album--they released the above track as a teaser--and Kickstarter success stories like Amanda Palmer and Five Iron Frenzy, might be the best payment we've gotten yet in exchange for the permanent niche-ification of rock and roll in particular and music in general: The chance to fund and, in an ancient-Athens, direct-democracy kind of way, vote for specific albums we want to hear. Right now it's just a chance to get an autographed vinyl copy and an instant download card by preordering an album you were already going to get anyway, but Kickstarter and its ilk have the potential to change music fandom forever: Within five years we could see the end of a familiar indie-rock-hero trope, the band whose album bombs and develops a cult following just a little too late for it to make a difference.
Even 10 years ago a band like Weezer couldn't gauge its own cult following until it took a few gigs on a whim and realized a bunch of 14-year-olds suddenly knew all the words to "Falling For You." In 2012 none of that would be necessary; before Rivers Cuomo could even finish painting all the walls in his apartment black and writing "Hash Pipe" some enterprising fans from the fuckyeahweezer Tumblr would have successfully trended #pinkerton worldwide and then bugged Stereogum about it.
And now I can download "Do It Anyway," the new Ben Folds Five song, and put 15 bucks, a hashtag (#ImaDamVP), and a bunch of retweets toward making sure their album actually gets made.
The emerging market for digital music has helped turn music into a niche enterprise; household names vary more than they ever from household to household, and the idea of nationwide fame is itself increasingly anachronistic. It's worth remembering that we've lost that, but if it means that the next SMiLE or Yankee Hotel Foxtrot is saved by a bunch of fans agreeing to pay for it before it's quite finished and fund the CD presses, all this atomization of the rock-and-roll landscape has been worth it.