Selecting Riverfront Times' Best of St. Louis 2011 was no picnic. Choosing the winner meant several worthy candidates would go unmentioned -- until now. In this RFT Music series, we're beeboping and scattin' our way through notable runners up in a number of categories. This week: The best gay bars in St. Louis.
See also: The Ten Best 3 a.m. bars in St. Louis. The Ten Best Neighborhood Bars in St. Louis The Ten Best Sports Bars in St. Louis The Ten Best Juke Boxes in St. Louis The Nine Best Blues Clubs in St. Louis
Absolutli Goosed Martini Bar Oh my, can the bartenders make a good drink here. Known to regulars as "Goosed," this place keeps newbies and old friends alike coming back again and again for fierce cocktails and a chill bar atmosphere. With tons of small but tall tables for two, this place is a perfect place to take first date. While the capacity is low and the tiny space creates intimacy, it's not necessarily a mingling atmosphere. So bring your date here and get him drunk on classy cosmos -- you won't have to worry about him going home with anybody else.
Attitudes Bar & Grill Attitudes was one of St. Louis' first gay dance clubs. It's still everything a club should be: dark, mirrored, crowded and loud. The space has a built-in stage for entertainment and drag shows, but on the weekends it's a full-on hedonistic dance-fest. There's a little cage for the exhibitionists to freak-dance in, a deep dance floor lined with leather couches and a long perch above the crowd to watch the action from above -- highly recommended if you're into people-watching. Visit Attitudes if you're seeking lots of people, reasonable drink prices and bumpin' bass.
Boxers 'n Briefs Boxers 'n Briefs' website boasts: "All races, colors, sexes and sexual orientations are welcome," and that is the damn truth. It doesn't matter if you're gay, straight or a penis-veil-wearing bachelorette, if you want to ogle dancing dudes, this is the only place to be. The cover charge is a little steep -- $10 on the weekends -- but you get hours of fun. The entertainment rotates all night, and it doesn't take the dancers long to get fully nude and do acrobatic flips right on the bar; here the entertainers are very accessible. The club also boasts a shower (on the bar -- for the dancers to perform in), private rooms and a drag show every Sunday night.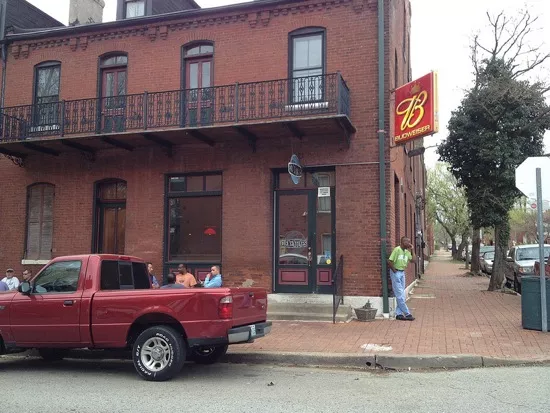 Clementine's Bar Clementine's Bar is big and beautiful and located on the quiet corner of Menard Street and Allen Avenue. Unlike some of its Soulard neighbors, it has a nice, relaxed atmosphere and is a place where grownups can go to be grownups. Patrons flock to the relaxing patio on the weekends when the weather is warm. It always seems to be bustling, but it's never too crowded. There is one exception to this laid-back atmosphere: Mardi Gras. Every year Clementine's is the very epicenter of debauchery, hosting the hilarious and beloved High Heel Drag Race -- where men, usually in dresses, race down the street in heels.
Grey Fox Sometimes you just want to get down and dirty. If you're looking for a place with no pretense, the Grey Fox is your new favorite spot. It's been around for years; it has undergone renovations, and even its neighborhood seems to be getting better. But the Grey Fox is still a fun kind of dirty. The bar itself up to code, no doubt about it, but the patrons are what make a bar. And here the patrons always seem to out for one thing only: tail. If a gentleman asks you out and suggests you go to the Grey Fox, you'll now know what kind of dude he is -- and if you're that kind of dude, too, then by all means say yes.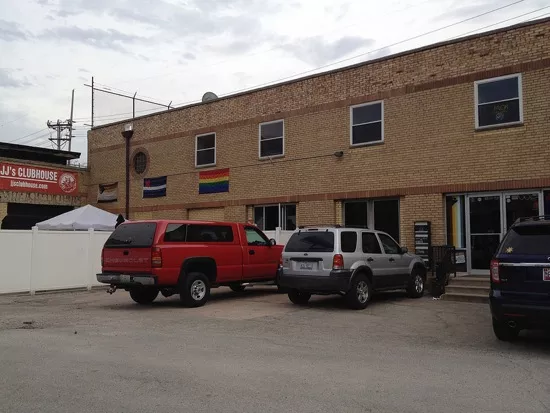 JJ's Clubhouse & Bar Located around the corner from the Grove off of Vandeventer Avenue, JJ's is tucked into a secluded little nook almost under Highway 40. Advertised as "St. Louis' Largest Bear and Men's Bar," JJ's has a specialty, and there is no straying from this recipe. If you seek bears or cubs or lads in leather, this is the place to be. And while women legally can't be turned away at the door, know that this is primarily a men's space, and ladies will be reminded of that fact frequently. Men strut cruise in their best leather gear, there are cheese balls on the bar as a snack, the pool table is in constant use and on the weekends the back room is opened to create a huge, pulsing club with swirling lights. If you are into furry men, come find your daddy here.
Just John What makes a gay bar great? Stiff ones? (We mean drinks, you pervert!) Hot dudes? Atmosphere? Yes, all of that, plus something else: the unquantifiable feeling of being where the action is. Just John's, or JuJo for those in the know, is owned by two lovely men who've been partners for fifteen years. You've seen their float in Pride. You'll see plenty of regulars and staff at Out in the Ballpark. Go have a beer on the patio or take in the slick, swank indoor space and find out why Just John's is everyone's favorite spot. It isn't just a bar; it's part of the fabric of the community.
Novak's Bar and Grill Novak's is the home of St. Louis lesbian nightlife, but it's also a place where all people can go to have a good time. Novak's is known for offering many options and hosting multitudes of activities. In addition to being a bar and a dance club with a great patio, there's also food, pool, darts, TV/film screenings, sports teams and even a fish fry. There is nothing half-assed at Novak's. Weekends are big. Events are bigger. And Novak's float in the St. Louis Pride Parade is always freaking massive. It hosts an activity every day, it seems. You could pretty much plan your whole life around the goings on at Novak's. Sounds nice, doesn't it?
Rehab Bar & Grill Located at the corner of Chouteau and Manchester avenues, Rehab is the first thing you'll see at the east entrance to the Grove neighborhood -- also called the "Gayborhood." It serves as a nice introduction to the area, with a friendly staff, a neat bar and a ballin' patio. Sure, the drinks are a little more expensive here than at some of the other bars in the area, but you pay for quality. This is also one of the few establishments on the strip that advertises itself as a gay bar (rainbow flags flying proudly) but still gets heavy traffic from the straight crowd, too. Look into Rehab the next time you want to try somewhere new.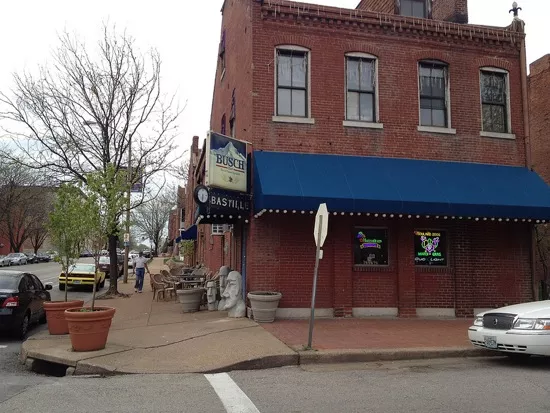 Soulard Bastille Located in historic Soulard, this place is both classy and kitsch. There are decorations and toys and cutesy stuff everywhere, but it's all very organized and anchored by a gorgeous wood bar. Bastille opens every day at 11 a.m. for lunch and doesn't close until 1:30 a.m. There is ample seating out back in the garden and in the front. The patio spots are considered to be prime real estate because of all of the foot traffic out in Soulard every night: From its outside corner, patrons can see in both directions down Russell Boulevard.