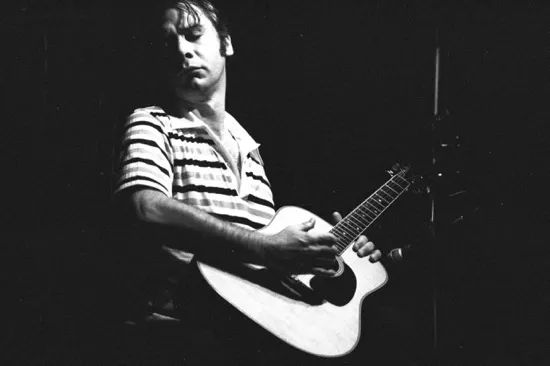 Playing music in general takes some guts. Doing it alone takes even more, and making a record of instrumental unoccupied guitar moves a musician from the "gutsy" category to "ballsy." Here is the list of six best solo guitar albums. Feel free to let us know what your favorite solo guitar record is, but bring a friend for support.
6. Christopher Trull - Boxes of Dead Things Click here to download or stream this album from Dead Language Records
Local guitarist Christopher Trull, formerly of Grand Ulena and currently of Yowie, recorded the instrumental record Boxes of Dead Things for no other reason than to get ideas out of his head and onto tape. The result is surprisingly beautiful, considering Trull's abstract pedigree. Each consonant moment simply aches, and each knotty melody slithers mischievously. Christopher Trull is not only one of our city's best-kept secrets, he's also one of the most inventive musicians alive.
5. Joe Pass - Virtuoso Joe Pass is an icon among jazz guitarists, and Virtuoso is his defining moment -- so much so that it had a sequel. Pass' technique is unparalleled, particularly with his nimble jumps between chords and blistering melodies. Some have accused Pass of being all chops and no soul, but the fact that he improvised over jazz standards for Virtuoso upon the off-the-cuff requests from the album's engineers comes off like a middle finger to those naysayers.
4. Glenn Jones - The Wanting At the end of 2011 I expected to see The Wanting on multiple end-of-year lists and was shocked by its absence. Glenn Jones, who used to play in the group Cul De Sac, crafted a gorgeous album of expressive Americana on the Thrill Jockey label. The one exception to the solo format was "Orca Grande Cement Factory at Victorville," a recording of Jones that was essentially remixed by drummer Chris Corsano. The other tracks are gorgeous displays of shimmering acoustic work and a few experiments on the banjo -- but we won't hold that against him. 3. Derek Bailey - Ballads Derek Bailey knew every sound he was making on the guitar and placed them very deliberately within his improvisations. This is essential information, as even 40 years after his emergence and 6 years after his death Bailey is still one of the most misunderstood musicians. YouTube commenters love to troll his videos claiming he's a hack just playing noise, but Bailey was -- obviously I hope -- much more. He reinvented the instrument, changing it from a melodic device into a source of limitless textures. Ballads is a record Derek Bailey made late in his career, and it is a great showcase of his uncompromising voice, especially since it's one of the more approachable albums in his discography.
2. John Zorn - Masada Guitars Masada Guitars is a complicated concept because it is technically three solo guitar albums -- by Tim Sparks, Marc Ribot and Bill Frisell -- playing from out-there composer John Zorn's Masada songbook, which contains rules and guidelines rather than conventional songs. The players' individuality comes out through their interpretations. Sparks' tracks have a Middle Eastern flair, Ribot's nylon string work sounds like classical melting in the Cuban sun and Frisell lets his guard down for some genuine electric guitar freakouts. Considering the unique approaches of the three guitarists, Masada is an engaging listen that doesn't fall into the monotone trap of some solo records.
1. John Fahey - America
The original "American Primitive," John Fahey was informed by bluegrass and twentieth-century composers, melting his influences into tunes that favored catharsis over technique. This isn't to say he was by any means sloppy or underdeveloped; his right-hand thumb was downright unstoppable when plucking out a bassline underneath his phrases. The pinnacle of his unaccompanied work was the 1971 record America, particularly its longform tracks "Voice of yhe Turtle" and "Mark 1:15." These songs sprawl well past the ten minute mark and deserve every second. "Mark 1:15" will make you embarrassed about the mediocre post-rock you have called "epic" in the past, and I challenge the cultured St. Louisan to listen to "Voice Of The Turtle" and not be reminded of deceased City Museum owner Bob Cassilly. John Fahey frequently proved the power that a capable individual can display when left to his own devices, and America is his masterpiece.