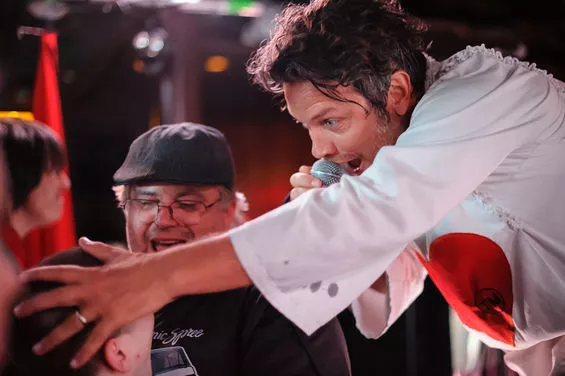 Photos by Jason Stoff
Tim DeLaughter passing on his joy via osmosis.
A Polyphonic Spree show is the closest you will ever come again to sitting around a campfire as an eight-year-old. The group is impractical (you try going on tour with a minor army), unhip (robes with hearts on them, guys!) and one of the best live experiences in music. What separates them from other bands with infectious happiness is the quality of the songs, but it is also the commitment of front man Tim DeLaughter. The Spree came to St. Louis over the weekend and photographer Jason Stoff was there. The bliss of this band is visual, and below you will find a sense of what it was like.
View a full slideshow of the Polyphonic Spree with openers New Fumes and Sweet Lee Morrow.