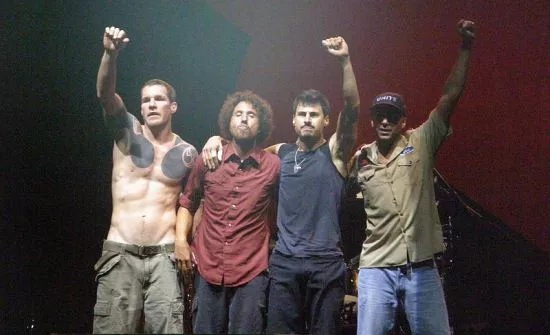 Wikimedia Commons
Rage Against the Machine's "Killing in the Name" has confounded censors for years. And while the song's appeared in three music video games, the results haven't always been pretty.
Censorship is one of music's longer running conflicts, a struggle where the desire for marketability often trumps creative freedom. That's been the case for every music video game in existence, titles that constantly walk the aforementioned tightrope.
One of the more challenging songs to appear in any mainstream conduit is Rage Against the Machine's "Killing in the Name," a tune that launched the band to prominence back in the 1990s. The awkwardness extends to music video games, most recently when the song was released this week as downloadable content for Rock Band 3.
While the themes in "Killing in the Name" are already fairly provocative, censors have had sleepless nights over the last portion of the song.That's the part in which RATM singer Zack de la Rocha utters "fuck you" well over a dozen times. After the last instance, he screams "motherfucker" before grunting authoritatively.
Like many songs written in a political context, the meaning behind "Killing in the Name" has been widely debated since it was released.. But last portion is important for showing the band's defiance toward corrupt authority, making it all the more disappointing when radio stations cut out that part altogether.
In that respect, the way "Killing in the Name" was presented in both Rock Band 3 and Guitar Hero: Smash Hits made the best of a bad situation. Both Rock Band creator Harmonix and Guitar Hero publisher Activision kept the last portion, but blurred out all the profanity. Yeah, that type of censorship is icky. But believe it or not, it could have been much worse.
How so? Just take a listen to the above cover of "Killing in the Name" from Guitar Hero 2, a version in which the words "fuck you" and "motherfucker" are replaced with "under control." It's another example of why using word replacement to censor something is an absolutely terrible idea. In perfect world, Harmonix and Activision would have released DLC of "Killing in the Name" completely uncensored. But that was never going to happen, as putting out anything with an immense amount of profanity would almost certainly lead to an 'M' rating. Like it or not video games exist for companies to make money, and potentially alienating the parents of younger consumers is not a path many publishers want to take.
But that doesn't mean every example of video game censorship has passed the consistency test. For instance, Harmonix released downloadable content of Fallout Boy's "This Ain't a Scene, It's Arms Race" and Panic! At The Disco's "I Write Sins Not Tragedies" that cut out the words "goddamned." Yet they also released an uncensored version of Weezer's "El Scorcho," which contains the line "goddamn you half-Japanese girls" as the first line of the song.
As IGN scribe and former Columbia Daily Tribune reporter Greg Miller noted a few years ago, Activision's family-friendly Band Hero featured remarkably inconsistent examples of censorship. While the game bleeped out references to "whiskey" in Don McLean's "American Pie," it featured the Airbone Toxic Event's "Gasoline" about underage sex. Miller described such a move as "interesting." This writer would have used the word "asinine."
Harmonix spokesman Aaron Trites addressed some disgruntled Rock Band fans in 2008 that were perturbed about the censorship of "This Ain't a Scene, It's An Arms Race." He noted that the decision isn't always a cut-and-dry:
It could have been anything from an internal decision to a decision made by the band, their label, the ESRB ratings board, etc. Why was the FOB song edited but Weezer's El Scorcho was not? I don't know. Again, completely different band, management, label, and ESRB submission process. I guess this goes to show that there is no 100% clear cut way to determine which song will get edited and which song won't.

The meat and potatoes of the song is still there. I don't think that the edit changes the meaning of the song, and I haven't found the lack of GD jarring at all when singing. Sing it if you want to. I'm not endorsing censorship of the arts, and I'm not using this as a platform to weigh in on the religious implications of the word edited out. I just wanted to point out that the editing / ESRB process may vary from song to song, so we should all get comfortable with that idea sooner rather than later.
There is one shred of silver lining here, at least for vocalists. Music games don't penalize players for getting words wrong, so there's nothing stopping anybody from swearing to his or her's heart's content. But that may be the only silver lining, since censorship in music games isn't going away anytime soon.