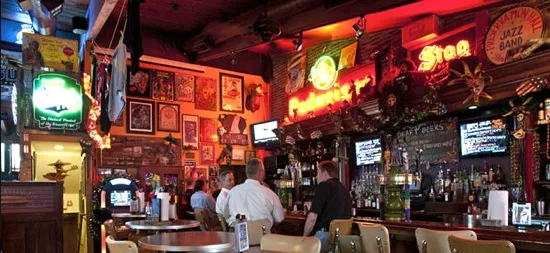 Selecting Riverfront Times' Best of St. Louis 2011 was no picnic. Choosing the winner meant several worthy candidates would go unmentioned -- until now. In this RFT Music series, we're beeboping and scattin' our way through notable runners up in a number of categories. This week: The best blues clubs in St. Louis.
See also: The Ten Best 3 a.m. bars in St. Louis. The Ten Best Neighborhood Bars in St. Louis The Ten Best Sports Bars in St. Louis The Ten Best Juke Boxes in St. Louis
1860's Saloon and Hard Shell Café (1860 S. Ninth St.; 314-231-1860) Located in the heart of the Soulard neighborhood, 1860's features music seven nights a week in the front room, with an emphasis on rowdy guitar-driven blues from the likes of Jimmy Lee Kennett and Steve Pecaro. The long-running Saturday matinees featuring Soul Reunion are another weekly highlight. There's also a full menu, a "rec room" filled with bar games, plus an outdoor patio and a quieter back room with another full bar, for those seeking temporary respite from the sometimes boisterous celebrations up front.
Backstreet Jazz & Blues Club (610 Westport Plaza; 314-878-5800) While the Backstreet Jazz & Blues Club seems to draw a good portion of its audience from patrons who are headed for (or have just visited) the Funnybone Comedy Club next door, it does book some acts that justify the trip for the music alone. Most notably, the club is home to twice-monthly gigs featuring guitarist, singer and local legend Billy Peek, a protégé of Chuck Berry and former sideman to Rod Stewart. Guitarist Buffalo Bob leads a weekly open jam session on Sundays, and Backstreet also hosts twice-yearly visits from renowned singer/guitarist Johnny Rawls.
BB's Jazz, Blues and Soups (700 S. Broadway; 314-436-5222) With live music seven nights a week, BB's also serves as a sort of unofficial clubhouse for local blues musicians, who often drop by on their off nights or after their own gigs are done. The club presents local and traveling bands, ranging from solo performers playing acoustic music to full-out electric blues bands, with classic soul, R&B and jazz groups also in the mix. BB's status as a popular after-gig hangout also makes for frequent late-night sit-ins and the chance to hear unusual combinations of musicians. With seating on two levels plus an in-house video system showing what's happening onstage, patrons are never far from the musical action.
Beale on Broadway (701 S. Broadway; 314-621-7880) A home base for some of the city's best blues players, Beale on Broadway is the sort of place where you don't have to check the schedule before you go. The venue's de facto slogan is "Live Blues Seven Nights a Week," and that's usually what you get, whether it's one of the long-running weekly gigs involving the Ground Floor Band, Roland Johnson, or Kim Massie, or a weekend show featuring visiting talent from Chicago, Austin or Memphis. With warm lighting, hardwood floors and a spacious back patio, it's easy to feel like you're drifting south down the Mississippi, no matter who's playing.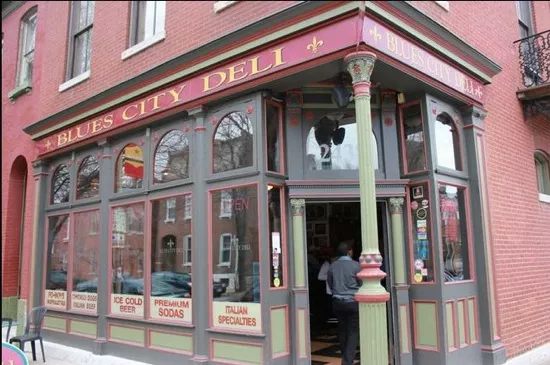 Blues City Deli (2438 McNair Ave.; 314-773-8225) You can tell that Blues City is a bit more than just another corner-storefront sandwich joint just from the décor, which features concert posters, album covers and photos of musicians. (Look for the shot of owner Vince Valenza from his club-gigging days with guitarist Pennsylvania Slim.). The house specialties, including an Italian salsiccia po'-boy and a New Orleans-style muffaletta, are served up daily. But on Thursday evenings and Saturday afternoons, there's something more on the menu, as some of the city's best musicians take to the tiny stage and transform the south-city haunt into a jumpin' blues venue.
Broadway Oyster Bar (736 S. Broadway; 314-621-8811) The final third of the so-called "Broadway blues triangle," the Broadway Oyster Bar offers tasty New Orleans-style cuisine alongside a mix of local and touring acts playing blues, soul, funk, zydeco and reggae, seven nights a week. Though the indoor seating space is charmingly claustrophobic, a tented and heated outdoor patio offers room to stretch out in all but the most severe winter-weather conditions. The Monday-night jam sessions, hosted by perennial local favorites Soulard Blues Band, are a long-running staple.
The Gramophone (4243 Manchester Ave.; 314-531-5700) A prime destination for live music in the evolving Grove neighborhood, the Gramophone offers a variety of styles in a laid-back, refurbished urban space that feels intimate, but not cramped. While indie- and alt-rock and hip-hop dominate, the club also presents touring blues performers such as Chris Thomas King, up-and-coming local players, and New Orleans acts such as the Rebirth Brass Band. The musical offerings can vary widely from week to week, so check the schedule before you go.
Highway 61 Roadhouse (34 S. Old Orchard; 314-968-0061) Housed in what once was a lumber dealership and later the Webster Groves outpost of Streetside Records, Highway 61 Roadhouse offers a variety of live music amidst colorful blues-themed décor, accompanied by a menu of down-home, comfort-food favorites. The small stage is right next to the dining area, which provides a close-up listening experience but can also make for rather crowded conditions when larger bands are playing. Tuesday's open mic focuses on blues, Thursdays feature a jazz jam session, and weekend bookings offer blues, classic rock and singer-songwriters.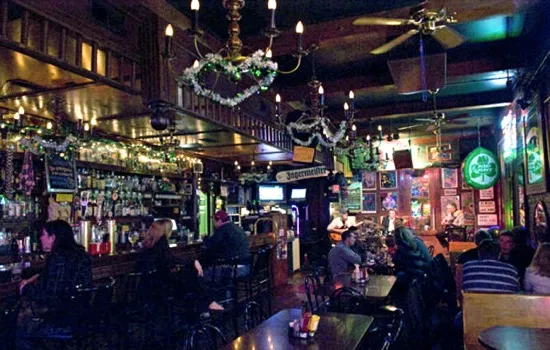 Hammerstone's (2028 S. Ninth St.; 314-773-5565) With a feel that's more than Irish than French, this Soulard spot has live music seven nights a week and twice daily on the weekends. There's a big menu of bar-food favorites, plus a comfortable outdoor patio that allows the festivities to spill outside, even in the winter when the area is tented and heated. Regular performers include hot young singer/ guitarist Jeremiah Johnson, and guitarist John Farrar, brother of Son Volt's Jay Farrar, who leads a Wednesday night jam. There's also a Sunday afternoon jam session, started years ago by the late guitar great Bennie Smith in conjunction with members of the Voodoo Blues Band, who have continued the tradition since Smith's death in 2006.