Just lookit! That thing is SOLID.
This week's Most Triumphant Beard of the Week award goes unequivocally to Map's and Atlases' Dave Davison, whose facial hair would be worthy of IFC's cut-throat Whisker Wars competitions -- if that show is still a thing, anyway (I sure hope so, but doubt it). Jack Passion would be proud. Maps and Atlases play the Firebird this Saturday night.
Other notable shows in town this week -- albeit with less-than-notable facial hair, comparitively -- include live-looping multi-instrumentalist Emily Wells on Tuesday (no beard at all), folk-punker Tim Barry on Wednesday (stubble at best), and Bobby Bare Jr. on Saturday (occasionally bearded with pretty solid mustache). Click through to see the rest of our picks.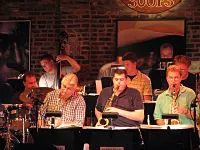 Sessions Big Band Jazz Mon., 8:00 p.m. May 7 @ BB's Jazz, Blues & Soups - $10 By Terry Perkins It's been a long time -- more than a half-century -- since the glory years of big-band jazz. But despite several changes in musical formats and styles, and the economic pressures that made keeping large bands together an extremely difficult proposition, big-band jazz has never really gone away. It's just gotten a little more difficult to find. There's no better place and time to discover the continued vitality of big-band jazz than BB's Jazz, Blues & Soups on Monday night. There you'll find the Sessions Big Band -- but one thing that's a little hard to find is a seat when Sessions is performing. The place usually fills up by the start with a mix of area jazz fans, conventioneers, tourists searching for a taste of local music and a few young music students as well.
Emily Wells & The Portland Cello Project Tue., 7:00 p.m. May 8 @ Old Rock House - $12-$20 By Kiernan Maletsky Let's just end the conversation about the dissolving of genres right here with Emily Wells. She's a lifelong, classically trained violinist who in a recent interview said, "there is nothing like a well-mic'd bass drum." Plus, she has a cover of Notorious B.I.G.'s "Juicy" that is the least touristy any white person with a stringed instrument has ever sounded covering gangster rap. Her new album, Mama, is a spectacular daydream on which Wells plays a minor orchestra of instruments, looping phrases until they become mantras. Independent Music Plays Here: Thank you to Tim Rakel, who introduced us to Emily Wells by playing her music on his Mystery Train show on KDHX (88.1 FM).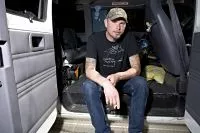 Tim Barry Wed., 7:00 p.m. May 9 @ Off Broadway - $12-$14 By Scott Heisel From this 2010 show preview: The punker-gone-solo route is a familiar path for many frontmen. In the past few years alone, the singers of Thrice, Hot Water Music, Lucero and dozens more have explored their folksier, quieter side -- with mixed results. Avail leader Tim Barry predates the trend, with his first solo release coming in 2005. Since then, he's won over a legion of followers with his deceptively simple songs and detailed storytelling. But just because Barry's without a backing band, don't think he's any less punk: He recently broke his hand onstage during one of his shows in a fight with an unruly audience member. It might not be Black Flag musically, but it sure is in spirit.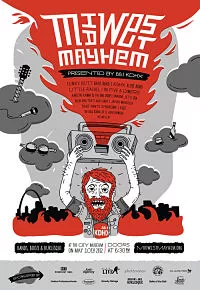 Midwest Mayhem w/ Little Rachel, Nee, Five and Dimers, Aaron Kamm and the One Drops, Warm Jets USA, Bob Reuter's Alley Ghost, Javier Mendoza, The KDHX Blues Band, Tight Pants Syndrome, Funky Butt Brass Band, The Folk School of St. Louis Showcase, and more Thurs., 6:30 p.m. May 10 @ City Museum - Donate to KDHX for Admission By Timothy Lane From this 2007 write-up: Fact is, there's nowhere to stand and not be touched by the cacophony that swirls through this place. The combination of music -- the electric hootenanny sounds of Strawfoot in one room mixing with the lowdown blues of Marquise Knox in another -- blending with the weird visual embellishments that comprise the City Museum's interior makes for a complete sense of vertigo. Dizzy on your feet, you are. Meanwhile, women riding bicycles costumed as horses and dragons pedal around lyrically. Downstairs you have people lined up to have stick-on tattoos pasted to various parts of their bodies. A group has massed in the Cabin Inn to listen to a comedic guitarist singing about how fucking doesn't cost anything. Much laughter. There are plenty of songs about sex, but not so many in which the word "fucking" is actually used, and this amuses people, this word, like a long belch or a fart amuses people.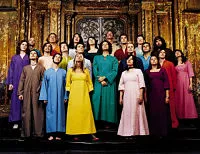 The Polyphonic Spree Fri., 8:00 p.m. May 11 @ Blueberry Hill - $20 By Ryan Wasoba Although most credit Arcade Fire and Broken Social Scene for the trend of non-ska bands whose roll calls reach into double digits, The Polyphonic Spree RSVP'd its thirty plus members for that party back in 2000. Those who pegged the Dallas group as a novelty because of its cult aesthetic were silenced by the joyous track "Light And Day/Reach For The Sun," which was commercially successful in that it succeeded to land in numerous television commercials. The Polyphonic Spree's continued success and existence is a testament to both mastermind Tim DeLaughter's songwriting and the strength of the buddy system, defeating the naysayers by outnumbering them. Notable Alumni: Annie Clark (alias St. Vincent) and Man-Or-Astro Man's Brian Teasley have donned the robes of the Polyphonic Spree, and current drummer Jason Garner also plays in the Paper Chase.
Tennis Fri., 10:30 p.m. May 11 @ Plush - $12 By Kelsey Whipple ​Tennis looks like if Vampire Weekend modeled for Urban Outfitters, and it sounds ― if it's possible ― like happily suburban ennui. That should help you picture its fairytale story, which begins with a boy, a girl and a sailboat and finds the first two taking the third one across the Atlantic, writing songs about it before featuring in blurbs like this one. They signed to Fat Possum roughly one year after all the whimsy began. There's husband and wife Alaina Moore and Patrick Riley, and James Barone rounds out the threesome's lush, candy-coated surf-rock, which recently hit another milestone: Earlier this year, Tennis excerpted its latest, Young & Old, in front of both Jay Leno and David Letterman ― and millions of viewers. Recommended If You Like: Patrick Carney. The Black Keys drummer produced the Denver trio's soulful sophomore record.
Maps and Atlases Sat., 8:00 p.m. May 12 @ The Firebird - $12 By Christian Schaeffer Cross-promotion has become a form of survival for mid-level indie bands given shrinking record sales and dwindling returns on regional touring. So maybe it is not all that odd that Chicago's Maps & Atlases teamed with the local coffee magnate Intellegentsia for a band-approved coffee blend (fair-trade, of course). You can rest assured that the brew is not decaf ― this foursome percolates joyful and kinetic tunes with hints of spindly prog-rock, restless Afro-pop and minute Krautrock. Don't let lead singer Dave Davison's hermit-length facial hair distract from his finger-tapping prowess or the honeyed and weathered quality of his voice, which carries the just-released Beware & Be Grateful. The Best of Friends: Local openers So Many Dynamos share a musical kinship and personal friendship with Maps & Atlases, so much so that SMD will open the band's hometown release show at Chicago's Metro the previous night.
Bobby Bare Jr. Sat., 9:00 p.m. May 12 @ Off Broadway - $10 / $12 By Roy Kasten Taken as a whole, Bobby Bare Jr.'s career amounts to the most graceful, forgiving and musically satisfying resolutions to the Oedipus complex imaginable. In his pungent and playful songs, there's plenty of loathing (of self and other), but for every twist of the psycho-sexual knife, there's a weird vulnerability that belies the confidence of a good artist and a great collaborator. For such an eccentric talent, he works well with others -- whether producing his father, jamming with a new band like Blue Giant or helming a much-deserved children's music tribute to the late Shel Silverstein. And even in middle age, Jr. finds time to fill albums such as last year's A Storm, A Tree, My Mother's Head with wobbly, witty, catchy pop -- and the boundless excitement of a country rocker who sounds forever young.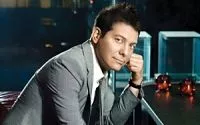 Michael Feinstein Sun., 2:00 p.m. May 13 @ Powell Symphony Hall - $40-$60 By Mark Fischer Michael Feinstein is a music fan. The multi-platinum, Grammy-nominated entertainer is not only one of the premier performers of classic American standards, he's also a relentless music preservationist, collector and memorabilia archivist. This Sunday at 2 p.m., Feinstein joins forces with the St. Louis Symphony Orchestra and flips through the pages of the Great American Songbook, performing timeless jazz and pop standards from the giants he's worked so tirelessly to protect for future generations. George Gershwin, Frank Sinatra and many more will be represented this Sunday, May 13, in a special afternoon event at Powell Hall (718 North Grand Boulevard; www.slso.org). Tickets range from $40 to $60.