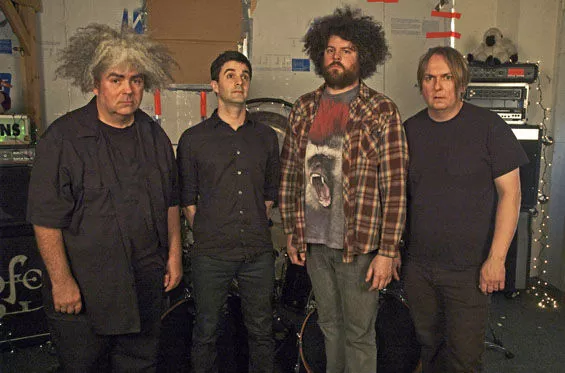 By Jef With One F
Almost 30 years after Buzz Osborne founded the Melvins -- playing tonight at the Firebird -- the band remains hard to concretely classify. You can call them punk, metal, grunge, rock and any one of a dozen other genres, but good luck trying to pin one particular tail on this donkey.
But the band isn't resting on its laurels at all. A new full-length record, Freak Puke, is due out in June, some tribute albums to the Melvins' personal inspirations are in the works, multiple tours of America and Europe are planned, and then there's The Bulls & the Bees.
This five-song EP is being made available to anyone, free, through a partnership with Scion, a division of Toyota. The company is very involved with the artistic community through its Scion A/V branch, even founding a monthly podcast with exclusive artist interviews and news of upcoming releases.
"We have been working in the music space since 2003," says Scion spokesperson Jeri Yoshizu via e-mail. "We have been working with the Melvins since our event in Austin in 2007.
"They have always been open to working with Scion since that event, and have been willing to collaborate on projects," she continues. "They have incredible reputations, are professional and are everything you would want in a band."
As struck, the deal was simple: Scion would pay the Melvins up front for the EP, and would handle free downloading distribution through the company's Web site. The Melvins stand to gain further exposure thanks to a company that has become passionately dedicated to supporting the music industry.
Scion, meanwhile, would reap a great deal of legitimacy by associating itself with a band that has influenced some of the best music of the last two decades. Soundgarden, Tool, Mastodon, Nirvana and ­Eyehategod are just some of the bands who would sound very different if Osbourne and crew had not existed.
So what exactly did this coupling between big business and pioneering geniuses sound like? It sounds amazing. Simply amazing.
It's only when you listen to The Bulls & the Bees that you realize that a lot of bad music from the late '90s and early '00s really didn't have to suck so bad. The EP is full of the sludgy guitars and the Melvins' trademark Viking-war-cry vocals, which so many bands tried and failed to emulate. Here stands the original, and the so-called hardcore bands that emulated them pale in their shadow.
Take opening track "The War in Wisdom," for example. The pounding dual drums of Dale Crover and Coady Willis alternate between sludge-metal's dirge-like tank rumble and a thunderous Iron Maiden-esque charge.
The howling, abstract vocals feel like summoning a demon; it's a dark, energetic start to the album that should prove beyond a shadow of a doubt that the Melvins are still very capable of delivering an uncomfortable masterpiece.
"War on Wisdom" also spawned a Scion-funded official video directed by Mark Brooks, in which kid versions of Warren, Crover and bassist Jared Warren storm Wisdom Middle School with Super-Soakers to liberate the pint-sized Osborne from detention in time for band practice.
Teachers are systematically taken out in a wave of ultra-hydration during the mission, but despite the video's lighthearted approach, in a modern world where school shootings happen with alarming regularity, it also seems provocative and daring -- much like the Melvins themselves. The real gem on the album isn't particularly catchy, but "A Really Long Wait" is nonetheless unforgettable. The haunting, empty track has a postapocalyptic feel that races across the soul like an icy wind.
It started as a simple jam session led by Warren, and grew into a mildly gothic song of destruction and endings. It would've worked wonderfully as a final epitaph to the work, not that there's anything wrong with taking an audience home with the comparatively whimsical "National Hamster" that follows.
"We just wanted to make a nice, well-rounded EP that took you somewhere," says Osborne in a phone interview. "We wanted something like a commercial break. We all need a little commercial break now and then."
Osborne insists he's totally comfortable with the deal the Melvins had made with Scion about producing The Bulls & the Bees. He points out that there wasn't really a lot of difference in having Scion foot the production costs or having the band's former label, Atlantic Records, do it: Both are part of giant corporations, and that one makes cars and the other makes records is irrelevant.
Osborne considers the Melvins well-compensated for the work, and had nothing but praise for the Scion deal, including the practice of offering the EP for free.
"I would rather give it away for free than try to charge for it and have people steal it anyway," he says. "There are people out there who think they're entitled to everything for free, and I bet their parents are real pieces of work. I'm excited about this kind of thing. I'm not afraid of change. I'm not afraid of the future."
In the end, Osborne and the Melvins are continuing to do what all good working musicians do: They are challenging themselves and the way they do business, while still regularly putting out works of remarkable quality and innovation. Such longevity should be rewarded.
In the old days, composers like Osborne would have a wealthy patron to take care of them while they crafted their opuses. Maybe that time has come again, but instead of having Lord such-and-such doling out the allowance, it could be business aiming to create cultures in addition to their products.
"If you spend time with labels and artists who have worked with Scion, regardless of genre, you will hear the benefits ranging from financial to exposure to solid marketing results," says Scion's Yoshizu.
"While the corporate industry becomes more focused on singles and release-sales results, corporations are looking at broad awareness, unique brand association opportunities and audience reaction," she continues, "allowing development of artists and labels in an old-school style with modern promotions."
They used to call this kind of thing selling out. Now, it may be the thing that saves the working musician.