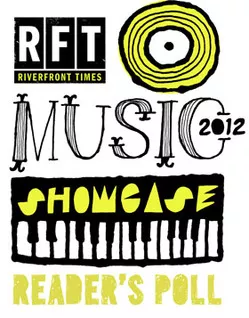 The RFT Music Showcase is one month from today, on June 2 at 12 bars and restaurants on Washington Avenue. We haven't announced the lineup yet, but it will comprise some 70+ bands. And our source on the inside tells us many of those bands are quite good.
Fortunately, you do not have to simply sit on your hands in anticipation. There's plenty you can do right now -- starting with casting your vote for your favorite band in 25 categories. We've narrowed the field to five finalists in each, but feel free to ignore our suggestions and write somebody in, as well.
The 2012 RFT Music Showcase Poll
One more note on voting. Over the next month, we'll be introducing you to the finalists one category at a time like so, and there will be a poll for just that category embedded in each feature. Those votes will be tallied as well, so feel free to voice your opinion however you find it most convenient.
The other thing: This year, showcase wristbands will be $10. We won't do the per band price breakdown thing, because that's a little stupid -- you can't actually see every band. But let's say you see eight bands before it all becomes a haze of friends and pizza and Rob Severson pretending to be Bunnygrunt, which is pretty much how our Showcase experience went last year. That's, you know, a small amount of dollars per band.
That said, we know you're not Mitt Romney. So buy your pass between now and Sunday and it's only $5. There are no fees involved.
$5 general admission wristband for the 2012 RFT Music Showcase via Voice Daily Deals.
There's also a VIP pass available, which includes four drinks, open bowling, a sense of superiority and other things.