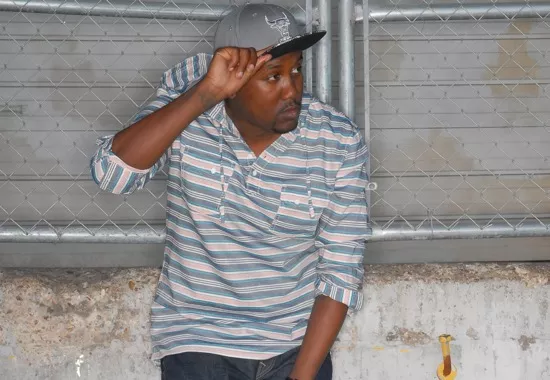 Editor: Tef Poe is an artist from St. Louis City. Through powerful imagery and complicated honesty, he has earned a reputation as one of the best rappers telling the story of St. Louis, which is about much more than one place. Poe has been featured in music publications such as XXL and Urb Magazine. His next project War Machine 2 is slated to be released June 5th and followed up by a full-length with DJ Burn One entitled Cheer For The Villain. Follow him on twitter @tefpoe
Every week in I'm Just A Rapper, Tef discusses modern life, hip-hop, and the deep connection between them.
Last month, a rap star who has been dead since Sept 13th,1996 performed onstage at a music festival in 2012. A few people have slandered Dre and Snoop for this, but not me. Tupac's mother approved the hologram, and I am very sure they both miss him dearly. I listen to Tupac daily in some form or fashion. Why exactly do I do this? Why am I so infatuated with the sound and message attached to Tupac's music?
This man has been declared deceased since 1996, and hip-hop still hasn't found out way to get over it. His murder is unsolved, and his death is some sort of a mystery.
Earlier this week I was on the phone speaking with my comrade Rockwell Knuckles. Rocky and I typically talk about everything under the sun. We speak heavily about our own music for about 45 minutes every other day, and then we talk about different things concerning American pop culture. Tupac is always at the top of this list, and I don't even think we realize it. We live in an historical era that no longer breeds civil rights leaders and celebrity activists. Everyone is extremely plugged into the system, which is why our politicians answer any form of a question simply by asking a question themselves. The hip-hop culture is attracted to the allure of Tupac mainly because he was honest with us. The propaganda machine behind many of our favorite musicians has managed to ruin their freedom of speech. In today's world of entertainment, everything is all about being politically correct. If you vocally disagree with a perceived social norm it means you may lose twitter followers and endorsements. Entertainers are not allowed to speak freely about poverty, racism, sexism and politics in general. Some are bold enough to do it anyway, but most tread lightly around these issues.
Tupac would've had an amazing Twitter profile, filled with profanity and slander aimed at politicians. One of my favorite Tupac quotes was his response to a reporter asking him if he was afraid to die. Pac replied to the reporter by basically saying, if you kill me the person that comes after me will be completely heartless. Oddly enough, he was somewhat right.
Today's entertainers no longer have a true value to the communities that may identify with them. They are heartless exalted douchebags. For example: "I'm a rich rapper, so it's okay for me to suck cash from the wallets of the poor and middle class while I board my private jet and never look back."
Martin Luther King died because he was guilty of caring. We respect Tupac for saying I'm not Martin Luther King Jr. -- if you touch me I'll blow your head off. We feel as if we know everything about this man because he's a total open book. He told us his mother was a drug addict; he was raised by drug dealers. His family was dirt poor and he believed racism was America's favorite pastime. Tupac took the teachings of Huey P. Newton and made them relevant to a new generation. The son of a black panther became the world's largest rap star. He was a hybrid between gangster rap and black nationalism. He had skeletons in his closet and he didn't try to hide them. I became a fan of his music as a child and his untimely demise made me feel as if Superman died. I viewed Tupac as the educated version of the big homie from the neighborhood. Every ghetto has at least one big bad fearless gang leader or drug dealer. We refer to this person as the O.G. or Big Homie and in my mind Tupac is the ultimate big homie. He somehow created a personal relationship with me even though we've never met.
Tupac explained the black struggle in America like none other. Poor white people love Tupac because something in his voice resonates with those that come from nothing. There are street gangs in Brazil named after him. He was shot five times and survived a botched robbery attempt. He shot at two racist cops while defending an innocent man. He went to prison for a crime many claim he did not commit. He kissed Janet Jackson and allegedly had sex with Madonna. As a teenager Jada Pinkett Smith was his girlfriend. He wrote her poetry and love letters, which can still be read today via the Internet: "You will never fully understand how deeply my heart feels for you. I worry that we'll grow apart and I'll end up losing you". While in prison he married the Kidada Jones, the daughter of famed producer Quincy Jones. At the time of his death they were madly in love, and she now has a portrait of him tattooed on her left shoulder. I am not trying to get sidetracked here, but Kidada Jones is a gorgeous woman. The fact that she has Tupac's face tatted on her body for life is amazing.
I dream of living a life this awesome, minus the prison bids and police beat downs. He is the ultimate alpha male; women of all colors adore him and men of all creeds respect him. His birth name is actually Lesane Parish Crooks. This same name is also listed on his death certificate. His mother Afeni changed his name to Tupac Amaru Shakur when she married the black radical Mutulu Shakur. It's often difficult to separate fact from fiction when it concerns Tupac. He recorded an abnormal amount of music during his short life. He was only 25 when he was murdered, yet he has dropped a new album almost every year since his death. Every year a few unheard mysterious Tupac rap verses surface. He changed his name to Makaveli prior to his death, and when you move the letters around and eliminate the K, Makaveli can spell "I am alive."
He was the politically incorrect hero of Generation X. One day in the distant future, everyone reading this will die and Tupac will still be alive. I was a young child when he was alive and in his prime. I grew older and made it my point to study his life and music.
A close friend of mine named OneVoiz is a legendary rapper in Morocco, and his style is influenced by Tupac. OneVoiz and I met a year ago speaking on a panel at Wash U about the global influence of hip-hop. We each shared our respective stories about how the music and the culture changed our lives. OneVoiz shared his testimony about Tupac. We both started to go back and forth quoting lyrics and song titles. I paused in the middle of our conversation and demonstrated to the audience the power of this moment. We are both from different sides of the globe; we had never met each other. The lives we've both led have very few similarities. Somehow the music created by Tupac Shakur has become the common thread in our friendship.
OneVoiz's real name is Ahmed Mahrach. I talk him maybe once a month via Google Chat and Skype. I believe he currently lives in Amsterdam. He speaks three different languages and something about his music reminds me of Tupac. Our friendship was created when we both realized we were students of the Tupac Shakur University. In the future we have plans to do a musical project together. Tupac has no clue about this but his music has helped two musicians from totally different countries to join forces. This speaks volumes about the global influence of Tupac Shakur as an artist. I was raised in St. Louis while Ahmed has lived most of his life in Europe and Northern Africa. When Tupac dropped albums we both rushed to get our hands on the music. Like myself, Ahmed has studied Tupac's music line by line and song by song.
As artists we both believe we are products of Tupac's legacy. I watched the Tupac hologram performance footage more times than I'd like to admit. As a dedicated fan I have mixed emotions about the hologram, but for a brief second I allowed myself to enjoy the show.
We love Makaveli's music so much we decided to bring him back from the dead. Like myself, most hip-hop fans in my age bracket have never seen Tupac in person. The hologram pranced on stage and danced as if everything was perfectly fine. I watched this footage the next day almost a hundred times. I sat at my computer looking at the screen and it dawned upon me out of nowhere. Tupac was a genius. One of his most popular lyrics states, "My only fear of death is coming back reincarnated." His music is filled with undertones of challenging death and redefining what dying actually means. He even started referring to himself as immortal prior to his demise.
He rounded up his cousins and close friends, and they formed a rap group named "The Immortal Outlawz." Each Outlaw has alias named after a famous dictator (Kadhafi, Castro, Mussolini). Everyone had a dictator alias except him, for the most part. His alias became Makaveli. Remember, I said if you move the letters around Makaveli actually spells "I AM ALIVE". In 2012 as I sit here watching the Tupac hologram perform a YouTube duet with Snoop Dogg and it suddenly hits me.
He changed his name to "I AM ALIVE." Most hip-hop fans have universally decided that he is dead. But in 2012 he came walking onstage in the form of a hologram and rocked the show with Snoop Dogg and Dr Dre. He is one of only humans who managed to beat death. He physically died at 25, thereby preserving his youth and talent. In our minds he is always and forever 25 years old. He will not age and grow old because it is impossible. As I watched footage of his hologram performing I realized he pulled it off. He forced the music industry to keep him alive even though he is technically dead. But at what cost?
Hip-hop is all about finding a way to beat the system. This music can be a poor man's magic bullet. Get the money, feed your family and make something out of nothing all in one breath. We are fascinated by Tupac because according to his story this is exactly what he did.
But on the flip side there is a strange ending to how this saga unfolds. Our favorite pop stars always leave us in suspense, and this is why we become so emotionally attached to them. How did the story really end for Tupac? What really happened right before he died? He died in his prime and the crime was never solved. We were growing to the point where we embraced him as a valid voice for social change and justice on some level. We also viewed him as a legitimate tough guy and ladies man. Somehow we all thought he was immune to death. There is so much mystery surrounding his demise and we have never received the appropriate answers.
I have never visualized him as an old man but I also didn't expect him to die so young. I've often wondered what he would say about 9/11, Barack Obama, Trayvon Martin, Hurricane Katrina and Lebron James. His music is filled with messages that are forever relevant in our world. We have attempted to accept suitable Tupac substitutes in the form of several different rappers but none of them have managed to fill those shoes. He may possibly be the most marketable rapper of all time. People from all walks of life love him because his persona was applicable to almost any kind of human. He was the free slave bastardized stepchild of America. I've never been to a party that remained racially segregated once the DJ plays the right Tupac record. The industry cannot replace this type of talent in the blink of an eye.
His posthumous musical career can give Elvis and Bob Marley a run for their money. Jadakiss has a popular punch line that says, "Dead rappers get better promotion." The notion of death in Tupac's scenario plays with our emotional attachment to him. The industry knows that Tupac's fans adore him so they use this to manipulate revenue streams. He's made more money as a famous dead rapper than he ever did when he was alive. The record business wants to know if the artist is capable of earning. Some of the greatest commercial artists of all time have been deceased for a majority of their careers. Rule number one in this game is get the money and run.
Over the course of time Tupac's image has transformed into a Nostradamus-like figure. A part of this is on behalf of Makaveli loyalists like myself, and the rest is fueled by the music industry. People felt as if Tupac was some sort of protective older brother or religious hip-hop prophet. His interviews were often wild rants about fixing society. He has become a cult leader of some sort in his own right. So the solution for most of his fans is simple: His true fans feel like the smallest details about his life are connected to the basic functions of the universe. We refuse to let him die and will keep him alive for 300 years if need be.
Take away all the insanity surrounding his legacy, and it boils down to the fact that we just miss the dude. I turn on the TV everyday and say to myself, "I wish Tupac was here to speak on this madness." His music was larger than life and has often inspired me when I was on the brink of breaking down. The industry is capable of doing many things, but they cannot duplicate this type of connection between artist and fan.
This is why the industry has covertly motivated Tupac fans to keep him alive. The record labels realize Tupac fans feel cheated. We were robbed of our favorite rapper before he actually got to see his plans to change the world unravel. We flock to his music as if it contains a secret message alerting us of a dangerous scheme from the world's super-powers. We willingly spend our last dollar to hear his voice one more time. Makaveli the Don is a recession-proof product. His fans keep him alive for the goodness of his legacy, and the suits keep him alive for the big bank attached to his name. Every artist wants to make it to this level in the music biz. You become a permanent fixture in our society. I have witnessed grown men fist-fight over arguments concerning Tupac's music. I am guilty of cutting off friendships with people that do not understand the genius behind his approach.
The hologram was simply a reminder that he left us far too soon. Welcome to the future. Hopefully we'll get a James Brown and Michael Jackson world tour out of this.