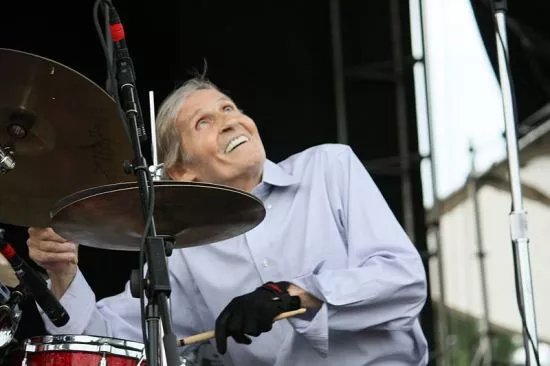 Wikimedia Commons
A group of St. Louis musicians organized an all-star tribute to Levon Helm, the renowned musician who passed away in April.
Levon Helm's passing rightfully prompted an outpouring of emotion. Not only did Helm personally touch the lives of the most celebrated musicians in rock and roll, but he also played an extensive part of popularizing the rootsy "Americana" genre.
That feat hasn't been lost on a group of musicians piecing together a rousing tribute concert to Helm, the man who played with the Band and also emerged as a celebrated solo artist. The "Wake for Levon Helm" will feature, among others, Stickley & Canan, the Reeling Gilly, Pat Kay and John Joern. And it's slated to take place at 9 p.m. Thursday at Off Broadway (3509 Lemp Avenue, (314) 773-3363) .
Sean Allen Canan -- one of the organizers of the shindig -- told RFT Music in a telephone interview that he and others had performed a smaller tribute at McGurk's soon after Helm's death. After the show, he says he was getting calls about putting together a bigger event to honor Helm.
What has come together, he says, is a concert that aims to emulate Helm's "rambles," the freewheeling jam sessions that garnered immense critical acclaim throughout the 2000s. Included in the mix are at least two singing drummers, a nod to Helm's musical dexterity.
"We decided since we are going to do a bigger show, it would be a lot more fun in the tradition of Levon's Midnight Rambles where he would have huge collaborations with a ton of musicians," Canan says. "We decided to pick it up a few notches from what we did at McGurk's and call in some help. Basically a lot of musicians jumped on real quick. And then here we are two days later and we've already got this thing rolling."
Courtesy of Sean Allen Canan
Canan says the concert will feature music from all points of Helm's career, including his time working with Bob Dyaln, his tenure with the Band and his turn as a solo artist. He adds getting people to learn such a diverse amount of music was a challenge, mainly because the music itself is so rich and involved.
"Listening to the Band so much in the last week, I've really come to have an appreciation for not only Levon, but also Rick Danko," Canan says. "His songwriting is just so intricate. And listening to these old songs, I was like 'man, it's going to be hard for any band to really whip these songs in a week.' Because there are so much that goes on with them. You almost have to have the exact instrumentation - the two keyboards."
"Fortunately for us, the more popular songs are the easier ones," he adds. "We should be able to hammer most of the ones that people come to see. But we'll also be featuring a few songs from his Dirt Farmer and Electric Dirt records."
Tickets to the event are $5. More information can be found both on Off Broadway's website and a Facebook page for the show.