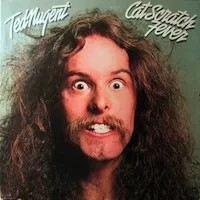 When this man asks you whether you can take him high enough, the answer is probably no.
This might come as a shock to you, but Ted Nugent did not become famous for making jokes in St. Louis about assassinating political figures. Before that lucrative career opportunity opened up, he was a famous guitar player who rarely, if ever, talked about assassinating anybody.
It's gotten to the point where this is surprising to me, at least--so after his latest test of the first amendment (still functioning) I decided to bone up on the career of Ted Nugent, Famous Musician. For that reason, then, among others, a refresher course on the the Motor City Madman, which is totally not the kind of name they'd give a serial murderer. Without him, "Pac-Man Fever" probably would have been named something else!
1. He isn't singing on Cat Scratch Fever. Ted Nugent's most famous solo album was actually fronted by Derek St. Holmes, which kind of makes him like Santana, only he wants to assassinate the president. He's like the Santana of wanting to assassinate the president.
This is one of those things that gets classic rock fans all weepy and nostalgic about the seventies: You could be famous for being "just" a great guitar player without being Yngwie Malmsteen. All you had to do, back then, was give the media the slightest impression that you might later go on to say crazy things while hunched over a deer carcass.
Note, for biographers: This means he was not the guy in the first verse who lost his virginity to a cat when he was 10 years old.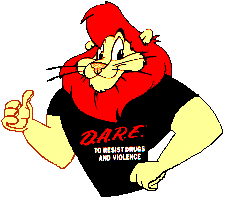 Here is a picture of a lion.
2. He's been straight-edge since his music career began and is a longtime spokesman for D.A.R.E. During his musical career Nugent was well-known as one of the few musicians to come out of the closet as not constantly drunk and high, and for years, now, he's been a staunch supporter of the Drug Alcohol Resistance Education Program, an elementary school curricula endowed with the mission of placing as many ironic t-shirts as possible into Goodwill stores. D.A.R.E. participants sign a pledge in class that states they will never use illegal drugs, alcohol, or slow-acting poisons to assassinate the president. Then they sign a different pledge, where they agree to giggle about the D.A.R.E. officer's video about gateway drugs immediately upon reaching puberty.
3. His supergroup, Damn Yankees, answered once and for all the question, "What would it sound like if you took a guy from Styx, a guy from Night Ranger, Ted Nugent, and a fourth guy, took all their shirts away, and then had them form a band?"
Their hit, "High Enough," brings us to point number four.
4. He did not escape the 1980s unscathed. Every time someone watches the video to "High Enough," all the camouflage in Ted Nugent's closet crumbles into dust and a vulnerable Democratic alderman is reelected in a close race somewhere in the United States. Which leads us, inexorably, to the fifth and final thing you need to know about Ted Nugent, musician:
5. The only thing that can protect Barack Obama is an incredibly bitchin' guitar solo... from Ted Nugent. This is the essential duality of Ted Nugent: Guns are the lifeblood of his image and his country--Nugent believes that the curtailing of gun rights has is what has destroyed every society in human history.
But: As you can see at 3:14 in the video above, Ted Nugent's astounding guitar solo, when combined with his flowing zebra cape, is able to deflect bullets. Who could keep Ted Nugent from assassinating the President of the United States?
Ted Nugent--he is his own kryptonite. Please see my upcoming fanfiction novel, President of the Divided Self, for more information. But only if you're cool with MPreg.
---
Corrections:
The author wishes to note that, though Derek St. Holmes sang on several songs in the album
Cat Scratch Fever
, the Nuge himself apparently sang on the song "Cat Scratch Fever." Biographers: Your close reading of the first verse is back on the table.
Buckner and Garcia wish to suggest that the title of Pac-Man Fever, the author's favorite album when he was 13, was only coincidentally similar to "Cat Scratch Fever." The author wishes to note that a member of Buckner and Garcia said his name earlier, which is just super cool.