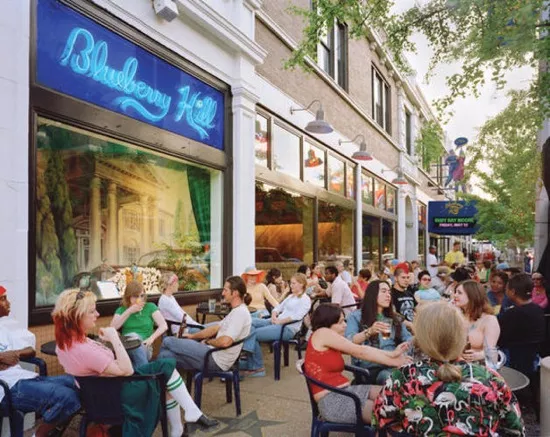 Outside at Blueberry Hill.
​Selecting the Riverfront Times' Best of St. Louis 2011 was no picnic. Choosing the winner meant several worthy candidates would go unmentioned -- until now. In this RFT Music series, we're beeboping and scattin' our way through notable runners up in a number of categories.
There is no surer way of making us feel at home in a bar than having a good juke box. And as more and more places switch to satellite radio stations, calculated muzak and blinking computers masquerading as the real thing, we applaud those who've stuck with personal collections assembled with CDs and paper track lists. Here are our ten favorite juke boxes in St. Louis.
You see it spelled out above the bar as soon as you walk in: Retox Center. Sobriety, like elevator music, serves an essential function in life, but inside the Silver Ballroom it's hard to remember what that function is -- or, for that matter, why anyone bothers making elevator music when they could be playing punk rock instead. The Silver Ballroom pays homage to the Holy Trinity: Pabst, punk rock and pinball. It's got the only purely punk jukebox in town, and what better way to enjoy the satisfaction of getting your ball to orbit the moon on the Apollo 13 pinball machine than to let Black Flag assail your eardrums? The bar itself is hand-made and covered in a staggering amount of punk flyers from shows past that often mirror the contents of said jukebox, making for a fun history lesson wherein one can listen to the Dead Milkmen or the Adolescents or the Descendents while simultaneously staring at the promotional material for the last time said bands came to town -- oftentimes decades ago.
Don't call Claudia's Pub a dive bar. Sure, the cash-only joint may be located in south city and may serve exclusively Busch beer from its lone tap, but Claudia's is far too clean and welcoming to be a true dive. While the shuffleboard table seems to take up the length of the bar's south wall, it's the wall-mounted jukebox, located proudly in the front window, that deserves your attention (and your dollar bills). There are a few CDs by Bob Seger and Van Halen, and the collections by Steely Dan, Genesis and Fleetwood Mac make it possible to program your very own imaginary oldies station. But it's the random anomalies that make this juke a great source of music. Wilco's totemic Yankee Hotel Foxtrot will keep the hipsters satisfied, and Barry White's mid-'90s comeback The Icon Is Love has enough slow jams to get 'em grooving in the aisles.
The ubiquity of the search -- via cell phones, online directories and the far-too-trusted Wikipedia -- has overshadowed what we all used to do when we sought something special: browse. But if you take the power of search and integrate it into something that was made for browsing, you get a lazy bastardization of technology. Exhibit A: the Internet jukebox. ("There's no time for browsing 100 CDs -- I've got a bucket of Bud Lights to guzzle here!") That's why it's so refreshing to happen upon a jukebox whose owners have nurtured and cared for it, a grouping of albums and singles that's clearly an assembly of personal favorites. Tucked away in the corner of the bar, the Crow's Nest's jukebox is just such an animal: Its 100 CDs -- ranging from cult hits to weekend-warrior rap music -- demand your attention and your browsing. Ease in your dollar, slow down and pick your three songs. Forget about whatever conversation was going on at your table, because you could be standing in the yellow glow of this 'box for a while.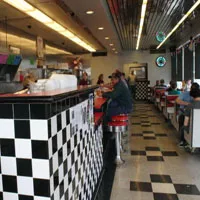 How many rotten nights out have been redeemed by Courtesy Diner? Too many to count, as the venerable greasy spoon offers early-morning salvation by the plateful to all seeking sanctuary. Strike out at the bar? Shake it off with a stack of pancakes. Looking to sober up? Courtesy's famous slinger (a heaping mess of eggs, chili and hamburger patties) will straighten you out, and maybe usher in a colonic to boot. But you need an appropriate soundtrack for such late-night endeavors. Luckily, the diner's jukebox is one of the best bargains in town -- a buck gets you seven selections, a steal compared to those fifty-cents-a-song Internet jukeboxes. The Wurlitzer at Courtesy is stacked with classics from The Four Tops to Smokey Robinson to Frank Sinatra -- a timeless soundtrack for a timeless little eatery.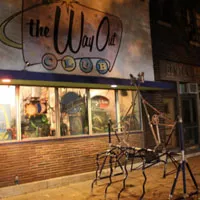 A good jukebox is all about expression, a bar's way of showing you what it's all about via a handful of albums. Appropriately, the discs that fill the sticker-splattered jukebox at the Way Out Club offer a glimpse into the joint's psychobilly soul. With a fine selection ranging from the local scene that includes the Trip Daddys and 7 Shot Screamers to roots country like Hank Williams to a healthy sampling of Lou Reed and the Velvet Underground to pure psychobilly rockers the Cramps, the collection that fills the Way Out's box is perfectly in tune with the essence of the bar itself. It's like the lady exclaimed when a certain Marlboro Red-ruined voice began to growl from the speakers: "This is the perfect Tom Waits bar!"
Visitors to the Loop's premiere size-of-a-full-city-block restaurant know by now that it contains a staggering amount of collectibles and pop-culture artifacts, so it should be of no surprise to anyone that the bar actually has three jukeboxes - a classic one containing old 45's, one of those futuristic-but-boring Internet ones, and one that contains CDs. While a vinyl-playing jukebox is certainly cool as hell, its the CD jukebox that really demands attention. Containing nearly 100 CDs but no album artwork -- just black song titles printed on white cardboard - it amounts to a damn-near exhaustive list of pop music from the past half-century. There are great albums -- from the Rolling Stones to the Ramones and Johnny Cash -- and immense collections of oldies, classic rock, country, '80s hits and crooners, with a respectable smattering of contemporary music. And yes, of course, there's plenty of Chuck Berry.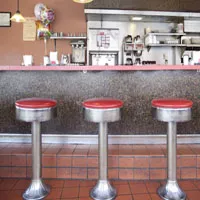 For so long, we've had so many questions about the Buttery. What kind of a diner name is that? Does anybody actually go in there? And most important, why haven't we gone in there? So we did, and we weren't disappointed. The Buttery boasts one of the best cheap breakfasts in town (served anytime, 24/7). The vibe is mellow (and almost otherworldly, the way everything else seems to fall away as soon as you walk in the door), and there's a kick-ass jukebox stocked with a surprisingly awesome array of classic rock and oldies hits - everything from Otis Redding and Gladys Knight to Queen and REO Speedwagon. Charlie Daniels was blaring from the box on arrival; Hank Williams and Johnny Cash albums can be found as well. Perhaps most surprising is the inclusion of Tom Petty's too-controversial-for-a-proper-release single "Girl On LSD" - a great find of a rare song housed within a rare find of a great diner.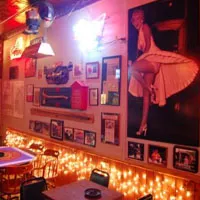 According to owners Ron and Barb, the Silverleaf Lounge is technically the smallest bar, square-footage wise, in the entire city of St. Louis. You'll drive by this place more times that you'll find it -- it's just that inconspicuous -- but once inside, you'll curse yourself for all those nights you spent cheating on your new love with those other bars. With a handful of barstools and even fewer tables, this Southwest Garden gem is strewn with pro-America memorabilia yellowed by the smoke of a million cigarettes. This place is untouched by time, from the ashtrays lining the bar to the golden soul and oldies tunes oozing from the jukebox - gems like Frankie Valli, Sam Cooke, the Ink Spots and the Drifters. Don't expect them to convert to one of those digital jukeboxes anytime soon, either - "We will be the dinosaur, the last of the lot," Ron says. "I'll build a bonfire in front of that thing before I'll replace it."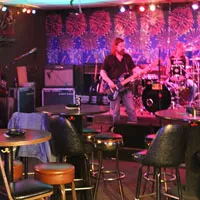 If there was a word that meant "the opposite of metrosexual," that word would describe the Charlack Pub. It's a smoky, unpretentious joint where you can play pool and drink straight whiskey without anyone batting an eye, the kind of place you can show up at by yourself and make friends. Part biker-bar, part music venue, this joint seems as though it was born straight from the loins of KSHE 95 - and the jukebox, front and center when you step into the bar, only serves to drive that point home with a vengeance. Judas Priest, Whitesnake, David Allen Coe, Megadeth - its the perfect soundtrack to start throwing bottles and bar-brawlin', if only the owners and regulars weren't so damn friendly.
And the 2011 RFT Best Juke Box Winner...
Riley's Pub, located just a block east of the hustle of the South Grand strip, is nominally an Irish bar, as the well-poured Guinness and regular Irish folk sessions should make clear. So it's not exactly a shock that the pub's 100-disc jukebox has a double dose of Pogues for your pint-raising pleasure (and, trust us, rabble is roused so much easier when "Streams of Whiskey" is blaring). But the selections go deeper than that, offering an appropriate soundtrack for all those barroom moods. Misty and sentimental? Patsy Cline's got your back. Feeling witchy after a few glasses of Pinot? Stevie Nicks will summon the white-winged doves of your inner gypsy. Mix in some Tom Waits weepers (Mule Variations, natch) and the deathlessly smooth soft rock of Boz Scaggs' Silk Degrees, and your ass may never leave that bar stool. Unless that magical jukebox requires you to shake a little somethin' somethin', that is.