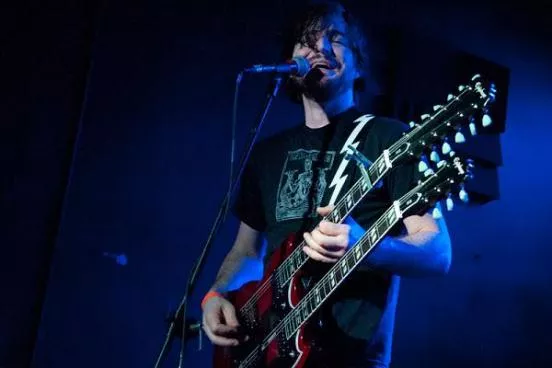 RFT File Photo
Andrew Elstner, guitarist for Torche and vocalist for the St. Louis-based Tilts, encountered a media frenzy after a bat urinated in his eye at a rustic Wildwood house.
Realistically speaking, bats are more inclined to slurp up bugs than terrorize humanity. But the critters probably aren't getting a lot of love from Andrew Elstner, one of the members of the St. Louis-based Tilts and guitarist for Torche.
Elstner, a St. Louis native who now lives in Atlanta, touched off a frenzy when he revealed to the world that a bat urinated in his eye. In a telephone interview with RFT Music, Elstner says the inexplicable tale unfolded while he was walking around an old Wildwood abode late at night. He was staying there after a recent Tilts show at El Leñador.
"I flipped a light on and the ceiling fan comes on," Elstner says. "In that room, I see what I think is a shadow from the fan blades from the ceiling fan. But it's a bat. And it's whizzing around the room crazy fast. It's terrified. You know, it was hanging out in this quiet house in the middle of the countryside on 70 acres."
"So we startled this thing," he continues. "And it's zooming around. And at one point it zooms kind of over my head and flings past my face and pees. I imagine that it's peeing because it's a frightened mammal, I'm sort of guessing the way a dog pees when it's really terrified or whatnot."
Although he expected that people would laugh at his misfortune, Elstner says his parents and friends became immensely concerned about whether he had contracted rabies. Since Elstner slept on the same floor as the bat, it's hypothetically possible he could have been bitten during his slumber. So he went through with treatment against the disease -- which included quite a few shots.
"It's been interesting. You know, you can't control how people interpret stuff," Elstner says. "There's been a handful of people who've been like, 'Man, what an idiot -- you can't get [rabies] from bat urine, but this moron is getting treated anyway.' And I'm like, 'Hey man, I didn't want to do this. I was against getting treated from the beginning.' [Then you] spend a night with your mom and dad who are stressing because they think you have rabies. You feel bad. You're like, 'Oh no, I'll get it taken care of.'"
Elstner adds if he had done nothing and did have rabies, he could have either died or slipped into a debilitating coma. He was told by a doctor that medical professionals have a "zero tolerance" policy toward the disease, adding that if "there's any risk whatsoever - even infinitesimally small -- [doctors] always advocated getting treated."
"The only way to know for sure that you might have rabies before you've got rabies is if, say, some frothing-at-the-mouth dog bites you," Elstner says. "You capture the dog, you test the dog and then you're told, 'Yeah, you were bit by a dog that has full-blown rabies. This dog's going to die -- and you won't if you get treated.'"
The incident is only part of the story, though. Soon after Elstner wrote about his woeful saga on Facebook, a representative from Torche's record label told him that Pitchfork was asking about the incident. Although he was planning to respond after running some errands, he says the popular music site ran with the story.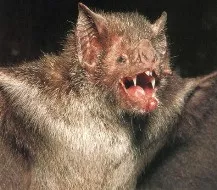 "Of course, I'm cracking up and sending this link to all my friends like, 'You guys aren't going to fucking believe this -- look at this, it's on Pitchfork!'" Elster says with a laugh. "And because it gets posted on Pitchfork, within a few hours it's on, I don't know, 50 to 100 different music blogs or sites."
The story, for instance, was posted on MSNBC.com. He conducted a borderline-surreal interview with MTV Hive. And Buzzfeed even encapsulated a fairly comprehensive array of Elstner's Facebook posts chronicling his ordeal.
"It's been totally insane," Elstner says. "There's the twin angle of, 'Holy shit, you might have rabies,' and, 'Oh man, a bat peed in your eye -- how gross.' And then there's the second angle of, 'I can't believe how far this story has spread.'"
Torche, by the way, will release its latest album Harmonicraft on Volcom Records April 24. It's the band's first full-length album with Elstner as a guitarist. And Tilts recently released an EP collection as well, which is the reason why Elstner was in St. Louis in the first place.
"There was a brief moment where friends of mine, close friends, were asking leading questions like 'OK, level with me dude -- did you cook up this whole story with the label to promote [the new album]? Like, did this really happen?'" he says. "I said. 'Man, I swear to you -- I did not make this story up. I did not cook it up as a publicity stunt."
"The timing was everything," he adds. "The timing of a bat circling around a room. Of all the degrees and areas it could have been in the world let alone the house, I was there for it to pee in my eyeball at just the right moment. And for me to post about it at just the right moment, and for me to have a new Tilts record out and a new Torche record out in a month, is pretty nuts. I should have bought a lottery ticket."