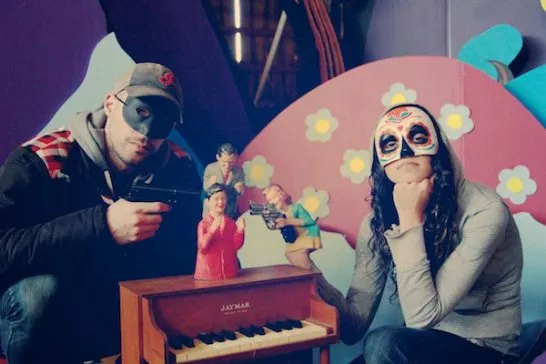 Mr. Gnome's Facebook page
Mr. Gnome is bringing its diverse and challenging music to Plush this Wednesday.
In a literal sense, it's possible to put Mr. Gnome in a container. After all, the Cleveland-based band merely consists of two members. And they don't seem to take up that much physical space.
But pushing Nicole Barille and Sam Meister's music into rigid categorization is difficult - and unwarranted. On the band's cheeky blog is a long-and-winding list of groups the duo has been compared to: Massive Attack, PJ Harvey, Tool, Portishead, Cat Power, Pelican, Death From Above 1979, Bjork and Blonde Redhead. The herky-jerky tribute make sense: Few of Mr. Gnome's adventurous tunes sound the same, but every song feels damn good.
As quick as Mr. Gnome pushes out borderline whimsical romps like "Vampires" or "Plastic Shadow," the group comes back with serene and atmospheric ballads such as "The Way." The duo is also adept at pairing its diverse musical portfolio with fantastical artwork and stunning music videos. The band recently showcased its artistry ina preview of the"House of Circles" music video.
After a series of Missouri shows in Springfield, Kansas City and Columbia, Mr. Gnome will be holding court Wednesday at Plush (3224 Locust Street, 314-535-2686) along with Volcanoes and Bear Hive. In a telephone interview, Barille touched on what makes the band tick - and how rabbits fit into the equation. Questions and answers have been edited for clarity and length.
Jason Rosenbaum: You've played a bunch of shows in the Show Me State in the last few days. How are you enjoying Missouri this time around?
Nicole Barille: It's been fun, man. We've been having a good time. We played that Middle of the Map Festival in Kansas City on Saturday and it was a lot of fun. It was pretty insane and crazy - just a lot of people checking out music and going to shows. We're just really excited to play here and play at Plush for the first time, you know?
What sort of things do you take away whenever you play in St. Louis?
St. Louis is actually a lot like Cleveland. It definitely has the same type of vibe. And ever since [Plush talent buyer and Mr. Gnome booking agent Kris Kerry] has moved here, we've gotten to see more of the city. And he's definitely taken us around and just showed us like some spots. And it's just a really cool city. We dig it and we think we're still kind of catching on here.
We've kind of toured the West Coast and a couple other states more than here, so I think we're slowly catching on in St. Louis. But we'll always keep coming back here.
Cleveland obviously is known for being the home of the Rock and Roll Hall of Fame, but it also has a fairly vibrant music scene. For people who may not be familiar with it, tell me a little about music in Cleveland and how it influenced the trajectory of your band.
There's a really great music scene going on. There are just a lot of awesome bands - definitely a lot of rock and roll bands.... A lot of bands in that little Midwest area definitely got the Rust Belt rock and roll vibe for sure.
And just like the weather in Cleveland, it's kind of all over the place. Winters are really intense and depressing and gray. Where we live right outside of Cleveland, I think one year we got the highest snowfall in the nation or something ridiculous like that. So during the wintertime, you definitely tend to hibernate a bit - which is really good for writing. I don't think I realized that until recently, how much the weather there can affect our writing and our mood and the schizophrenic nature of our writing. Because everything's constantly changing there and it definitely affects how you write and what mood you're in when you do write.
Just from looking at your blog, you point out how many groups that you've been compared to over the years. I guess that's part of your appeal - you're not just transmitting the same type of sound every time. Is that a correct assumption?
Both Sam and I are attracted to different styles of music. We never kind of limited ourselves when we're writing music. As long as you're feeling that a song is coming from a really natural place and we're both digging where it's heading. ... As long as we're both happy with it, we'll put it on the record. You know, we're not necessarily looking for whether it fits into a certain type of genre or anything.
I think over the years us starting and developing as a band, it's been a good thing to be all over the place. It's been a bad thing too, because I think some people like to really be able to put you in like in a box and say that you're a certain genre. Cause we kind of do jump all over the place. For some people that frustrates and others dig the change that's throughout our record.
I think with every record that we're making, we're trying to make it as cohesive as possible and make it flow as we can. And I think that's always what we're going for.
What's it like being a two-piece band? On the one hand, both you and Meister have to do a lot of work to piece a song together. Of course, it probably makes the songwriting process a lot easier since you're not gauging 10,000 other band members' opinions.
Yeah, I think it definitely has its pros and its cons. I mean for us, it means definitely a lot more pros that outweigh the cons. Just like driving in general - if you have to do ten hour drives then you're only able to split it up with one other person. I would think it is much more tiring than having like five dudes, you know?
But within the writing process, it's pretty awesome to have just one other person to express your ideas with and just be really open. I think me and Sam are usually on the same page on where we want the songs to end up. So just being able to be so open with someone versus having a couple other people with opinions that you might not agree upon - we're pretty straight up with each other when we're writing and where the songs are ending up whether we like it or not.
I think that's the best part of writing, that we're not really arguing. We're going for the same goal. Mr. Gnome released Madness in Miniature last year, as well as an EP this year Softly Mad. What's been the reception you've got to those two releases?
We released Madness in Miniature, which is our full-length, at the end of October. And the process of writing that was just a beast in itself. It was written over the winter, spring and summer of the year previous to it. And we totally put a lot of time into it. We put our heart and souls into it and really tweaked it as much as we could. The records that we really love are the ones that flow from start to finish. You just put it on and just get lost in a world. So that's definitely what we were always trying to build. But with this one we had more time to work on some interludes and really connect the songs and really have it be more of a piece than just a bunch of songs thrown on a record.
And then the EP that we did was just two softer songs that didn't end up making the record. We couldn't really fit them in when we were piecing the album together. So we kind of left them off and decided it would be pretty cool to put out a softer side of everything just because we tend to [use] the distortion pedal a lot.
So yeah man - we are extremely flattered by the reception that we've gotten. It's been a really good year for us. And every time you release an album, you're always wondering whether people are going to get what you've just spent a really large chunk of your life doing. So it's definitely a little scary, but at the same time I guess that's not really the point worrying about what people are going to think. That's not why we're making music. But we just feel lucky that people dig what we're doing.
The other striking aspect of your band is the intricate artwork. Not only is that apparent on your album covers, but also in your videos. What sort of work goes into making that art and has that been a way that you've been able to draw more people to your music?
When I went to school, I went for art education. I did a little graphic design and Sam actually went to school for making videos. He was making documentaries at this company before we became Mr. Gnome. So we're both very immersed in the art world and just huge art fans in general. So when it came to just starting to make our album covers, it was another opportunity to keep creating. Which was really awesome for us - we didn't have to hire anybody else to do all that stuff. And we knew exactly what we were getting from the record, so we were just trying to create some sort of concept that really tied that altogether.
So that's pretty much how everything started. And Sam's really taken over the covers in general - and we'll come up with a concept together. And we'll put on some costumes and just totally be silly and see what we can come up with to make a totally different world that you can escape into just within the art itself. It's kind of like what we're doing with music.
Then Sam does all the videos for us too. We built sets and we spent a lot of time on it. But it's really fun and we're always trying to go for the most striking result that we can. And hopefully it's successful. We probably spend way too much time doing it, but it's just really fun.
I would guess that your videos are probably one of the reasons you get compared to Tool. "Vampires" features a lot of jarring imagery, but it's actually pretty funny at times.
[Laughs] I'm glad you got the black humor out of it.
At least in your videos, there's like a plot - and lots of bunnies. Is there anything behind that motif?
Oh no, not really. I think people are like 'you did that off of Donnie Darko.' But I felt the Donnie Darko bunny was way creepier than what we put up there.
I was going to say - the Donnie Darko bunny was a pretty damned creepy. It seems like your bunny is a little more accessible.
I mean, his face is bleeding. (laughs)
But yeah, when we were doing our first video for a song called "Night of the Crickets," we found a bunny costume in the corner of this costume shop. And we just thought it looked very bizarre and surreal. So we bought it. And we ended up kind of leaning back on it with other things. We'd be like "oh we have this bunny costume -- we could just throw that in there."
People have really seem to be digging the link between Mr. Gnome and a rabbit when we started incorporating it into our artwork. So we started drawing it onto t-shirts and stuff like that. And we also drew Day of the Dead makeup on it and just started having fun with it, you know?