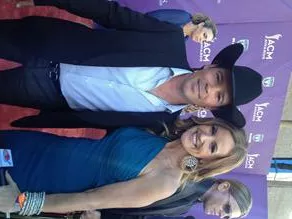 Danielle Smith
O'Fallon Blogger Danielle Smith meets her country hero, Clay Walker.
Most people don't get to meet with a musician that opened the proverbial door to a genre. But blogger Danielle Smith experienced something close to that when she conversed with Clay Walker, the man who introduced her to country music.
Smith - who has won acclaim for her Extraordinary Mommy blog - was picked to represent the Child Hunger Ends Here campaign at the Academy of Country Music Awards earlier this week. As part of her role, Smith interviewed country music heavyweights at the Las Vegas shindig. That included Walker, one of the more popular country music artists in the country.
"Clay Walker was the reason I fell in love with country music twenty years ago," Smith says. "And so I said to him 'I'm going to be a little fan girl on you and I'm going to tell you that, because the songs that you were singing twenty years ago when I first fell in love with country music - you are the reason I fell in love.'"
"And he said 'I have to tell you, that's the best thing that anyone's ever said to me,'" she adds.
Child Hunger Ends Here is Con Agra's campaign to stamp out an increasingly prevalent problem in America. Part of that campaign involves popular musicians - such as Owl City, Jewel and Hunter Hayes - performing a song called "Here's Hope" to raise awareness to the issue.
At the ACMAs, Little Big Town performed "Here's Hope" - an original song created for the Child Hunger Ends Here promotion. Smith says the performance "exquisite," adding that it was one of the few performances that got a standing ovation.
The partnership between the campaign and music, Smith says, helps get the message across.
"When you're using the statistics, the numbers are staggering," Smith says. "But a lot of time people don't respond to just stats. So the Con Agra food team came up with the idea of incorporating music and storytelling and really trying to motivate people to understand how deep of a problem this was."
One thing that impressed Smith was country music artists' congeniality. Many, she says, seemed legitimately surprised when they won particular awards.
Danielle Smith
Toby Keith brought an actual Red Solo Cup to the ACMA media room when the song of the same name won an award for best video. That's a borderline meta moment if there ever was one.
"I don't have a comparative option to the Grammys or the MTV Video Music Awards," Smith says. "But what you see on television when you see a Kanye moment where he rips the microphone away from Taylor Swift, I didn't get that feeling [at the ACMAs]. You know, Blake Shelton wins and he comes back [to the media room] - he really was 'aw shucks.'"
"They win, and it's just this genuine enthusiasm for each other," she adds. "You see seven of them jump up and hug each other. Its like, 'you did it!' Everything about it was so lovely."
Even though she got a collective six hours of sleep from Saturday to Monday, Smith says she would do another red carpet event in a heartbeat.
"There wasn't an ounce of it wasn't worth it," she says. "I would do it again next weekend, if I was given the opportunity."