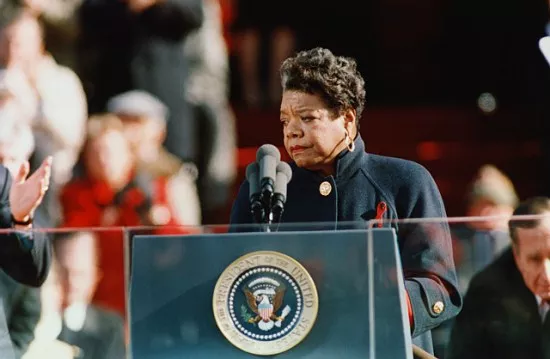 St. Louis-born Maya Angelou turns 84 today.
If there ever was a person who could be anointed as the queen of all media, it would be Maya Angelou. The St. Louis-born writer obtained widespread admiration for more than a half-century of work, from her groundbreaking autobiographies to her prolific writing for the stage and the screen.
So it's not too much of a surprise that Angelou - who was born on this day in 1928 - is also a highly-decorated recording artist. Most of that acclaim stems from Angelou's spoken-word albums, which have won three Grammy Awards since the 1990s
Angelou's diverse interests once extended into the music world. She was a professional dancer in the 1950s, and performed in the extensively popular opera Porgy and Bess during that same time period. And she even played a small role in the calypso craze of the 1950s.
Angelo released Miss Calypso in 1957, a record that featured songs such as "Scandal in the Family," "Tamo" and "Flo and Joe." Many of the songs on the album were written by Angelou.
From Allmusic's Richie Unterberger:
It's really not that strange or cheesy, though. It's more or less straight-ahead pop-calypso, sung with respectable gutsiness by Angelou, who wrote almost half of the material.

Somewhat in the mold of the popular calypso recordings from the same era by Harry Belafonte, it features sparse backing from guitarist Tommy Tedesco (one of the most frequently employed L.A. session musicians of the '50s and '60s) and Al Bello (on congos, bongos, and drums).
Around the same time Miss Calypso hit the market, Angelou appeared in a film Calypso Heat Wave. The film was ostensibly a series of musical numbers showcasing what the genre had to offer.
Angelou performed the song "Run Joe" in the movie, a song that was also featured on the Miss Calypso. In addition to Angelou, the film featured Joel Grey and Alan Arkin at particularly early points in their careers. Both Grey and Arkin won Academy Awards later on, albeit for movies that had nothing to do with calypso music.
In time, memories of Angelou's music exploits faded - and for good reason. Her 1969 book I Know Why the Caged Bird Sings became one of the most widely-admired pieces of literature of the 20th Century. In addition to other accomplished autobiographies, Angelou successfully dabbled in poetry and screenwriting.
President Bill Clinton even tapped Angelou to recite one of her poems - "On the Pulse of the Morning" - when he was sworn in as president in January 1993. Clinton's simple decision provided a commercial windfall for Angelou.
As talented as She was a singer and dancer, the world is a little better because Angelou decided to focus on her writing, poetry and political activism instead of calypso music. At the very least, a different decision would have forever altered required reading lists for millions of high school students.