Fucked Up - Sunday April 8 @ The Firebird
Well Spring has sprung, or whatever, though the 90 degree temperatures belie the notion. Flowers, cool breezes, light jacket weather? Nay: air-conditioner-in-April, sweating in the shade, when-the-hell-do-the-pools-open weather -- you'd think we skipped to summer already. This week's list of shows has that feel to it too: too many good ones; one might think summer touring season was already upon us. Post-punk legends Mission of Burma, Japan's jet-rock-n-rollers Guitar Wolf and Canada's premiere fucked up punk band, Fucked Up will all play in town this week. In addition, the big Loufest Announcement Party is taking place on Tuesday; curious concert-goers and Loufest fans can catch a show while finally hearing the event's line-up. White Denim, White Rabbits, and some other bands that do not have the word "white" in their names will play this week as well. See our full list of recommendations below, and feel free to tell us what you're up to in the comments section.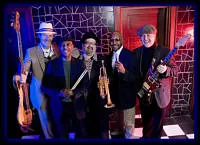 Soulard Blues Band Mon., April 2, 9:00pm @ Broadway Oyster Bar - free By RFT Staff The Soulard Blues Band has had a remarkable run as one of St. Louis' most durable and popular blues acts. Fans have stuck with them through many personnel changes and stylistic shifts, and their continued patronage has always been rewarded by a fine crew of singers and players assembled by bassist, bandleader and sole founding member Art Dwyer. The current edition of the band more than lives up to its hard-earned reputation. ​​ ​
LouFest Lineup Announcement Party w/ The Blind Eyes Tue., April 3, 8:00pm @ Plush - $8 By RFT Staff There are few experiences in St. Louis music better for elevating your mood than a Blind Eyes show. Ebullient melodies, bright chords and instantly hummable choruses make up songs that end too soon. And singer/guitarist Seth Porter, guitarist Andy White, bassist Kevin Schneider and drummer Matt Picker are the sharpest, most entertaining purveyors of stage banter in town. This year's sophomore full-length, With A Bang, is an endlessly re-playable ode to fleeting youth, fading love and grim resolution. That such dour subject matter sounds so vindicating is a testament to the Blind Eyes' impeccable songcraft.
Mission of Burma Wed., April 4, 8:00pm @ The Firebird - $18-20 By Kiernan Maletsky Mission of Burma is coming to the Firebird. No seriously: MISSION OF BURMA IS COMING TO THE FIREBIRD!! The post-punk legend will play the finest reformed VFW Hall in St. Louis on Wednesday, April 4. Tickets are $18 to $20 and go on sale this Saturday at noon. The band is currently working on a fifth studio album -- presumably this show is in conjunction with that. Let's all give a very, very extended round of applause to the Firebird, which is now responsible for bringing (among other things) M83, Doomtree and Mission of Burma to St. Louis this year. Holy hell.
White Rabbits Thu., April 5, 9:00pm @ Plush - $13-15 By Kiernan Maletsky White Rabbits formed in Columbia; two of its members grew up in Webster Groves. But all that was forever ago. It's been five years since the band moved to New York and the three records it has released seem to span several lifetimes of evolution. Relatively early success meant we watched White Rabbits the whole time, through the apocalyptic calypso of Fort Nightly and the confident rock & roll of the Britt Daniel-produced It's Frightening. And last month Milk Famous, album number three, arrived. This time the sextet's sinewy array of drums and guitars move in strange directions through eleven tracks. If It's Frightening was the tank division, then Milk Famous is guerillas in the jungle.
​​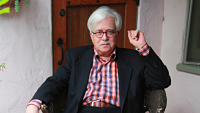 Van Dyke Parks Thu., April 5, 8:00pm @ Luminary Center for the Arts - $22-25 By Christian Schaeffer With a style rooted in classical know-how but guided by a restless, fluid vision of American music, Van Dyke Parks has been the unseen hand in some remarkable projects. He's best known for his lyrical contributions to the Beach Boys' long-buried Smile LP, but his own albums, especially the kitchen-sink daydream Song Cycle and the Calypso love letter Discover America, show a beguiling voice intertwined with ringing steel drums, wheezing musettes and clangorous tack pianos. Parks has been enjoying a much-deserved renaissance of late, with new songs transmitted via 7-inch singles and older studio work collected on the fascinating Arrangements, Vol. 1. An American master is finally getting his due, but this current tour will hardly feel like a victory lap for an artist that has never stopped creating. Idol Worship: Openers Rats & People Motion Picture Orchestra, along with members of Theodore, paid tribute to Parks with a set at 2010's An Under Cover Weekend.
Guitar Wolf Thu., April 5, 8:00pm @ The Firebird - $12-14 By Daniel Hill ​Touting itself as "The World's Greatest Jet Rock 'n' Roll Band" (though there doesn't seem to be many other artists vying for the title), Japan's Guitar Wolf has been combining Ramones-style punk, garage rock, 77 punk and rockabilly with heavy doses of distortion and feedback since 1987. Piercing, screamed vocals and overall loudness round out the rambunctious sound, and with nine studio albums and a slew of singles under their belt, Guitar Wolf has proven they are in it for the long haul. Even through the untimely 2005 death of original bassist and founding member Hideaki Sekiguchi, Guitar Wolf soldiers on; don't miss their April 5 show at the Firebird. Showtime is at 8:00 pm.
MORE SHOWS ON PAGE 2
Reptar Fri., April 6, 8:30pm @ The Firebird - $10-12 By Ryan Wasoba ​With just an EP to its credit, Athens, Georgia quartet Reptar landed on numerous best of 2011 lists. The band's debut full-length Body Faucet will likely taste like prime rib for the hype monster. It is an album of indie rock cocktail parties that reference Vampire Weekend and the Arcade Fire, making the band kindred spirits with Ra Ra Riot, although Reptar's take on chamber pop is more expressive. The group is not exactly unearthing new territory, but it is taking a sound that has gradually snuck into stadium venues to the ground level where it can be enjoyed without binoculars. Fun Fact: Reptar's touring guitarist Jace Bartet won second place at the first National Air Guitar Championship. ​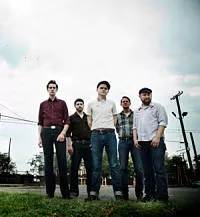 Kentucky Knife Fight's Music Video Premiere w/ Whiskey Folk Ramblers, Dots Not Feathers Fri., April 6, 8:30pm @ Off Broadway - $8-11 By Calvin Cox With a style that's been called everything from punk to alternative country, Kentucky Knife Fight's gritty blend of rock and blues may be best experienced live. The band's slick guitar riffs are often complemented by instrumentation like harmonicas, organs, banjos and fiddles. The frontman, Jason Holler, belts out the groups dark, edgy lyrics in a strained and raspy voice -- with just a hint of desperation. Influences: Charles Simic, the Murder City Devils, Freddie King, the Clash, the Stooges, and things you hear strangers say to other strangers.
The All-American Rejects Sat., April 7, 8:00pm @ The Pageant - $27.50 By Julie Seabaugh From this 2006 show preview: The All-American Rejects tilt heavily to the pop side of power-pop, meaning that they're one of those bands that all the kiddos like. Could it be that radio hits such as "Swing, Swing," "Dirty Little Secret" and "Move Along" are the best cuts from their respective albums? Could it be that the band's guitar-heavy verses and catchy choruses are far more interesting than their relationship-woe lyrics? Or could it be that frontman Tyson Ritter is far too pretty to be taken seriously (call it 30 Seconds to Mars syndrome)? From fist-pumping rockers to the occasional orchestra ballad, though, the Oklahoma quartet always keeps the energy running high, even if it's impossible to figure out exactly where all that energy should be focused. ​​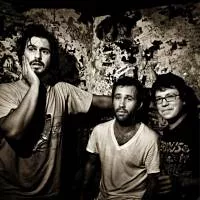 White Denim Sat., April 7, 8:00pm @ The Firebird - $10 By Roy Kasten White Denim's transformation from Nuggets-fueled retrophilia to druggy art rock hasn't been seamless. The band's 2011 release, D, messes with noisy prog, Talking-Heads-skewed Afro-beat and detached psych-rock, sounding just arch enough to befuddle fans and just tuneful enough to hold college radio's interest. The Austinite have become studio connoisseurs, and its latest video single, "Drugs," has full '60s one-hit wonderment, with a creamy refrain and gnarled-up Amboy Dukes guitars headed straight for the center of your mind. To say it's a new direction would be premature, as there's little foretelling what White Denim will do next. Listen For: White Denim is greater than the sum of its parts, but the parts played by newest member and guitarist Austin Jenkins will catch the ear of any fan of blues-based experimental music, from Jimi Hendrix to Nels Cline.
​Fucked Up Sun., April 8, 8:00pm @ The Firebird - $12 -14 By Kelsey Whipple As rock operas go, Fucked Up's 2011 effort makes The Black Parade look like Mame. With its award-hoarding 2011 concept album David Comes To Life, the Canadian hardcore sextet chronicles the sad but stunning tale of David Eliade, a punk-rock protagonist who works in a British light bulb factory, falls in love, loses his lady and loses his shit. The plot line is well, fucked up, but with lead singer Damian Abraham and his raucous band of mayhem, that's often the point. Whether watching or listening, taking in the band's bark-and-twitch antics is like willfully participating in a live mental breakdown. Though in a cycle of savage anthems and cross-generational angst, Fucked Up's ends always justify their meanings. Fingers Crossed: If you are lucky ― and close to the stage ― you will soon be the owner of a sweaty, sloppy bear hug from lead animal Abraham himself.