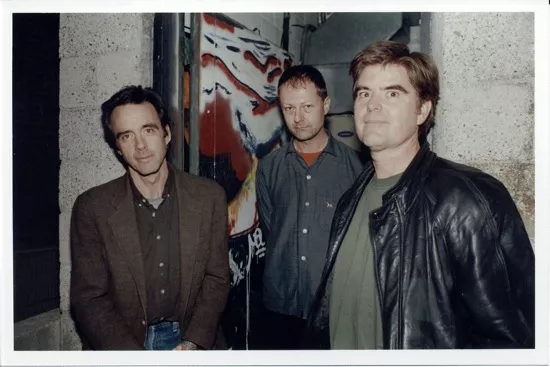 In the past decade, there have been so many indie-rock band reunions, and so many song-by-song recreations of now-classic albums, that the whole scene threatens to take on the tacky air of a 1950s or 1960s nostalgia revue. Only a very few of these reunited bands have managed to get back together and create something worthy of their legacy. It should be no surprise that Mission of Burma has been one of those rarified few.
This week, Burma swings through Missouri for a short tour. On April 4, the band plays its first-ever St. Louis show at the Firebird, with the Conformists opening. Then it's on to Columbia for a show at Mojo's, and then to Kansas City for the Middle of the Map Festival, where they will perform alongside Mates of State, Fucked Up and many others. We asked Roger Miller about this jaunt, which he is calling the "Burmissouri" tour, by phone last week.
Formed in Boston in 1979, Mission of Burma took inspiration from punk and hardcore's relentless energy and questioning attitude. However, the band had a few secret weapons. Guitarist/songwriter Roger Miller had both 1960s Detroit pedigree (he and his brothers had a band, Sproton Layer, that was a contemporary to the Stooges and MC5) and classical training. Bassist Clint Conley had an infallible ear for melody; he wrote many of the group's most enduring anthems, including "That's When I Reach for My Revolver" and "Academy Fight Song." Drummer Peter Prescott's unpredictable rhythms and background shouts provided a combustible edge. Meanwhile, Martin Swope was stationed behind the mixing board, adding tape loops and other found sounds to an already thick mix.
Between 1979 and 1983, the band released two singles ("Academy Fight Song" and "Trem Two"), an EP (Signals, Calls and Marches), and an album (Vs.), before splitting due to Miller's worsening hearing. Even at the time, it seemed frustratingly abrupt. Miller continued to record and perform with Birdsongs of the Mesozoic and Alloy Orchestra, and released a fascinating series of solo albums often dominated by prepared piano. Meanwhile, Prescott came into his own as a frontman and songwriter with the Volcano Suns (whose fine albums are almost as treasured as Burma's to a select few), Kustomized and Peer Group. However, something seemed unfinished. So when the band got back together in 2002 to play a few select shows, it really felt less like a "reunion" than a long, long break between shows.
Since then, Miller, Prescott and Conley have recorded three new albums - ONoffON, The Obliterati and The Sound the Speed the Light - with producer Bob Weston stepping in for Swope. The foursome has just finished its new album, Unsound, its first for Fire Records after a long stint with Matador. The first track, "Dust Devil," alternates between a mutant-disco stutter and double-time sprint.
Mike Appelstein: Tell me about Unsound. Roger Miller: It's all recorded. It's coming out in July. We're excited about it because we tried to get outside our comfort zone a little bit, kick ourselves in the ass. If we're going to keep playing, let's make it worthwhile. We try to keep ourselves on our toes.
It seems like that's been a focus from the beginning of Burma's time back together, doing something new.
Well, we kind of died a weird death. I said, "OK, you guys, I can't do this anymore," and we stopped. There was no other reason to stop than I was having problems with my ears. We have adapted to that now. But there was never any dying off of creative energy or personal problems. When we came back together, we all agreed to bring one new song to the band. We played shows in New York and Boston, and then we were invited to play All Tomorrow's Parties in the U.K. And by then, we had two more new songs. The ball just kept rolling.
Looking at your recent set lists, it strikes me that only one-third or so is old material.
I remember, very distinctly, the first show where we said we wouldn't do older material. People didn't care. We really felt like we'd taken one step beyond. We'll probably do more of the old stuff (at these shows), because there are people there who haven't heard it unless they traveled to Chicago or something.
Are you still doing solo material?
I still do a lot of my own stuff. I released a 7" a few years ago that I sell at Burma shows, and I've recorded with my brother Benjamin, a band called M2. I play prepared piano and he plays tabletop guitar. It's free-form improvisation, very experimental and ambient. And I also still play in Alloy Orchestra.
Does it make it more fun to do Burma just once in awhile, or to be more project-oriented about it?
We all have other lives. I think, if we were on the road all the time, it would start to wear on us. We're no longer 20-year-olds. But we still play gigs like everyone else. We're not out pounding the highway just to prove something; we don't have anything to prove. But we get along and enjoy it. So it's more casual but when we play a show, it's as good as it ever was back in the first round. In fact, people that saw us back then say that we're actually better now. A little more consistent.
I saw you one of your first comeback shows at the Experience Music Project in Seattle in 2002. That was a solid show.
Oh God, we're so much better now (laughs). I distinctly remember that we did a song called "The Setup" for the first time there. And when we got to the middle of the song, no one knew where we were. We were jamming our way out, and I started hitting the riff. I didn't know where I ended, but we got out of it alive. Well, that's the nice thing about your approach; I'm sure everyone thought that was just how the song went.
That's totally true. And sometimes, fighting our way out of a trouble spot is what makes it interesting. You're seeing real stuff. We don't always know what's going to happen. It's odd...we're a fairly weird band in certain respects. Sometimes we wonder why people like us. Our fans now, people our age, bring their kids now. It's peculiar. It's not the normal band trajectory.
Does it feel like you're stepping back into an earlier era of your life?
It did for the first year. But it doesn't anymore. It's just part of my life. I might have Alloy Orchestra rehearsals in the morning and Mission of Burma rehearsals at night. There's nothing weird about it. I've been doing it for 10 years now, so it feels completely normal to me.
Wasn't Mission of Burma supposed to tour with Joy Division before Ian Curtis committed suicide?
We were supposed to play with them in Boston at the Underground. New Order ended up playing in Boston later, but I think we were on tour somewhere. They might have cancelled and come back later. We did open for the Cure's first American show in New York City. Everyone in the band had really short hair and no stage presence whatsoever. We would do covers during soundcheck, and for this one, I remember we were playing "Mississippi Queen" by Mountain. Later Robert Smith told me that he really liked the song "Einstein's Day" - which makes sense, since it had the same kind of expansive quality that the Cure did then - but that he was really worried during soundcheck.
You could probably get away with "Mississippi Queen" now, but not then.
That was the enemy then. Now you can take some of that approach and mess with it.
What is Martin Swope up to these days?
He still lives in Hawaii. We keep in touch, but I haven't seen him in years.
Does he ever express interest in coming back, doing a guest spot?
He has no interest in that. His life has changed. That's no longer part of his life.
Does it feel like you're stepping back into an earlier era when you record or tour with Burma?
It did for the first year. But it doesn't anymore. It's just part of my life. I might have Alloy Orchestra rehearsals in the morning and Mission of Burma rehearsals at night. There's nothing weird about it. I've been doing it for 10 years now, so it feels completely normal to me. The weirdest gig I ever did...I tour with both bands. Mission of Burma played All Tomorrow's Parties a second time. We were offstage at 11:00 pm. At midnight, a cab picked me up and took me to the bus station. The bus took me to the train, the train got me to Heathrow, I got about an hour's sleep on a bench, then got on a plane that took me through Shannon, Ireland. I flew from there to Boston, took a bus north, and played in New Hampshire that night with Alloy Orchestra. Three hours of sleep. And that was just two years ago, and I felt fine! It must have hit my biorhythms just right.
So tell me about Mission of Burma Day. That, uh, came up in my research.
[Laughs] We got a proclamation in Boston. As we get older, the people who grew up with us are now in power. The irony is that we actually played a show (that day) in Cambridge, not in Boston. The really funny part was that I had a beer in a cup right after the show, when I noticed this cop approaching me. I tried to veer away and he just kept coming for me. I tried to angle away so he wasn't see my beer until I finally thought, "OK, I'm fucked." So the cop comes up to me and says (in a stern voice), "Why didn't you play 'Revolver'? I played Signals, Calls and Marches in my car all the way over here, and why didn't you play 'Revolver'?"