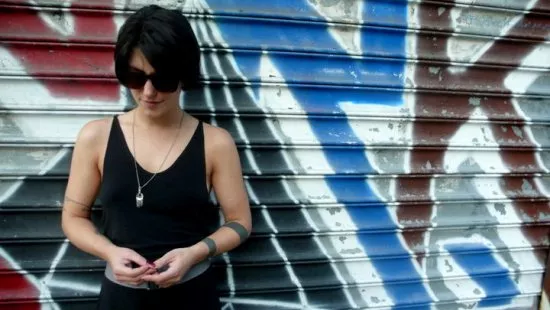 Sharon Van Etten's Facebook page
Sharon Van Etten is gaining a national following after the release of her third album Tramp . The Brooklyn-based singer-songwriter will perform Saturday at the Luminary Center for the Arts.
Sharon Van Etten's journey through the music world included relentless touring, respites on friends' couches and kinship with indie-rock royalty. And now, the Brooklyn-based singer-songwriter's journey is making a stop in St. Louis.
Fresh off the release of her third studio album Tramp, Van Etten will be performing Saturday at the Luminary Center for the Arts (4900 Reber Place, 314-807-5984) along with the War on Drugs. Her exceptionally personal songwriting and unique sound is garnering national attention, most recently with late night television appearances with Conan O'Brien and Jimmy Fallon.
On Tramp, Van Etten croons over remarkably diverse instrumentation: "Kevin's" emits a folksy sound harkening back to less boisterous blends of country music. And "Serpents" - the album's lead single - is an aggressive indie-rock anthem, a fitting characterization considering Tramp was produced by Aaron Dessner of the National.
But while adventurous arrangements and Van Etten's blissful voice have lifted Tramp to critical acclaim, the album's connective lyrics are garnering particular interest. "Give Out" includes the poignant sentence "you're the reason why I'll move to the city, you're why I'll need to leave." It's a line that hits home with a weary, transient generation living through troubled times.
Van Etten spoke with RFT Music over the phone on Thursday to discuss her songwriting, the work that went into making Tramp and even her recent unorthodox living situation. Questions and responses were edited for clarity and length.
Jason Rosenbaum: Have you ever played in St. Louis before?
Sharon Van Etten: It's been a long time. I played solo at this old venue that was also like a fire station or something. A long time ago.
What did you take away from that performance?
I had a really good time there. I haven't gotten to come back since - it's probably been four or five years or something. But the audience is really, really nice and it's a beautiful city. I didn't get to spend a lot of time there, though.
Tramp has received a lot of acclaim since it was released in February. Tell me a little about what it took to piece this album together.
Two or three years ago when I first recorded the song "Love More," that was released as a single before my album Epic came out. And during that time between the planning and doing the recording of that record and the recording of that song, "Love More" made it as a single on the radio. And I found out that Aaron and Bryce Dessner [of the National] and [Bon Iver singer] Justin Vernon had covered that song at a music festival in Ohio.
I saw they had covered my song, and my friends encouraged me to reach out to them to see if they wanted to record on Epic. And I reached out and they actually got back to me and they said "we would be honored, but [we] were really busy recording their album that recently came out." So Aaron told me to keep in touch with him and if I ever wanted to demo stuff later down the road, we should. And we kept in touch, we hung out a bit. And we talked about our thoughts on writing and recording and what touring is like for us separately. We developed this friendship over time. He had wrapped up a bunch of demos that I had given him throughout the years - I think it came to like twenty or something. And he just said "you don't have to demo these songs, we can just record your record."
Aaron and I started working together just the two of us for a really long time on the songs before we brought anybody in on it. And it was just the two of us hashing out these demos and seeing how we could build upon it.
I've read elsewhere that you were rather nomadic when you were recording the album. How did that affect the recording process?
Yeah, I didn't have a real home for about two years because, you know, I put everything in storage and then hit the road basically. We were touring pretty solid for Epic. And all the time off in between, I was working on the record with Aaron and crashing at friend's houses. I had my bare necessities in the car. And you know, when I felt like I was wearing out my friends and family's welcome by crashing with them, I would get a sublet or something to have my own space.
It wasn't down and out. It was just kind of choice that it didn't make the most sense to have an apartment, especially with how rent is in New York. It didn't make much sense to keep that when I wasn't home most of the time. The album is really outstanding in many respects, especially the first single "Serpents." It's a lot different from some of your earlier work. Tell me about how the song came about.
"Serpents" is one of the first songs I ever wrote on electric guitar. And it's funny because going from acoustic to electric, I noticed that my inclination was to play a little bit more aggressively -- which made me sing and write things more aggressively as well.
It was the first time I allowed myself to be angry in a song. Just letting myself feel that emotion without making it a negative thing -- without blaming somebody else, kind of taking some of the blame myself, but still allowing myself that emotion. That was pretty new for me.
I hadn't shown it to anybody because I was nervous that it was so different that people wouldn't like it as much, but it's kind of an extreme difference. But when Aaron heard that demo, he just said "you have to put that on the record -- are you kidding me?" It kind of evolved into this really funny thing.
One of the compelling aspects of your music is the infusion of your personal experiences into songs. What's it like transforming moments from your life into songs listened to by thousands of people?
I want to be able to write in a way where even though it comes from ... personal experience, it's not so personal that people can't relate to it. So, it's trying to write in a way where it's general enough, you know, that I mean it and I'm feeling those things. But I can write lyrics in a way where you don't necessarily know what I'm talking about. I'm not like separating myself. I'm like grouping myself in with people as opposed to saying "I'm the only one who went through this," you know?
For somebody who's going to your concert on Saturday completely oblivious to your music, what should they expect?
Ridiculous banter. I'm a total goofball and I tell nervous jokes in between songs.
My band is really awesome, so we play most of the songs from the new record. They're pretty spot on, I think, from the record where there's not too many bells and whistles. We're a straight-up rock band. So if people know my older stuff, I would say be prepared for more of a rock show than before.
How do you think your music has evolved from the point that it's at today to where it was earlier in your career?
I feel like I'm developing as a person and as a writer. I feel like I have more confidence in what I'm doing and who I am. And I'm like less insecure in those things, because music is a very self-conscious thing anyway when you're performing.
But also looking back on my lyrics and seeing how my first record was from more of a broken place, my second record was healing. And now this record is more looking back and being really at peace with everything and ... letting myself go through it and move on. I just feel like I'm stronger than I was before.