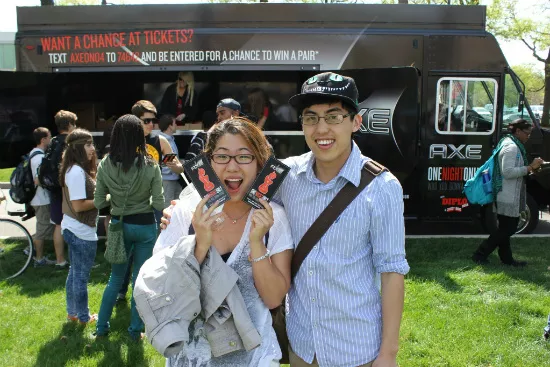 Parking in the Quad of Washington University yesterday was a bus carrying a staff of five AXE employees. Their intent was to hand out free passes to see the Lord of Mad Decent, Diplo. Teaming up with joyful duo Chiddy Bang for AXE's One Night Only tour, the producer/DJ is touring the country playing shows such as the one tonight at the Firebird. But to get in, you needed to find the AXE bus.
Using Facebook and Twitter, AXE shared the bus' locations, and then word-of-mouth helped send college students to the scene.
Showing up around 12:40 PM, approximately twenty minutes before the round of passes were to be given out, Wash U student Lorraine Kim didn't have to wait too long to get her chance to enjoy One Night Only. Finding out about the drop was even easier, "It was actually a totally random chance that we found out about this. My roommate found it as a Facebook ad, on the side of Facebook, and she and I are obsessed with Diplo and she went crazy and sent it on Facebook to everyone she knew, and it just spread like that really quickly over a short span."
Jason Onugha had a similar experience, "I was on the other side of the campus and my friend called me. I didn't believe him! But I went anyway!"
Sounding more youthful than a choir full of alter boys was Betel Ezaz, who summed up her reaction to the show like this: "I was like, 'What?! Free?! Are you kidding? Diplo? Okay!'"
The concert is set to start at the Firebird tonight with Lunice at 8:30 p.m., Chiddy Bang starting before 9:30 and Diplo spinning around 10:30.
Find out more than anyone could want to know about Wesley Pentz, a.k.a. Diplo, responsible for the macabre and gorgeous Florida, below: